On Saturday March 12 2016 thought leaders from around the country gathered for South Florida's first Social Enterprise Conference. The event was a collaboration between Palm Beach Atlantic University and HelpedHope, and brought together diverse groups of people. Elected officials, appointed officials, non-profit leaders, heads of business, and passionate community members all came together to discuss one of today's most pressing issues: "where is the overlap between the for-profit world and the non-profit world?"
In other words, how do we improve the planet and still make a profit?"
One hundred delegates, eighteen speakers, seven sponsors, five local social enterprises, and four media partners showed up at 9:30AM on a Saturday to make a difference. A big thank you to our financial sponsors: Knight Foundation, Community Foundation, Agape Love Foundation, Quantum Foundation, Mako Marketing Group, Palm Beach Atlantic University, and HelpedHope; and a big thank you to our media partners: TriplePundit, Conscious Company Magazine, Owl Positive Broadcasting, and Our Wonderful World Media.
Though the event didn't start until 9:30AM, we had five local social enterprises there to support us, one of whom, Hope Water, donated a couple hundred bottles of water to the conference. The rest were: Memory Trees, THX Co., Place of Hope, and Medji Tours. Read more about them in part 2 of this series!
The Day Starts: 9:30AM
Opening up the conference at 9:30AM, Palm Beach Atlantic University President Bill Fleming discussed the importance of social enterprise in today's world. He outlined four requirements to being a social entrepreneur: "Courage… Conviction… Compassion… and Mentoring." A person must be courageous and think big; a person must have conviction to see the idea through; a person must exhibit his or her passion in a compassionate way; and "for a social entrepreneur to be successful, [he or she] must surround [himself or herself] with faithful mentors." He ended with a commitment to hosting the Conference again next year: a big win for the Social Enterprise movement.
First Panel: The State of Social Enterprise
Featuring Alexander Golding, CEO and Founder of HelpedHope, Julie Fahnestock, CEO and Founder of BStorytelling, Charles L. Bender III, Founding Executive Director of Place of Hope, and Nicholas Aster, CEO and Founder of TriplePundit, the first panel explained the overarching theme and answered some of the key questions of the day:
What is Social Enterprise?
What business forms promote this concept?
How does a non-profit do this? How does it get away from the donation based model and become self-sufficient, accountable, and high-growth?
What is the "B Corp" certification?
What criteria must a for-profit business meet to be designated a "B Corp" or public benefit corporation?
And how can community members and university students get involved?
You can find the answers in our videos, located here!
This discussion really set the tone for the rest of the day
Before I go any further, I would like to give a big thank you to Nick Aster, who flew all the way from the San Francisco Bay to moderate every panel. His wealth of knowledge, sincere passion for the topics, and engagement with the speakers focused the day's discussions. Without him, the Conference would have had much less credibility and been much less interesting.
The Second Panel: "Urban Planning and Economic Development"
"I'm thrilled to see the thought process, because when I came up I had to do battle to do good in the for-profit world… You can make money and do good at the same time" – Commissioner Paula Ryan
A frank conversation between Paula Ryan, a West Palm Beach City Commissioner, and Philip Peters, the CEO and Founder of CitiQuants and Zagada Markets, the panel quickly dived deep into the topics. They discussed the mindset and disruptive thinking needed to drive change in the old political system, how adopting data driven economic development will bring cities into a new, more nimble future, and how cities can attract high talent millennials.
A sample of questions discussed were:
What does economic development really mean in the context of social enterprise… in the context of sustainability?
How will the government deploy resources in a way that will create economic opportunities?
Is economic development measured by the ability of a government to provide jobs and create opportunities for living wages?
Do jobs alone give people the opportunities this country was founded on?
How do you balance development with the tax base's wants and needs?
To hear the answers from the experts themselves, watch the video at the Social Enterprise Conference website.
"Any good or service that is produced today is opened for competition… What does that mean?… How students, how we as workers, owners of companies, how we participate in the economy has to be redefined." – Philip Peters
The Third Panel "Corporate Social Responsibility of Addiction Recovery Services and Marketing"
"You don't get excited about waking up in the morning selling auto leads…. Decided to do it in a space where we could impact lives"           – Jason Brian
Brad Sorte, Executive Director of Caron Renaissance and Caron Ocean Drive, Jennifer Alfert, CEO and Founder of Jennifer Alfert Consulting, and Jason Brian, CEO and Founder of Mako Marketing Group, are all titans in the Addiction Recovery Services field. We thought it would be interesting to have a discussion about the corporate social responsibility of the addiction industry from various viewpoints.
We covered a lot of ground in this panel, including the ethics of marketing, where state-funded lottery money is going, fantasy sports, and the economic incentives of marketing companies and treatment centers.
Below is a brief listing of some of the topics covered:
Maintaining an entrepreneurial mindset in a not-for-profit setting
Where does an alcohol company's or casino's social responsibility to provide help to people who may have problems start and end?
Where does half of the Super Bowl's revenue come from?
Are fantasy sports a level playing field, and are they considered gambling?
"What the states are doing with their lotteries, where many people think the money is going, it's not. So everybody is really just as culpable for being irresponsible and people are not aware of that."       – Jennifer Alfert
Is the treatment industry financially incentivized to keep families and other companies from taking preventative measures?
How do insurance companies regulate how they pay out, and how do these policies affect adolescent treatment?
Do treatment providers purposefully not build facilities for adolescents because they find it too difficult to get these young peoples' problems classified as "medically necessary?"
"We have a dearth of adolescent treatment because it's an unappealing business for a lot of people" – Brad Sorte
And how do the 95% of people who don't have the personal finances, insurance or time to go to an intensive inpatient program get treated?
To hear the answers from the experts themselves, including their 10-15 year take on the state of the treatment industry, watch the video. To give you more of a taste of what you'll learn, check out this wordcloud: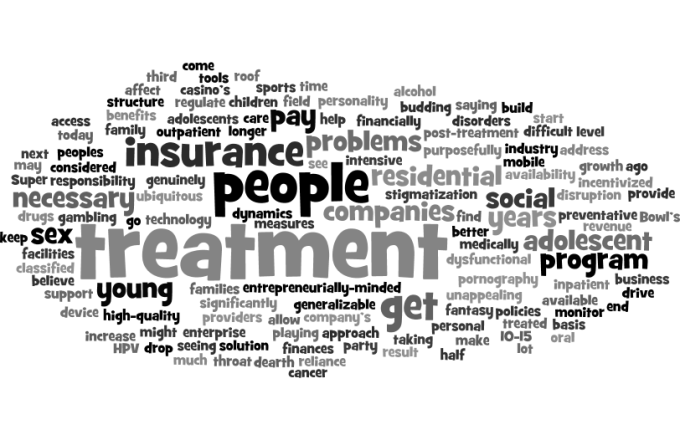 The Keynote Speaker: Marc J. Lane
We were proud to have Mr. Marc J. Lane, founder of the Law Offices of Marc J. Lane, P.C. and the Marc J. Lane Wealth Group, as our keynote speaker. Because he is one of the most accomplished people in the Social Enterprise space, I do not have time to go over everything he has done. The author of 35 books, writer of the L3C legislation, the pioneer behind the Advocacy Investing® approach to socially responsible and mission-related investing, past Director of Social Enterprise Alliance (SEA), the President and Director of the Chicago chapter of the SEA, the past chair of the State of Illinois' Task Force on Social Innovation, Entrepreneurship, and Enterprise, and the past Commissioner of the Serve Illinois Commission.
From the get go, Mr. Lane summarized the purpose of our conference: "Philanthropy is not up to the task of addressing the deepening challenges we all face as a society… So increasingly, nonprofits are developing businesses which themselves allow the diversification of revenue while at the same time driving mission. And, also, for-profit purpose businesses are pursuing market based solutions to social problems."
Marc went into a lot of depth, and started by defining impact investment as "capital that is deployed for both financial and social returns." He identified the most important parts of putting those funds to work, and shared a few examples from his hometown of Chicago.
One of his clients was former Chicago Mayor Richard M. Daley, who was known as the "sustainability mayor." He was very frustrated with the City Procurement Code, or the process cities go through to evaluate and then buy things. It is often difficult to make the business case to fund public projects and then get them through the bureaucracy in a reasonable time frame.
So Marc Lane created "The Sustainability Exchange" for Mayor Daley. It is a Low Profit Limited Liability Company (L3C), the only for-profit business form in the United States which Mr. Lane feels "permanently and irrevocably places mission above all other objectives. " There are now 1500 L3C's around the country, and you may "create one in a state that permits them and then bring them home as a foreign entity."

The Sustainability Exchange became a public private non-profit collaboration and it is scaling up. It focuses on major issues such as energy efficiency, waste management, public transportation, and waste and wastewater treatment. All of these projects are so expensive and so big that most cities don't even have the money to research them. Mayor Daley doesn't let this get in his way and brings in top scientists to address the issue. Often his team finds a way to get neighboring municipalities involved in the project so both the costs and the benefits can be shared among them. Since his company is an L3C, it also gets a piece of the pie. The Sustainability Exchange is a great illustration of social enterprise.
Another example he gave was of two 501(c)3's who wanted to develop software to provide housing counseling to community members who were in foreclosure. They set up a L3C, which insulated them from the liabilities of the project. Though it is a subset of the traditional LLC, the L3C has a couple of advantages, the first being that it is a mission driven venture. This means there are no problems in a traditional 501(c)3 owning it. Remember, the L3C's bylaws state that its mission is more important than returns, so a charity can feel safe in knowing that the subsidiary's managers won't be led astray by chasing financial metrics.
L3Cs have one further advantage on the LLC, which is that foundations can invest in them through "program-related investment." Foundations are required by law to distribute at least 5% of their assets annually to charitable purposes in order to keep their tax advantages. What is little understood is that foundations can make certain kinds of investments which count towards their 5% distribution. The investment will appear as an asset on the foundation's balance sheet. This is called program-related investment. To comply with the law, the L3C tracks, point by point, federal tax law requirements for program-related investments so as to facilitate that form of capital formation for for-profit social purpose businesses.
To get back to the example, because the non-profits had created a L3C, they were able to fundraise from a variety of sources. Soon after incorporation, a foundation generously provided $350,000 to develop the software that the entrepreneurs had in mind and the Attorney General invested $500,000. Makes me think I should reincorporate!
For further information, please view the video at the Social Enterprise Conference website and contact Mr. Lane at:
The Law Offices of Marc J. Lane, A Professional Corporation
180 N LaSalle St.
Suite 2100
Chicago, IL 60601
312-372-1040
Well, that brings us to the end of the first part of Social Enterprise Conference 2016. We are working on getting the rest of the videos edited and will post them soon. Once we get the footage from the second part, we will publish the post for the second half which covers the interesting topics of: Social Entrepreneurship, Pitfalls of Social Entrepreneurship, Impact Investing, and Land and Infrastructure Development.