by Glenn R. Swift
On Thursday, March 24, the Northern Palm Beach County Chamber of Commerce Women in Business held their quarterly luncheon at the DoubleTree by Hilton Hotel in Palm Beach Gardens on PGA Boulevard featuring guest speaker, Andrea Bradley, CEO of the Palm Healthcare Foundation, Inc.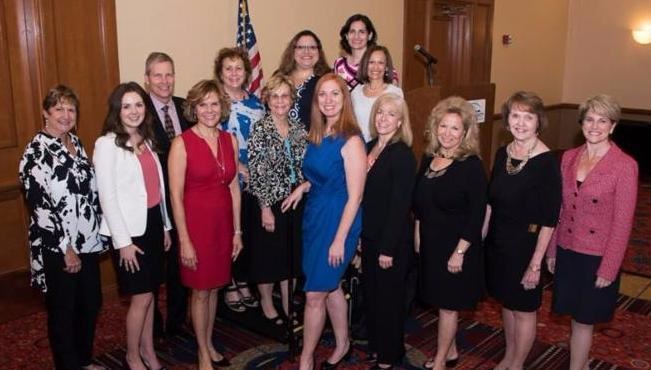 Andrea Bradley
Andrea Bradley became president and CEO of Palm Healthcare Foundation in November 2012. Since then, she has led the foundation in launching its Healthier Together initiative, a long-term, community-driven, place-based funding strategy designed to solve the community's most complex healthcare issues, neighborhood by neighborhood. Healthier Together seeks to maximize impact by allocating $1 million each to six selected communities over five to seven years for collaborative health-related projects within the foundation's priority areas: diabetes prevention and management, family caregiving, and behavioral health. In 2014, the foundation announced its first two community initiatives: Healthier Jupiter and Healthier Delray Beach. In fall of 2015, the communities of Boynton Beach and northern West Palm Beach/Riviera Beach were selected. Two additional communities will join the initiative in summer of 2016.
Bradley serves on the Advocacy Committee of the Executive Women of the Palm Beaches and the Community Impact Committee of United Way of Palm Beach County. A 2002 graduate of Leadership Palm Beach, Bradley has been recognized for her leadership as a "Woman of the Year" by the South Florida Business Journal, as a recipient of the "Valor Award" from the American Diabetes Association and for "Excellence in Fundraising" by the Florida Association of Nonprofit Organizations. She graduated with a Juris Doctorate degree from Stetson University College of Law with honors and received her Bachelor of Arts from the University of South Florida.

For more information about the Northern Palm Beach County Chamber of Commerce, please visit www.npbchamber.com.