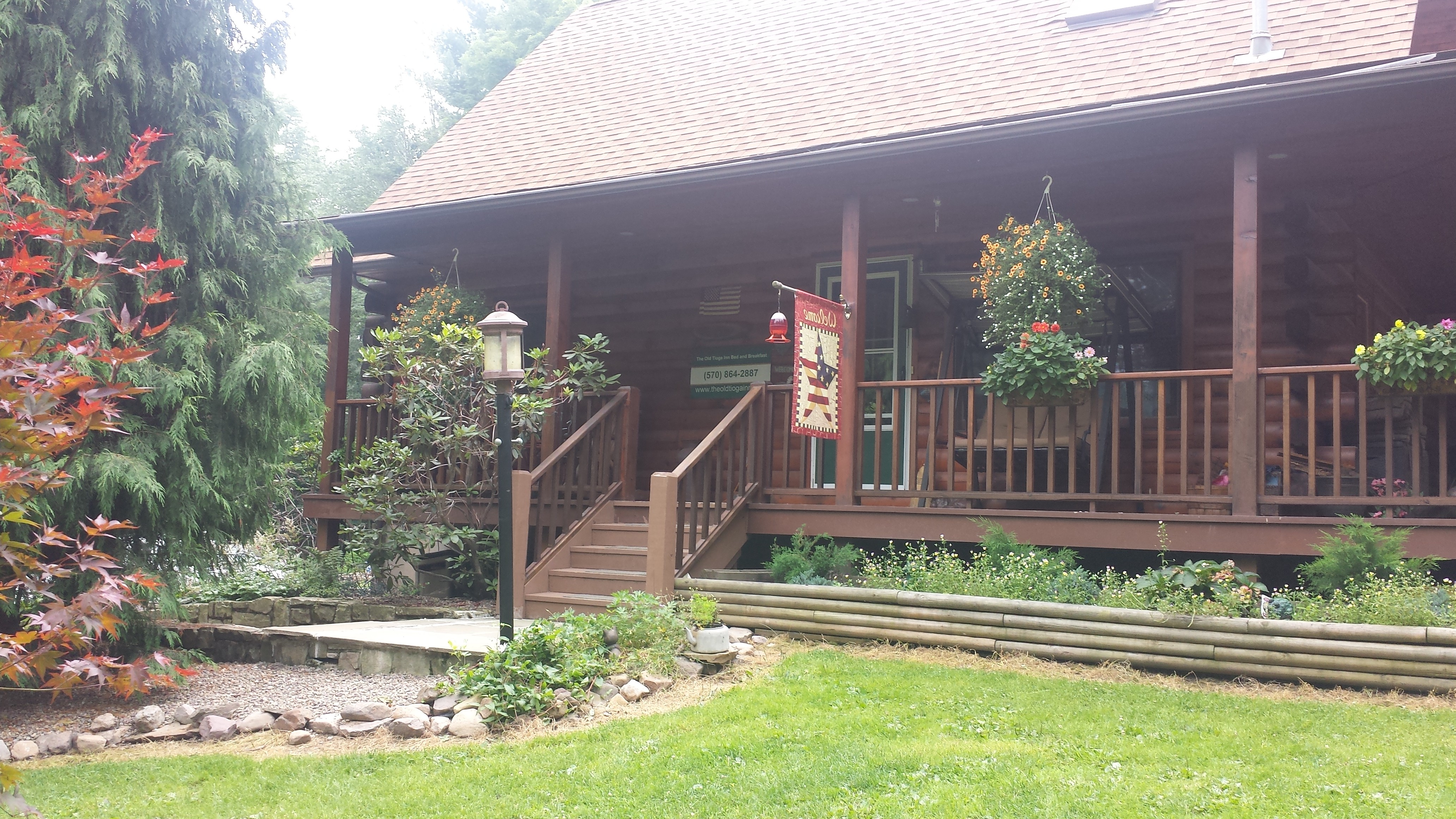 by Glenn R. Swift
Neatly tucked in secluded woods in rural Pennsylvania, just 4 miles from Ricketts Glen State Park, is the quaint and charming Old Tioga Inn. Located just off the Old Tioga Turnpike, this log home bed & breakfast offers old-fashioned charm coupled with a host of modern creature comforts. Trust me…Waking up in the morning to the sound of birds chirping and the cool rush of a mountain breeze at Old Tioga just can't be beat. And when you add a friendly good morning greeting and a mouthwatering, homemade country breakfast to begin the day, it just doesn't get any better!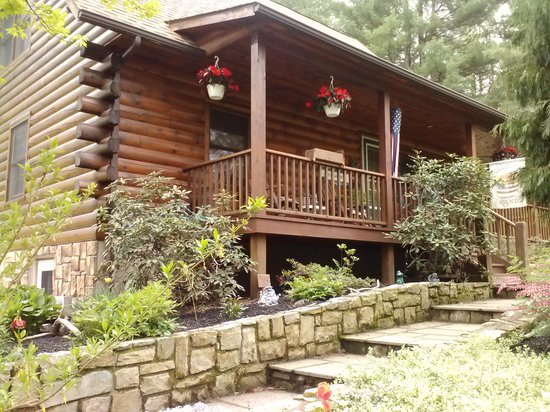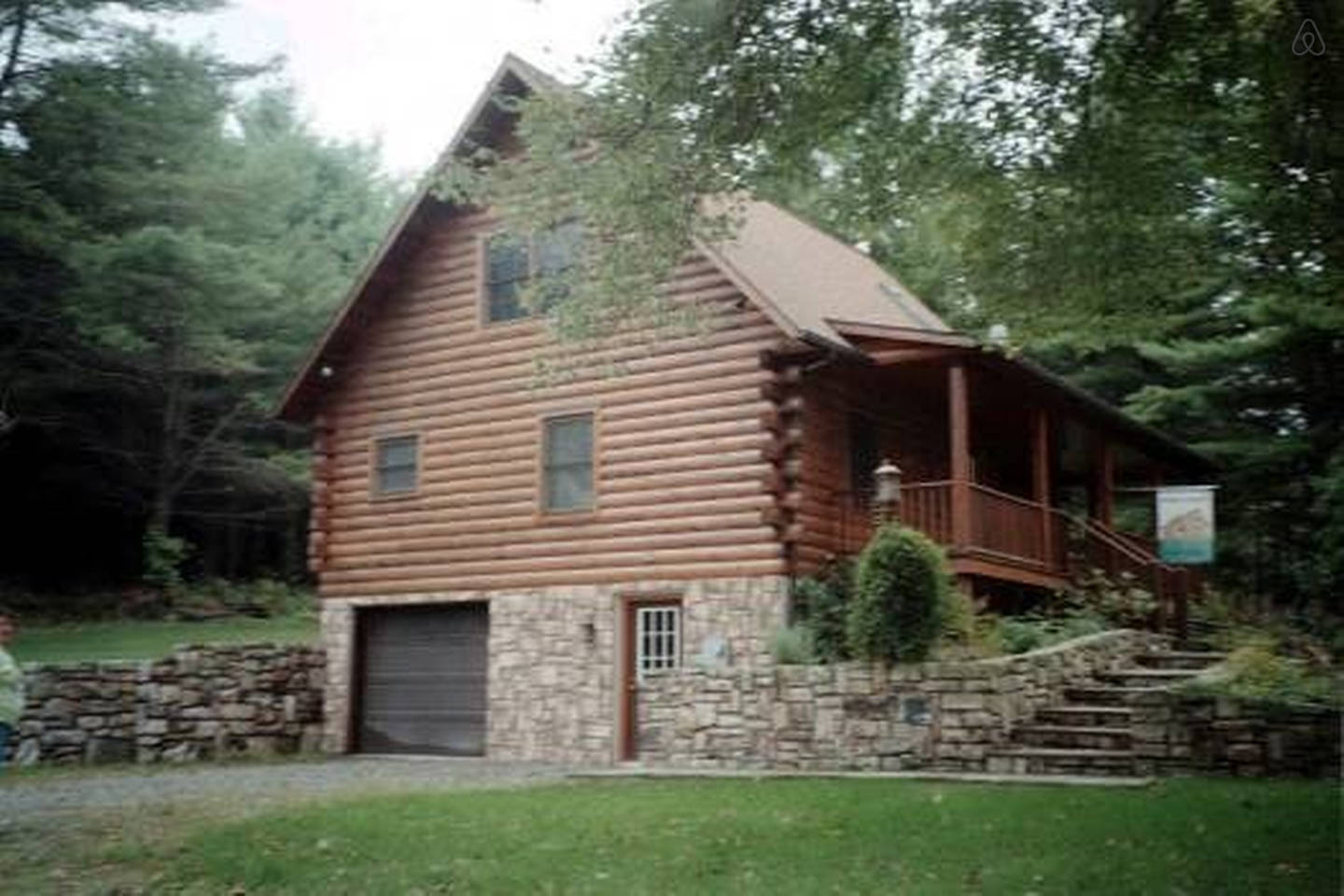 Old Tioga received Trip Advisor's Certificate of Excellence in 2014 and 2015, and it's no wonder why. Here's what they have to offer:
Master Quarters: This large main floor deluxe master bedroom with private bath is top of the line in luxury. The room features a two-person Jacuzzi hot tub with 12 jets to relax after a long day. There is also a two-person standing shower. The room features a soft king-sized bed with room to spread out and rest. There are his and her closets with abundant room for hanging clothing as well as dressers for storing all of your needs. The room features French doors with a view of the North Woods. Look closely as you may see many types of wildlife passing through! So, sit back and relax while you enjoy the newly completed private deck that is part of the Master Quarters. This room is perfect for a great romantic get-away or to celebrate a special night for the two of you. You deserve to treat yourself to this luxurious experience!
Rates: $175 night + tax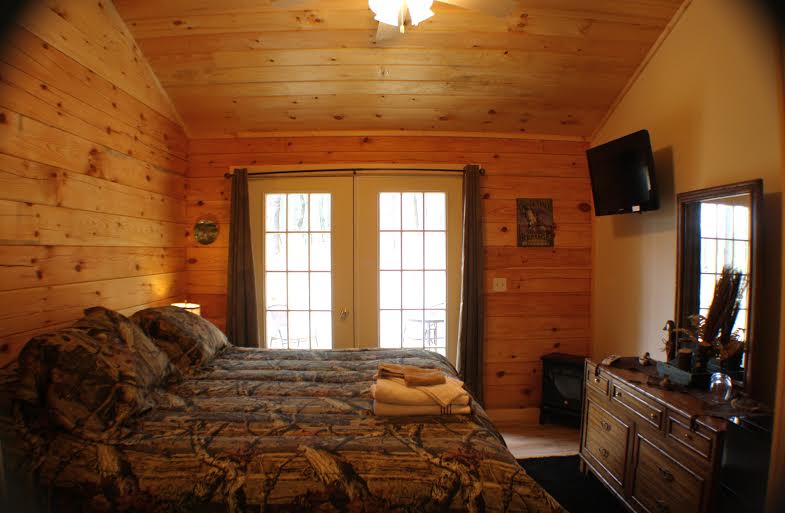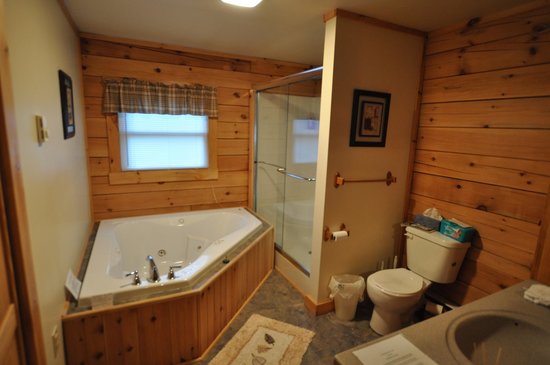 Master Loft: The only room on the second floor complete with private bath. This room has a king-sized bed for your comfort. There is a table with chairs if you decide to have your breakfast served in room, or you can enjoy your meal in the main dining room. The Master Loft is very private and segregated from the rest of the house with a bathroom that includes a standing shower. You will enjoy a quiet, restful night in The Master's Loft!
Rate: $145 night + tax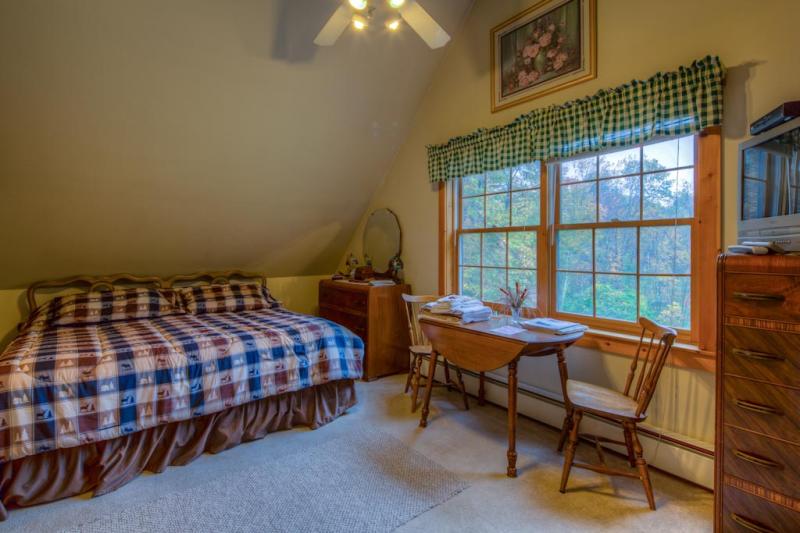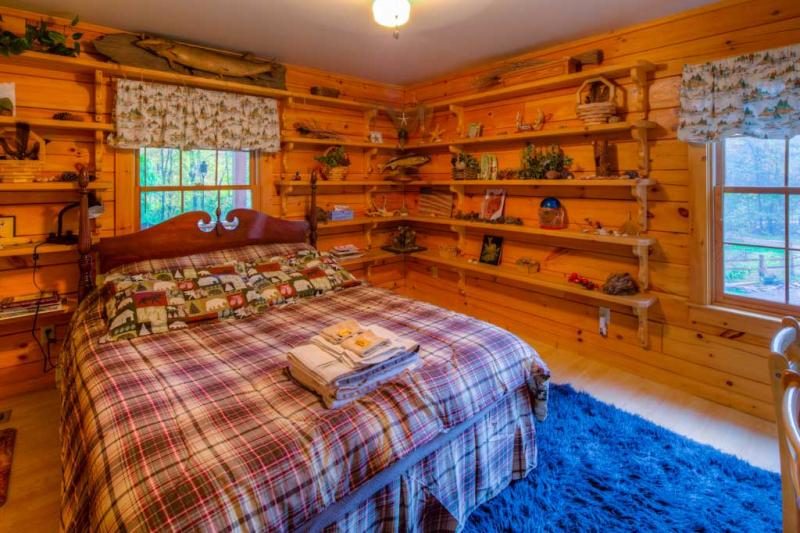 Hunter's Paradise: The bedroom and private bath are on the main level of the home. The room has a queen-sized bed with a private bath across the hallway. There is ample closet space and a built-in table for sitting and dining. There is also plenty of storage room for you with the built-in shelves. Accented with deer antlers and mounted fish, this room offers a grand experience.
This beautiful room is Rate – $ 125.00/night + tax
Small Game Room: Located on the main level of the inn, the room offers a full size bed, private bathroom and log walls. All are sure to make you very cozy.
Rate: $115 night + tax
There's More… Brand New Additional Rooms!
In 2015, Old Tioga completed three new rooms adjacent to the main home: Master's Quarters Duck Room; Master's Quarters Fish Room and the Master's Quarters Deer Room. All of the new rooms feature an oversized large jetted tub with separate shower, wall-mounted satellite TV, refrigerator, electric fireplace/stove, individual decks, ceiling fan, A/C in the summer and private porch with your own entrance that will invite you to relax. (The MQ Deer Room is Handicapped Accessible with jetted tub and large shower with seat. Entrance features private handicap parking right outside your room with wooden deck ramp.)
New Rooms: $175 per night + tax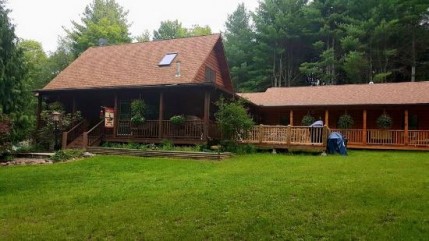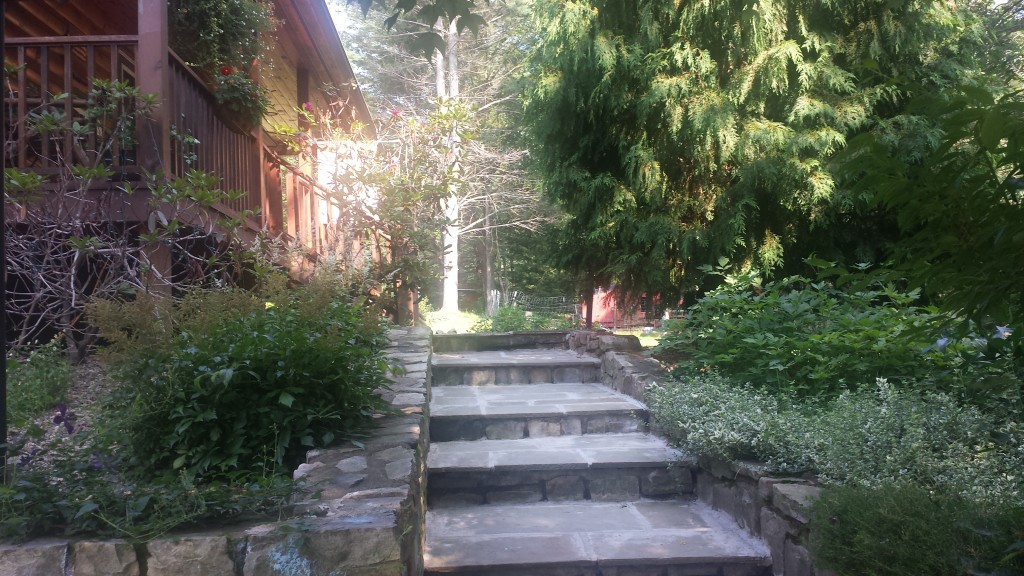 *All rooms based on double occupancy. Additional guests over the two-person occupancy is $15 per person with limited capacity for each room. Please understand that rates are subject to change and will be updated on the website. Most major holidays require a minimum of two nights. So, check for availability. (A late check-out can be arranged for an additional fee.)
 Check-In Time: Please call to arrange check in.
Check-Out Time: Between 10-10:30am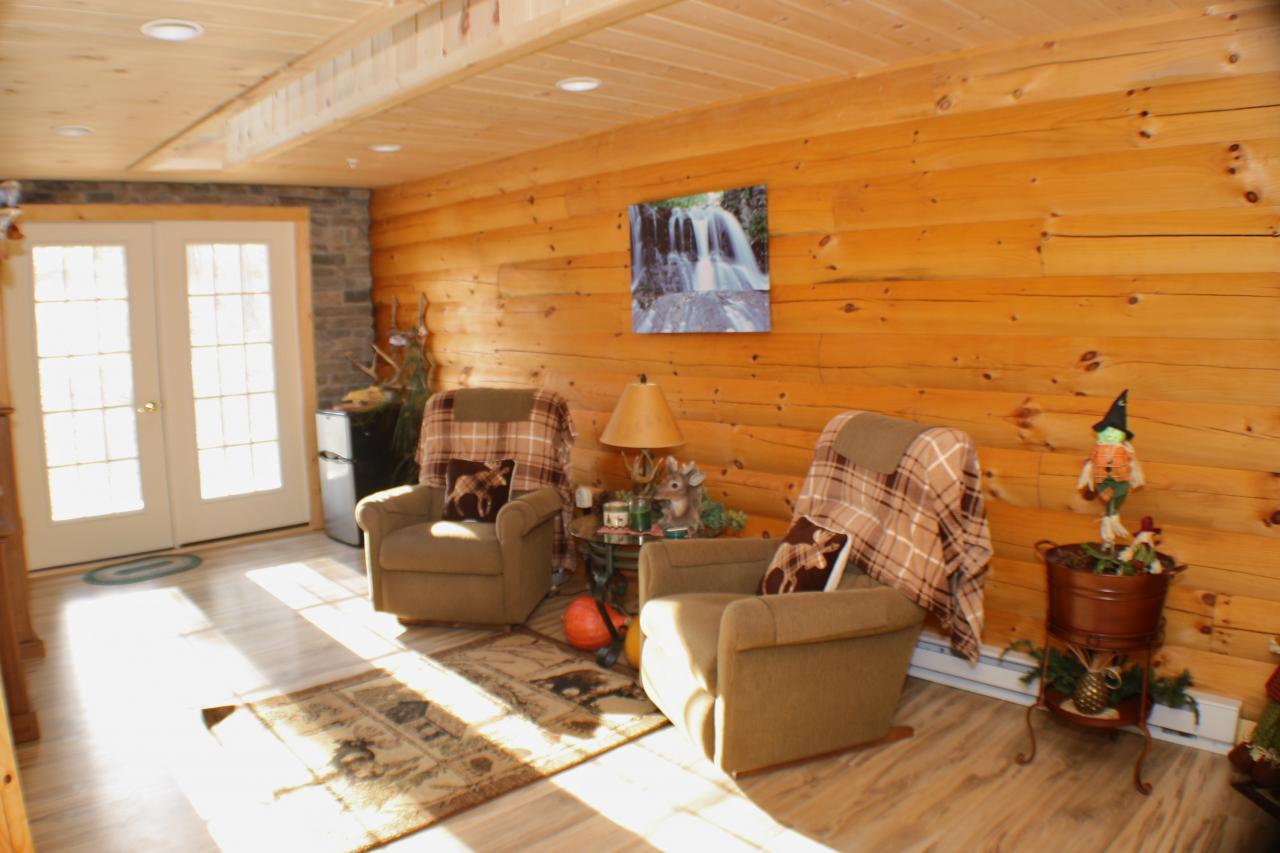 No matter your choice, all the rooms at Old Tioga are immaculate. So, if you're going to Ricketts Glen and need a warm (it gets chilly here in winter and the main room has a toasty fireplace!), comfortable place to stay, be sure to contact Laura and Michael Bobersky at (570) 864-2887 or visit www.theoldtiogainn.com. Old Tioga offers a number of special packages (e.g., honeymoon, seasonal, weekend) and much, much more. Best of all, Laura and Mike are not just the consummate ideal and gracious hosts… they will welcome you into their home as if you're an old friend.
Special Note: In May 2012, the Boberskys purchased The White Birch Inn in nearby Berwick, PA. The White Birch Inn Bed & Breakfast (www.thewhitebirchinn.com) features five rooms and is conveniently located between Knoebel's Amusement Park and Ricketts Glen State Park.