Miami's Coconut Grove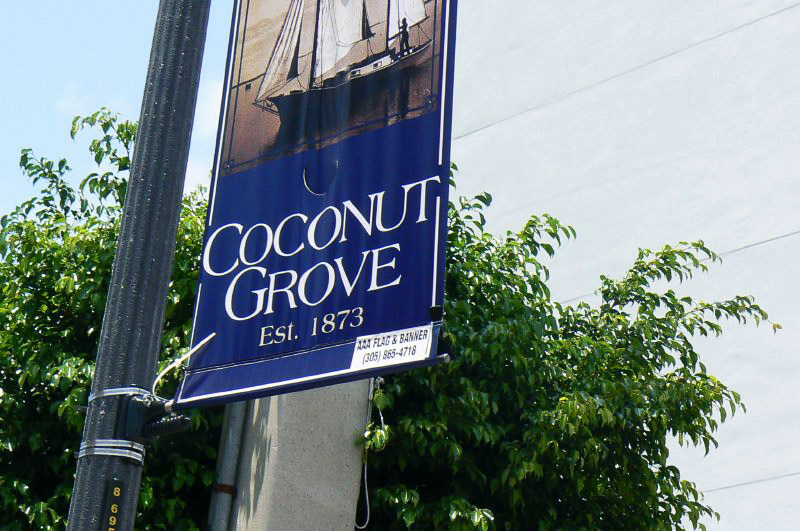 by Glenn R. Swift
Neatly nestled along the shores of beautiful Biscayne Bay, just a heartbeat from the hustle and bustle of downtown Miami, lies a village within a city—Coconut Grove. With tree-lined streets, scores of fancy boutiques, a number of great restaurants and a host of night clubs, "The Grove" is an upscale, urban, seaside enclave—and one of Miami's "coolest spots."
Officially South Florida's oldest settlement, Coconut Grove was inhabited as early as 1834. Its early settlers were a unique mix of Bahamian Blacks, "Conchs" (white Key Westers) and New England intellectuals. By the end of the 19th century, this latter group transformed the tiny outpost into an artists' and writers' colony. The character of the community was little changed until the late 1960s and '70s when The Grove entered its "psychedelic era." What had been a bohemian village quickly became a counter-culture stronghold. Crime infested and drug-ridden, by the early '80s a large part of The Grove had become downright seedy.
It was at about this time; however, that a major effort was initiated to clean up the town's blighted areas. By the end of that decade, the metamorphosis was complete. The modern face of The Grove had emerged, as tie-dyes gave way to designer labels. Today, the tone is chic and cosmopolitan. The legacy of the early pioneers, however, is still very much alive. Rustic cottages and small frame houses frequently are found next door to posh, multi-million dollar estates. The imprint of those early New Englanders is also visible for The Grove remains a vibrant artistic community.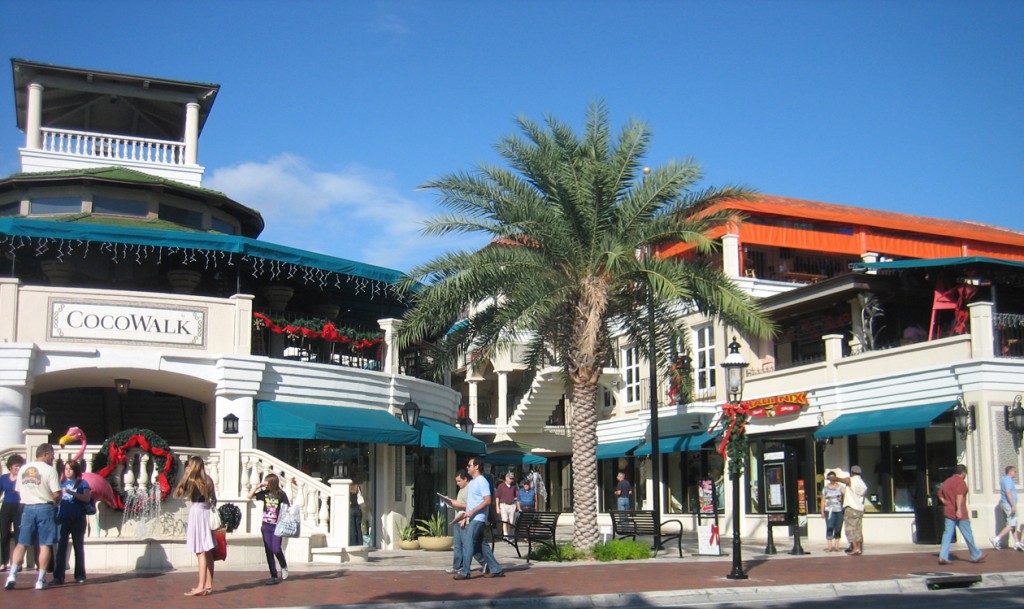 To many, this charming village is all about art and culture.  Museums and galleries are seemingly everywhere. Although walking the streets of The Grove is in itself a cultural experience, the internationally renowned Coconut Grove Arts Festival, celebrated each year during President's Weekend, is a must for art lovers. Attracting as many as 700,000 people, the Festival show cases more than 300 local and nationally recognized artists. For most, however, the community's center of attention is its two main shopping sections—the pedestrian-friendly Streets of Mayfair and Coco Walk.
Located right next to one another, they represent some of the most popular haunts among Miami's hip crowd. Unfortunately, parking can be a problem, for the streets are often crowded with locals, tourists and University of Miami students from nearby Coral Gables. So, be prepared to walk a few blocks from one of the neighborhood's numerous parking facilities. Once you're there, however, getting around is easy. There are even rickshaws powered by starving college students, just in case you get lazy!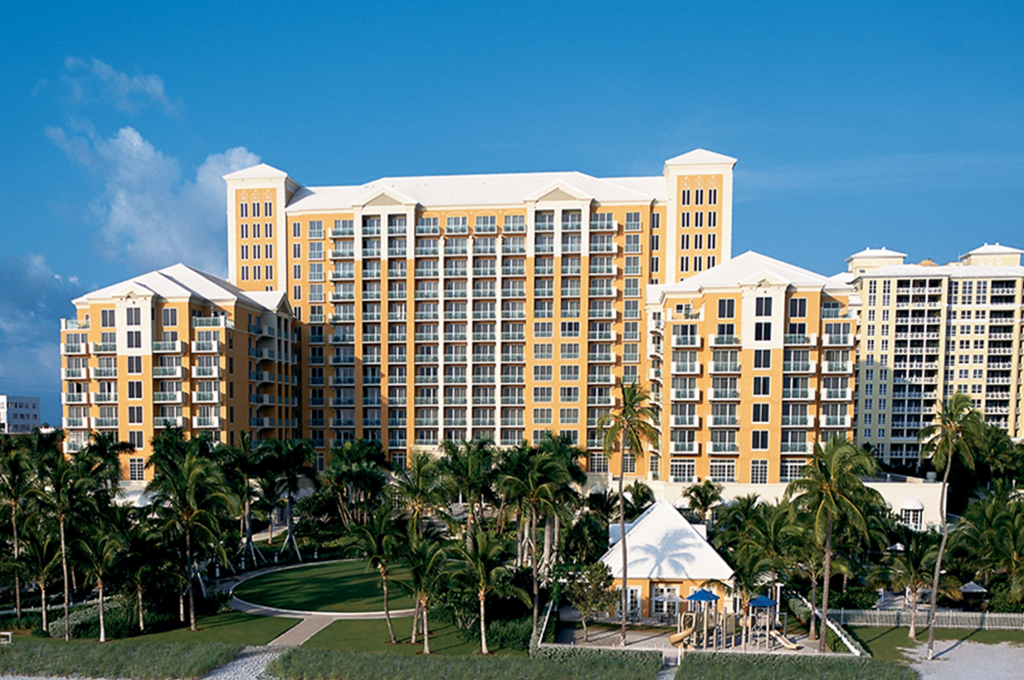 As for where to stay, the Ritz Carlton (305) 644-4680 is hands down the Grove's finest luxury hotel. Are you surprised? Featuring panoramic views of Biscayne Bay, the glittering Miami skyline and the neighborhood's lush tropical surroundings, The Ritz-Carlton Coconut Grove offers 115 spacious guest rooms and suites—each with its own private balcony and floor to ceiling windows. Only the second hotel in Miami to receive AAA's highest honor, the Five-Diamond Award, The Ritz is also the site of one of The Grove's finest restaurants, Bizcaya.
Named Top 75 in the world by Conde Nast Traveler, the 126-seat Bizcaya offers one of the most romantic open-air dining venues in Greater Miami.  With one of the city's finest chefs at the helm, Ramesh Kaduru, this extraordinary restaurant offers brilliant, flavorful signature dishes that range from sea scallops over polenta with lemon truffle vinaigrette to lobster and seafood cazuela with saffron aioli and choritzo. (I hear the grilled cheese is great, too.)
Because Miami is a cultural melting pot, you get the opportunity to enjoy many types of fine cuisine in Coconut Grove. Two other fine eateries of note are the Baleen (305) 858-8300 and Le Bouchon du Grove (305) 448-6060). Offering a wide assortment of fine seafood entrés, the Baleen's top specialties are its oversized crab cakes and its oak-smoked diver scallops.  Incidentally, the lobster bisque is the best on Biscayne Bay. The posh Le Bouchon is an exceptional French bistro right down to the wait staff (many of whom only speak French!) Here, the French onion soup is like you've never had it before. A must for fish lovers, however, is their Chilean sea bass when in season.  Although the two restaurants are definitely on the high side, both are worth every precious penny.
If you're taking your boat, the Dinner Key Marina (305) 579-6980 at ICW Mile Marker 1095 for our boater friends is Florida's largest marine facility. With 582 protected slips, this modern facility comfortably provides transient dockage for vessels up to 175' along with numerous other amenities: cable TV, telephone, shower/laundry, and pump out service. Dinner Key is well within walking distance of the Grove's main shopping district. (For Classic Rock fans, this is where Jim Morrison was a very naughty boy…or so some say.)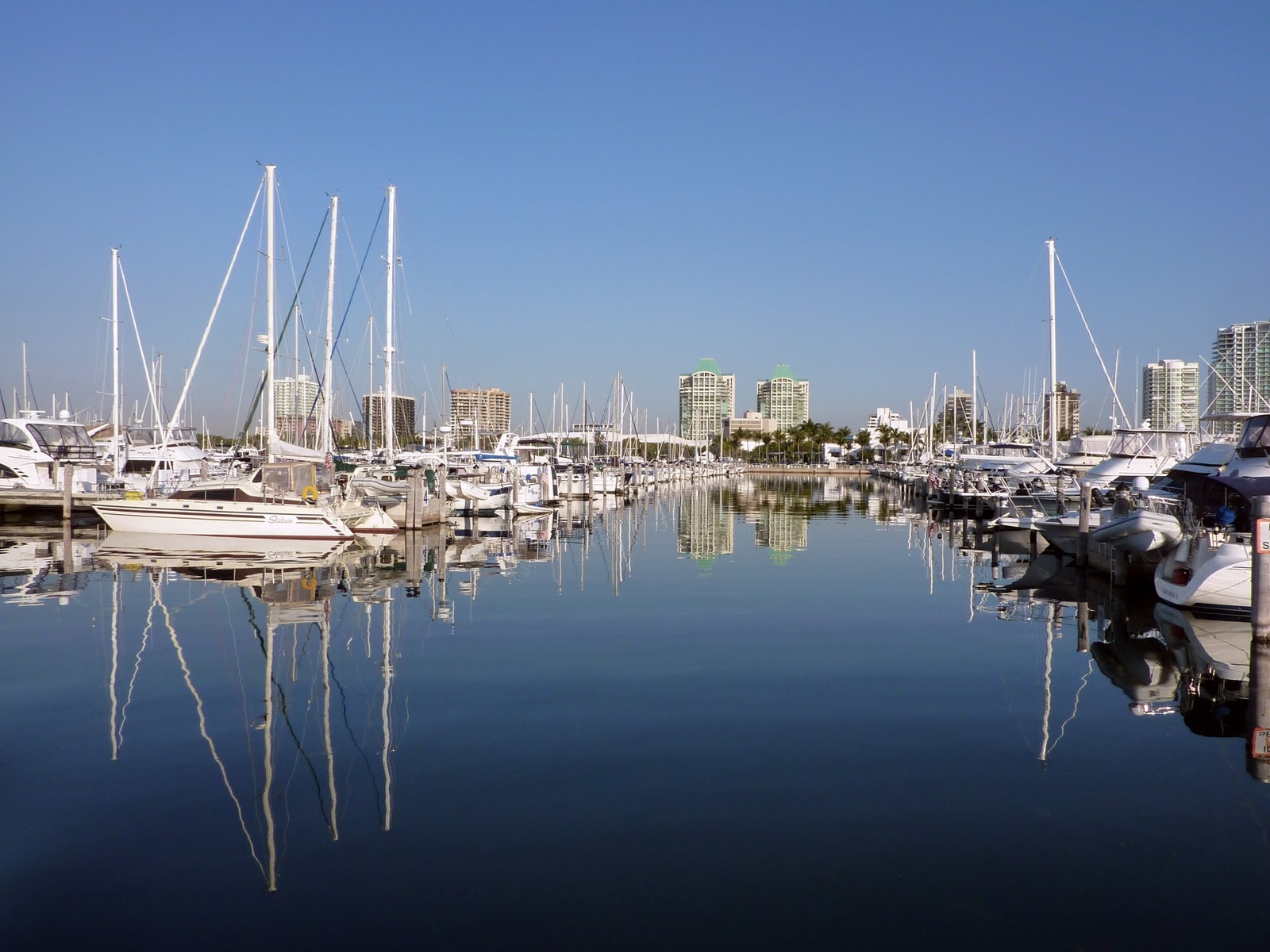 So, if you're looking for a place to relax, enjoy some fine food, explore some fine galleries and museums, and yes—do a little shopping, you need to check out this extraordinary "village in a city" – Coconut Grove.
For more information:
http://www.ritzcarlton.com/en/Properties/CoconutGrove/Default.htm