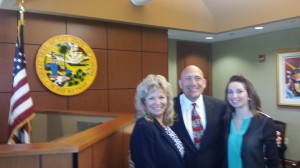 The Northern Palm Beach County Chamber of Commerce hosted its quarterly CEO Connection on Tuesday, July 8. The event was presented by Intelligent Office and featured Brian LaBovick, founder and managing shareholder of LaBovick Law Group—a civil trial law firm with several locations throughout South Florida. Uniquely, the setting for the event was the conference room of the firm's main office, which is set up with all the trappings of a modern courtroom.
LaBovick has been practicing law for more than 21 years and earned several awards, including an AV rating from Martindale-Hubbell, which is the highest ranking an attorney can receive for both professional ability and high ethical standards.
LaBovick is a regular speaker for the Dori Slosberg Foundation, a nonprofit organization dedicated to traffic safety. He speaks to local high school students on the dangers, realities and legal ramifications of distracted driving. Besides his family and firm, this is one of his greatest passions.

For more information about the Northern Palm Beach County Chamber of Commerce, please visit www.npbchamber.com.