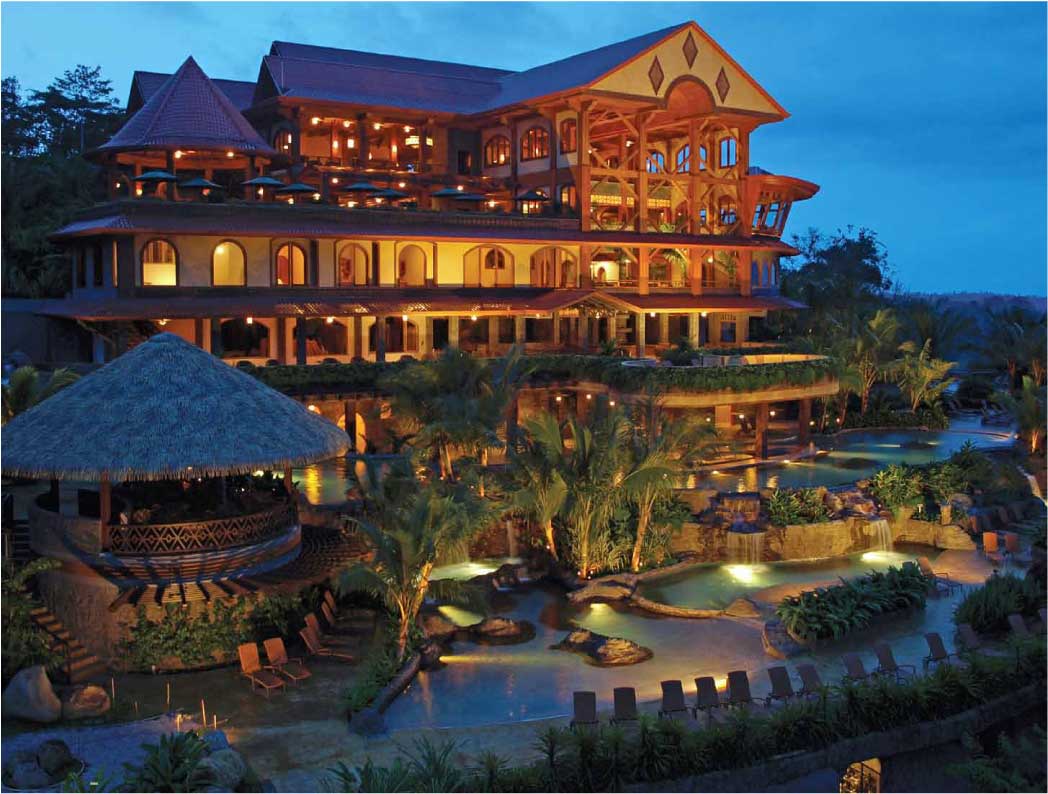 by Glenn R. Swift
Photography courtesy of Lee Banks
Most know The Springs Resort & Spa in Arenal Costa Rica from television when it played host to the sixth episode of ABC's The Bachelor earlier this year. But for those of us who have actually stayed there, we feel like we have been somewhere else…
Like the closest you can get to Heaven, and still be very much alive.
Since opening in 2008, the world-class Springs Resort and Spa has become the bar by which all luxury resorts in Costa Rica are measured.
And few others can measure up…
Honored with the TripAdvisor Traveler's Choice 2011 Award as the #1 Relaxation/Spa Hotel in all of Central and South America, and featuring one of the world's Seven Most Spectacular Views according to CNN, the magnificent mountaintop resort is famed for every guest room's surreal, picture-perfect views of the nearby Arenal Volcano and surrounding tropical rainforest, and for its mineral-laden, artesian hot spring pools.
The property's stunning architecture and elegant interior design ideally complement the unique location and rainforest setting. They also reflect the one-of-a-kind personality and vision of its acclaimed owner and developer, Lee Banks, 43. In fact, everything in this extraordinary hotel, from the magnificent façade to the precise angle of the rounded edges of the mineral water pools and the exact length and width of the railings in the main bar, belongs to Banks himself.
"I built everything. I was the contractor and the architect. In fact, I even wrote the signage and took the photos for the website," cracked Banks, who quickly conceded one small detail. "I did consult with a structural engineer."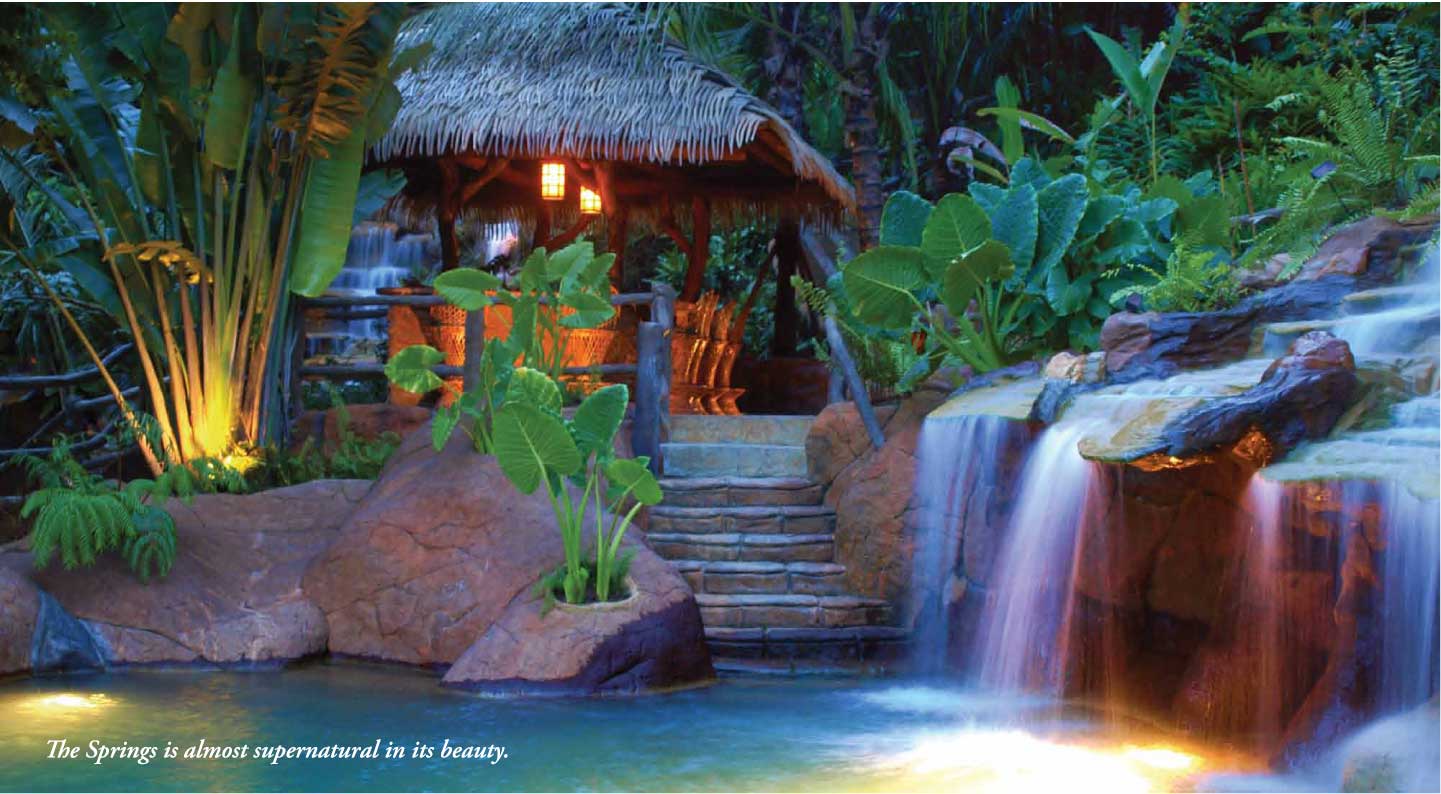 Where does Banks find his inspiration? Let's just say that his mind never stops buzzing with ideas. Case in point…that railing in the main bar.
"I was in a gas station in South Florida and liked the design of the railing in the food court…. That became our railing."
Gas stations aside, Banks breaks the mold of most resort developers with regard to what stimulates his creative juices.
"I've borrowed far more design styles from fine homes than I have from other hotels, because a first-class resort is really an interpretive center…a place where you learn, where you absorb. You need to smell the guava and feel the hot water."
As for his managerial style, let's put it this way: Banks is no "Undercover Boss." He knows every one of his 300 Springs employees—and they know him.
That's a good thing…
A self-proclaimed micro-manager, Banks has the rare quality of being able to maintain a watchful eye on every nuance of his operation, yet still inspire loyalty and creativity in those around him.
This man isn't simply liked by his employees—he's revered. Something you don't find too often these days.
"I surround myself with can do, salt-of-the-earth type people," said Banks. "That's at the core of my success."
A graduate of one of the nation's oldest and most esteemed institutions of higher learning, the University of Virginia, Banks admits to going against the grain in terms of what he learned as a finance major in his days as a Cavalier.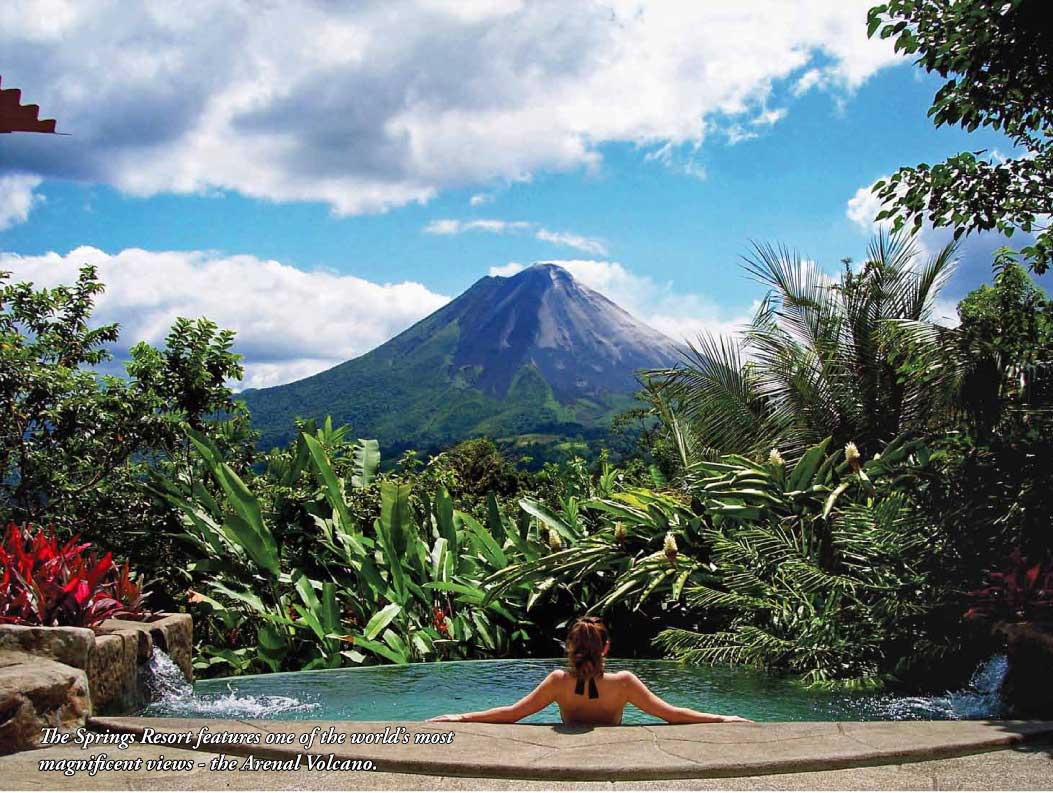 "I've broken most of the sacred rules I had hammered into me in those management textbooks about delegating responsibility," laughed Banks.
As for the idea of working with consultants, Banks tends to stay away from most so-called paid "experts" as well.
"They're not stakeholders," said Banks, who also distances himself from the stock market. "Personal causation is what I'm all about. I like to solve my own problems, but, most importantly, my management philosophy is to give the client the best possible service," said Banks, who spends thirty minutes with every one of his rookie parking valets to teach them the best way to approach a guest as they drive up to the hotel.
Banks revealed yet another pearl of wisdom with regard to what has made The Springs and the Peace Lodge (his other signature resort a 90-minute drive south) arguably the two finest in Central America.
"You can't simply immerse most American and European tourists in rustic surroundings in the heart of a primal rainforest," Banks said. "They want the native atmosphere, but they also want those creature comforts. That's a difficult balance to achieve, but I believe we have done a pretty good job."
Of course, The Bachelor didn't hurt either.
"That was a match made in Heaven," said Banks, referring to the publicity garnered from ABC's blockbuster show that placed The Springs in the living rooms of millions of Americans. "The show did a phenomenal job of capturing the ambiance of The Springs, reflecting the true spirit of romance and adventure that's at the heart of our resort experience."
The notoriety brought a whole lot of "green" to the Arenal rainforest. Green of a different kind, that is.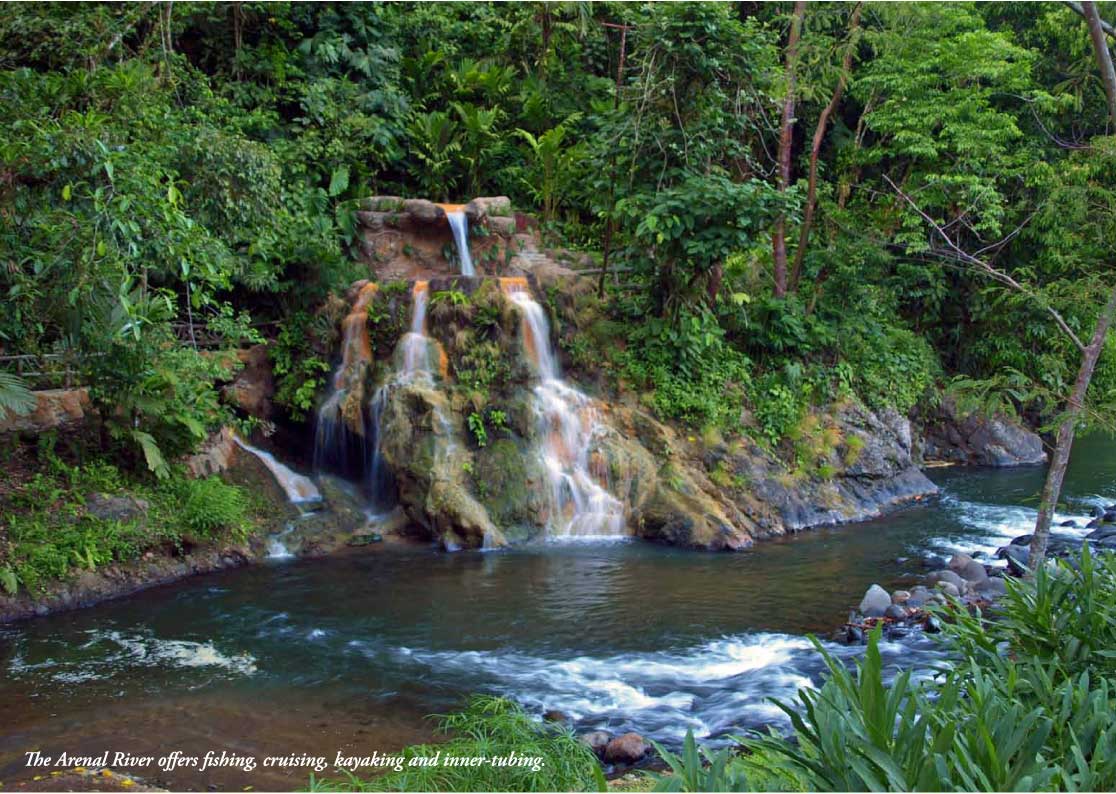 "We booked a million dollars in reservations in the seven days following the show," Banks said proudly.
A hopeless romantic, Banks is utterly committed to his wife and three young daughters. Then again, he looks at his resorts in a manner reflective of a parent.
"Building a successful resort is a lot like having kids," said Banks, who despite frequently putting in 18-hour work days, always draws a line with regard to what comes first in his life. "My family is my first priority," said Banks, who recently cancelled a high profile appearance in Washington, DC to be with his five-year-old daughter for her first day of Kindergarten.
"Family has always been very important to me," said Banks, who credits his father, accomplished South Florida real estate developer Walter Banks, for providing him the tools to be successful. "I learned so much from my dad," said Banks of the man who rebuilt Fort Lauderdale's famed Lago Mar Resort in 1970. "I love him and he is the basis for everything I am today."
Apart from his obvious passion for family and his hotels, Banks has a soft heart for animals as well and has created an extensive wildlife preserve at The Springs.
"In conjunction with the Costa Rican Ministry of Environment and Energy we operate a preserve for native wildlife that has been confiscated from poachers or donated by other private preserves or individuals. We currently care for a puma, seven ocelots, twenty-three margays and two jaguarondis, along with capuchin monkeys, squirrel monkeys, sloths, scarlet macaws, wild turkeys and an assortment of other animals. We plan on opening the preserve to our guests later this fall."
To show you how passionate the man is about "his animals," Banks related a story of how a raccoon recently gained access to a cage housing toucans due to the result of human error.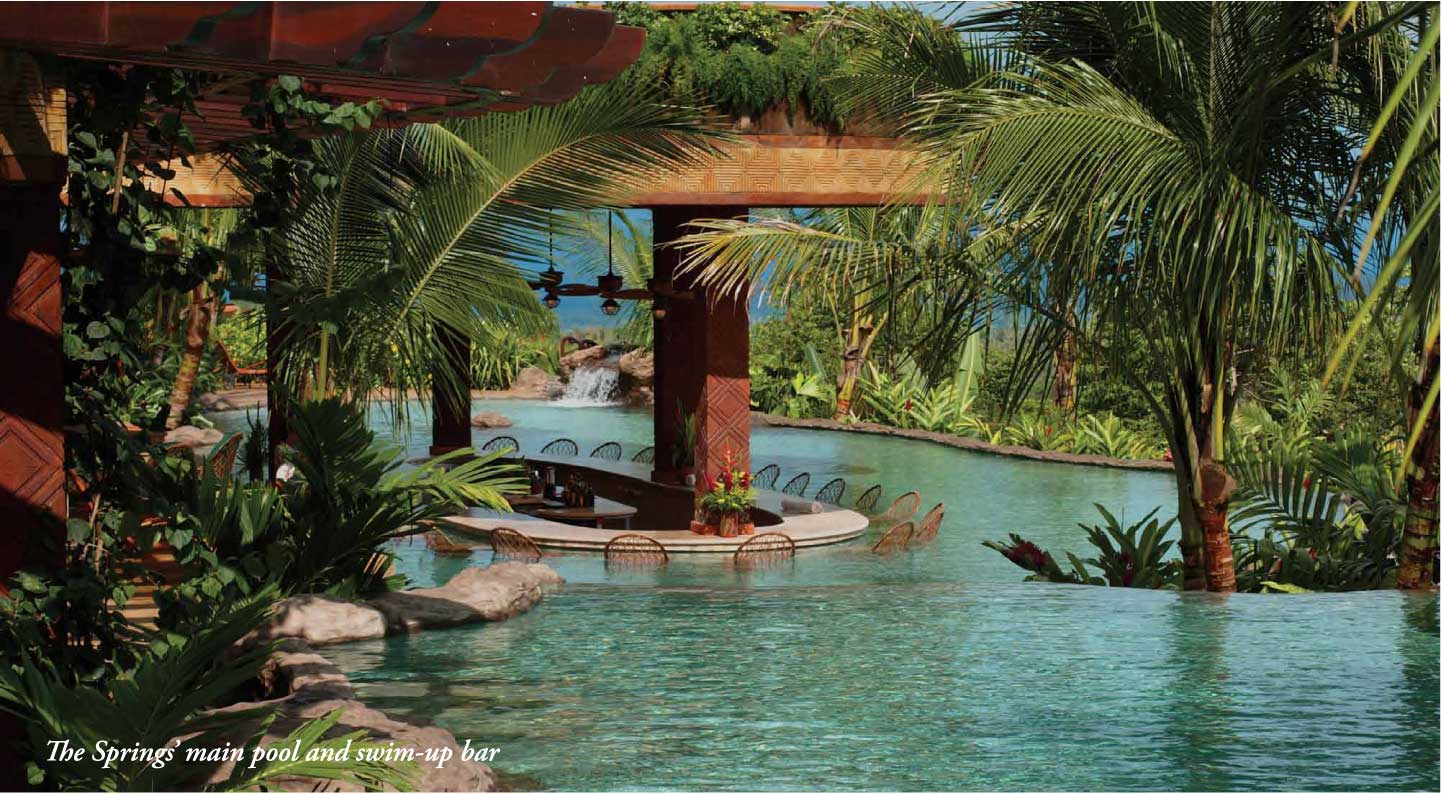 Sadly, the preserve's toucan population quickly decreased by two as a result of the employee's mistake.
"I could hardly sleep that night thinking about those two toucans whose safety was ultimately my responsibility," said Banks, who then added: "I would rather have lost $5000 than those two toucans."
In typical Banks style, a new procedure for securing the toucan cage was immediately enacted.
So, what keeps this incredibly successful businessman from choosing early retirement? That's pretty simple.
"You have to love what you do," said Banks. "And I'm very lucky. I'm living my dream."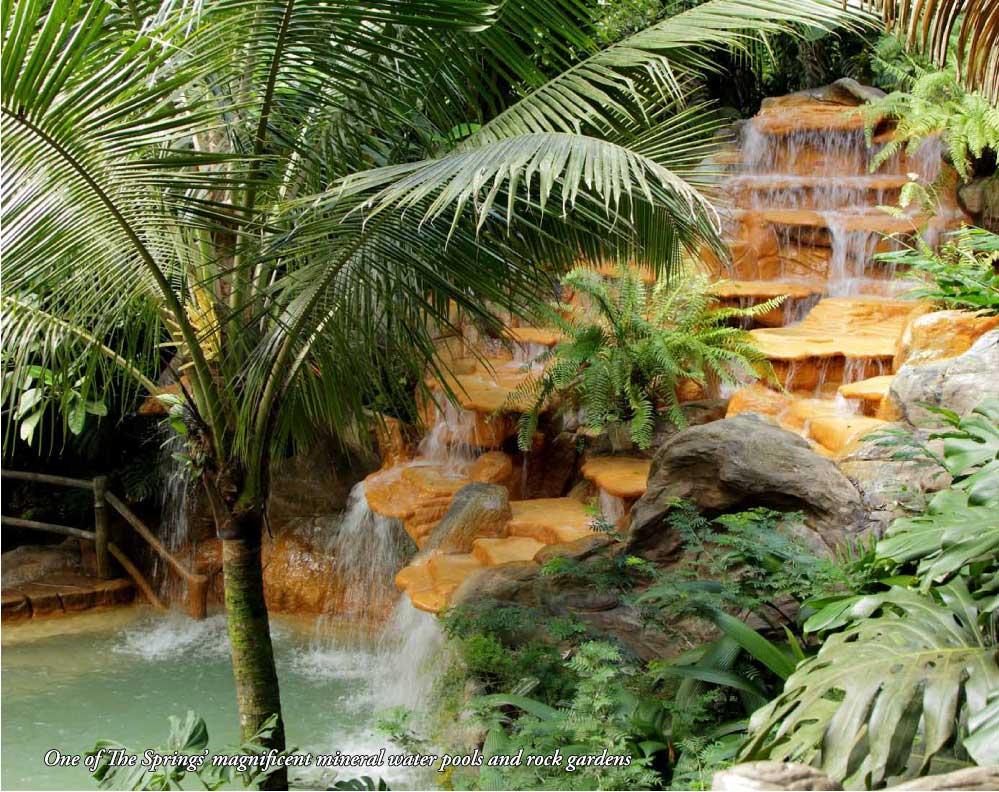 The Springs Resort & Spa
The Springs Resort and Spa is a 165-acre luxury boutique, five-star hotel in La Fortuna, Arenal, Costa Rica, with the best view of the Arenal Volcano and the most onsite guest amenities, including a 14,000 sq. ft., full service spa, hot springs, more than a half mile of frontage on the Arenal River and a wildlife rescue preserve with 25 rescued jungle cats and monkeys. The Springs is nearly unsurpassable for bird watching in Arenal, along with hiking, river fishing, kayaking and wildlife tours.
With a spectacular view of the Arenal Volcano, natural hot and cold springs, four unique dining experiences and an impressive full service spa, The Springs promises to overwhelm you in every aspect of quality, service and design.
The spectacular resort is a perfect honeymoon destination, but also a great family resort with numerous children's activities. The resort is located a 20-minute drive from the main town of La Fortuna in a secure, self contained and family-friendly resort atmosphere. In essence, The Springs is a true Costa Rica family resort and a romantic honeymoon hotel at the same time. And with 18 hot springs pools spanning over 4 acres of landscaped recreational area, there is plenty of room to spread out and relax.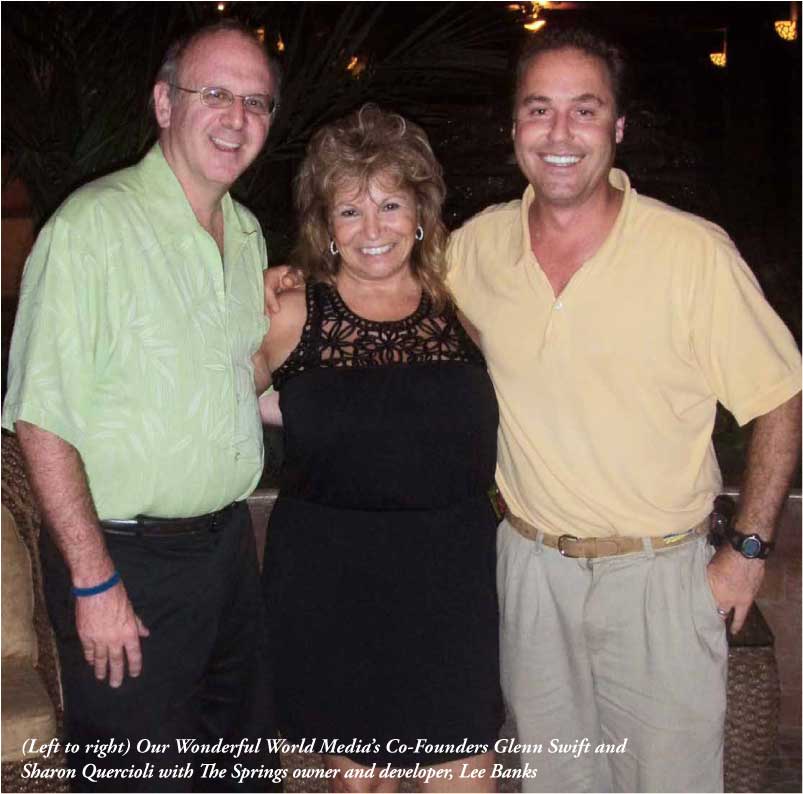 If you choose to stay at a more moderately-priced hotel, The Springs offers the finest hot springs day tour in the Arenal area. Interestingly, chemical analysis of the minerals in the resort's hot springs shows that The Springs has the best hot springs in Arenal, with the highest parts per million of beneficial minerals. The Springs offers a two-day pass for only $40 per person, which includes the hot springs tour and the wildlife rescue preserve Jungle Cats tour, as well as access to the resort's four great restaurants and five bars. Day visitors can also book horseback riding, ATV and kayaking tours at the hotel.
This Costa Rica luxury resort perches one thousand feet above the Arenal Valley on a mountain ridge four miles north of the active volcano, but safely outside the government declared danger zone. The resort's higher altitude relative to other hotels in the area allows not only for incomparable views of the Arenal Volcano, the lush valley and the surrounding towns that sparkle at night, but also access to the area's famous prevailing breezes. Fittingly, Arenal is an indigenous word meaning "Window of the Wind."
With an average daytime high temperature of 80˚F in the shade and nighttime lows averaging 70˚F, you are sure to enjoy countless comfortable hours in your balcony hammock, al fresco dining or sipping a frothy tropical cocktail in one of The Springs' 18 pools.
The resort's eighteen freeform, landscaped pools provide guests with great views of the volcano and a multitude of options. With temperatures ranging from 83˚F to 103˚F and environments that vary from raging waterfalls to tranquil forest experiences, guests can find the perfect pool for their mood and weather conditions. Tests of the resort's hot mineral springs reveal an ideal natural combination of high bicarbonate and high chlorides with relatively low sulfur content to provide a safe and clean soaking experience.
Pools/Las Lagunas (The Lagoons)
Located at the base of the reception building, this area encompasses two acres of lush landscaping and an assortment of multi-level sun and shade terraces surrounding twelve pools. Four of the pools are fed directly by water pumped from the property's hot mineral springs, and the other eight are chlorinated but heated to various temperatures by the hot springs through a sophisticated heat exchange system.  These pools range in temperature from 83˚F to 103˚F.
Perdido Springs (Lost Springs) is a connected system of trails and seven spring fed pools located within a forest canyon just a short 100 meter walk from the lowest level of the Las Lagunas pools. The trail to these hot and cold springs, called the Heliconia Walk, is lined with 150 different species of flowering Heliconias along with beautiful rainforest trees, plants and vines. In the center of these pools is a small jungle bar called Los Perdidos (The Lost Ones) along with a water flume called the Monkey Slide. These pools range in temperature from 90˚F to 101˚F.
A second phase of pools down in the valley overlooks the Arenal River as well as a creek-fed, old fashioned, swimming hole with hot springs percolating up from the sand below. The more than half a mile of river frontage on the property lends itself to a variety of activities, including swimming, inner-tubing, kayaking, fishing and hiking.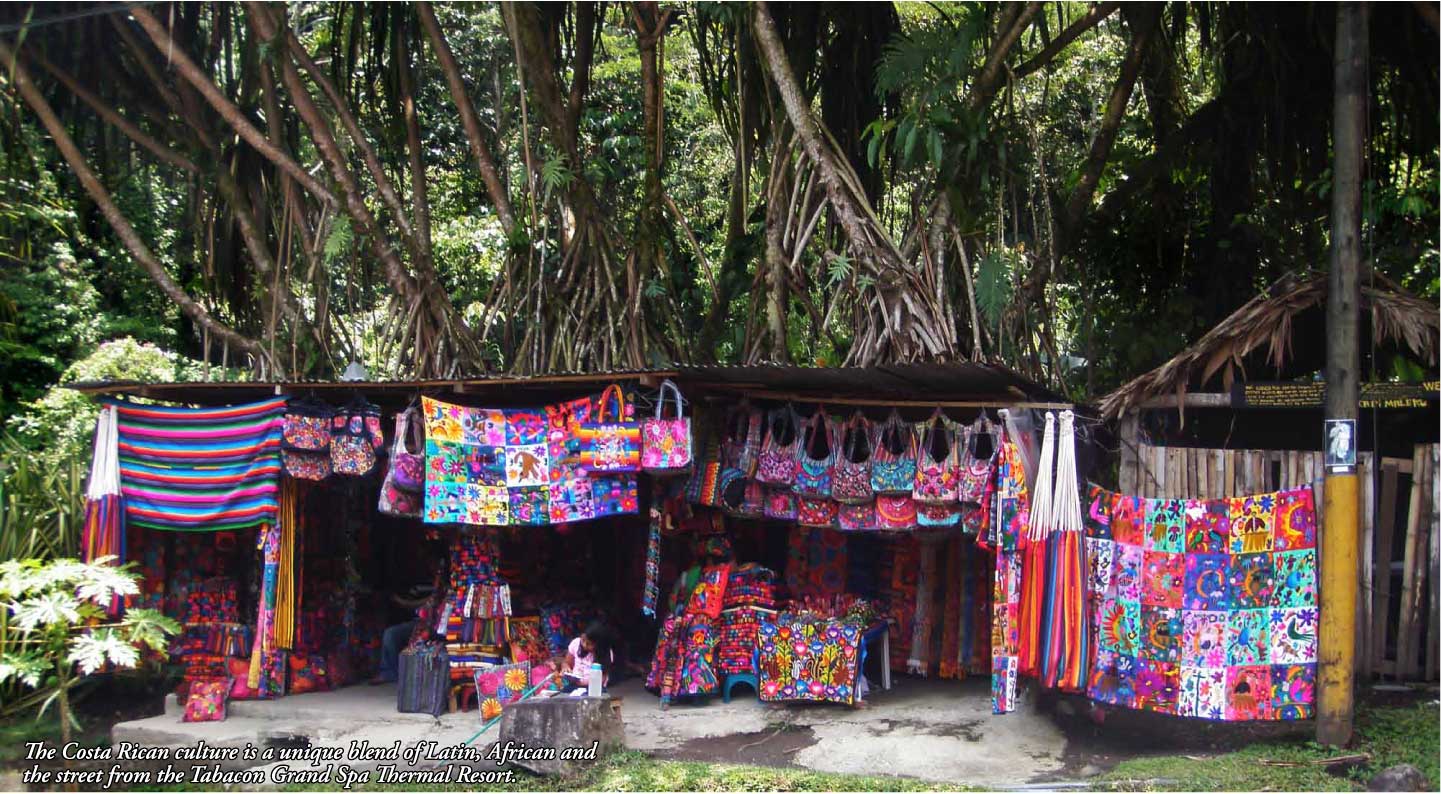 The Springs Spa and Fitness Center
The 14,000 sq. ft. full service spa encompasses an entire level of the hotel's reception building and reflects the resort's commitment to provide a complete treatment experience that replenishes your mind, body and soul. Massages, facials, body wraps, manicures and pedicures are offered in a luxurious and holistic setting administered by trained professionals with the latest technology. The treatment menu utilizes tropical botanical ingredients indigenous to the country as well as a variety of lab-tested, therapeutic volcanic clays harvested on the property near the hot springs. Be sure to ask about the resort's unique treatments including the "floating water massage" offered in the property's mineral springs.
For guests who enjoy staying in shape while on vacation, The Springs offers a comprehensive collection of state-of-the-art technology with its cardiovascular and strength equipment. To enhance your workout experience, the cardio room features an inspirational view of the volcano and surrounding valley.
Spa facilities include a common lobby with spectacular views where both male and female guests can enjoy lunch or a relaxing break together between treatments, as well as separate ladies' and men's relaxation areas for added privacy between treatments. Of course, the locker rooms are equipped with steam and sauna rooms, as well as private showers and changing accommodations.
Dining & Cocktails
The Springs features a varied selection of dining options sure to please even the most discriminating palates. Whether you crave a chopped filet mignon hamburger served poolside at the Treetops Grill or a Seared Yellow fin Tuna Steak prepared with a unique Costa Rican/Asian fusion sauce at the resort's fine dining restaurant, Las Ventanas, The Springs is sure to satisfy all your culinary desires.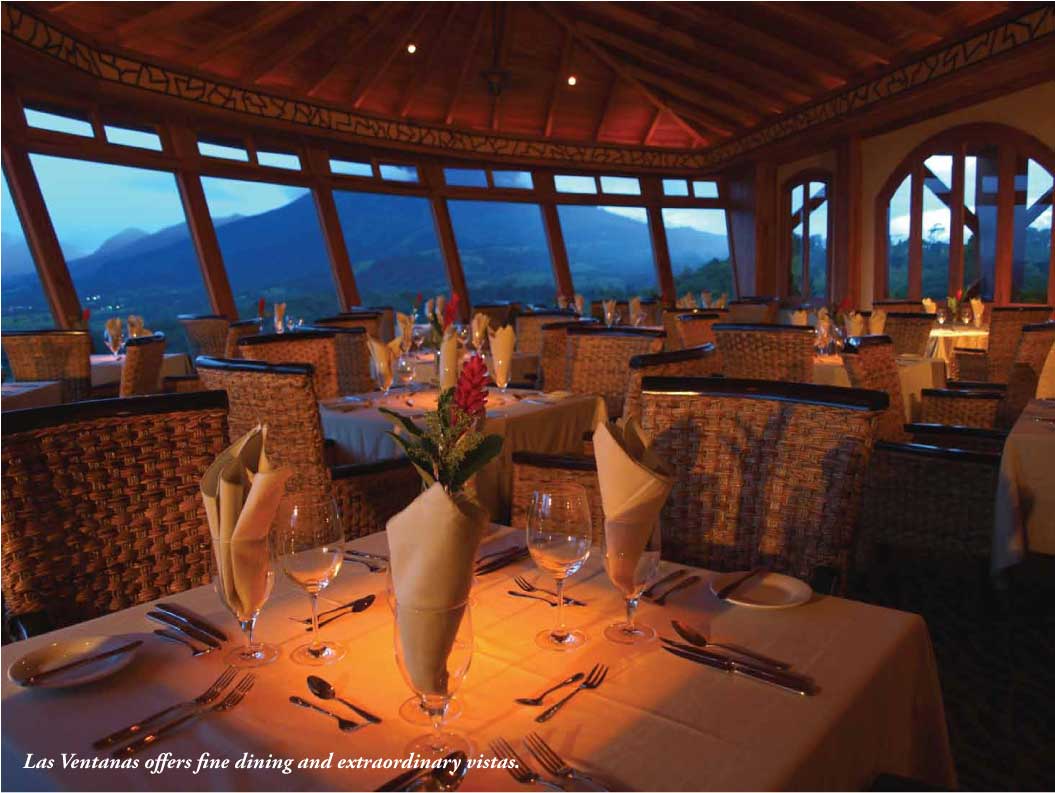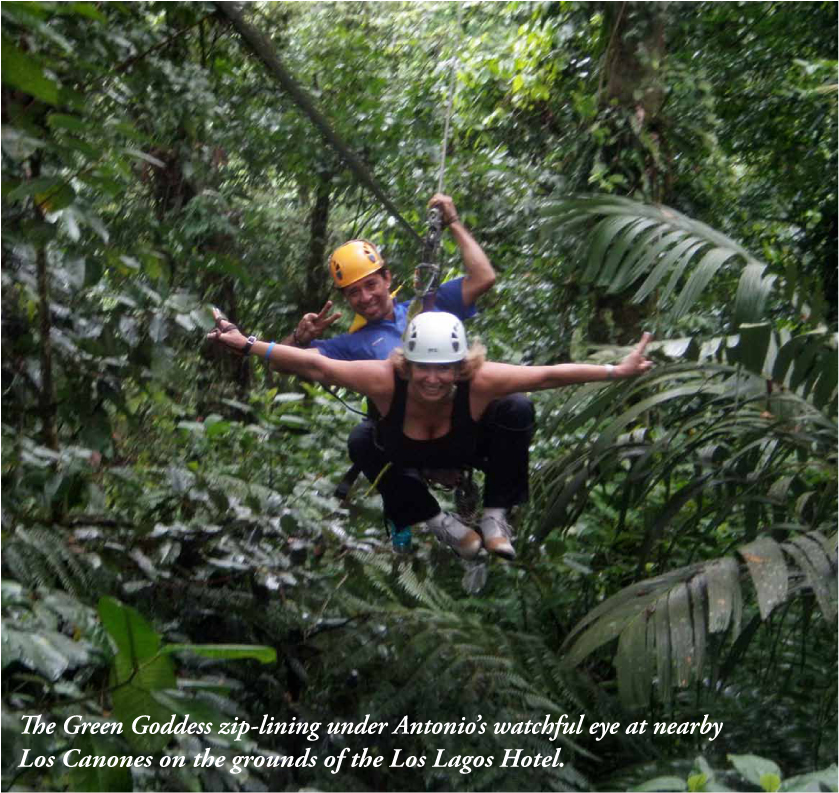 Off-Site Activities
Fishing on the Arenal River
Waterfall Rappel
Costa Rica Sky Adventures Tours
Canopy Tour
Rafting
Hanging Bridges
Venado Caves
Lake Arenal Pontoon Boat Fishing and Sightseeing
ATV Tours
Room Descriptions
Each guest room and villa at The Springs includes a private terrace with balcony and picturesque volcano view, hammocks, rocking chairs, central air conditioning, luxurious marbled bathrooms with jacuzzi tubs and multiple head showers, satellite television with 37" flat screen TV, surround sound stereo with CD/DVD player and IPOD/MP3/USB connectivity, telephone, wireless internet access, wet bar, safe, mini-bar refrigerator and coffee maker.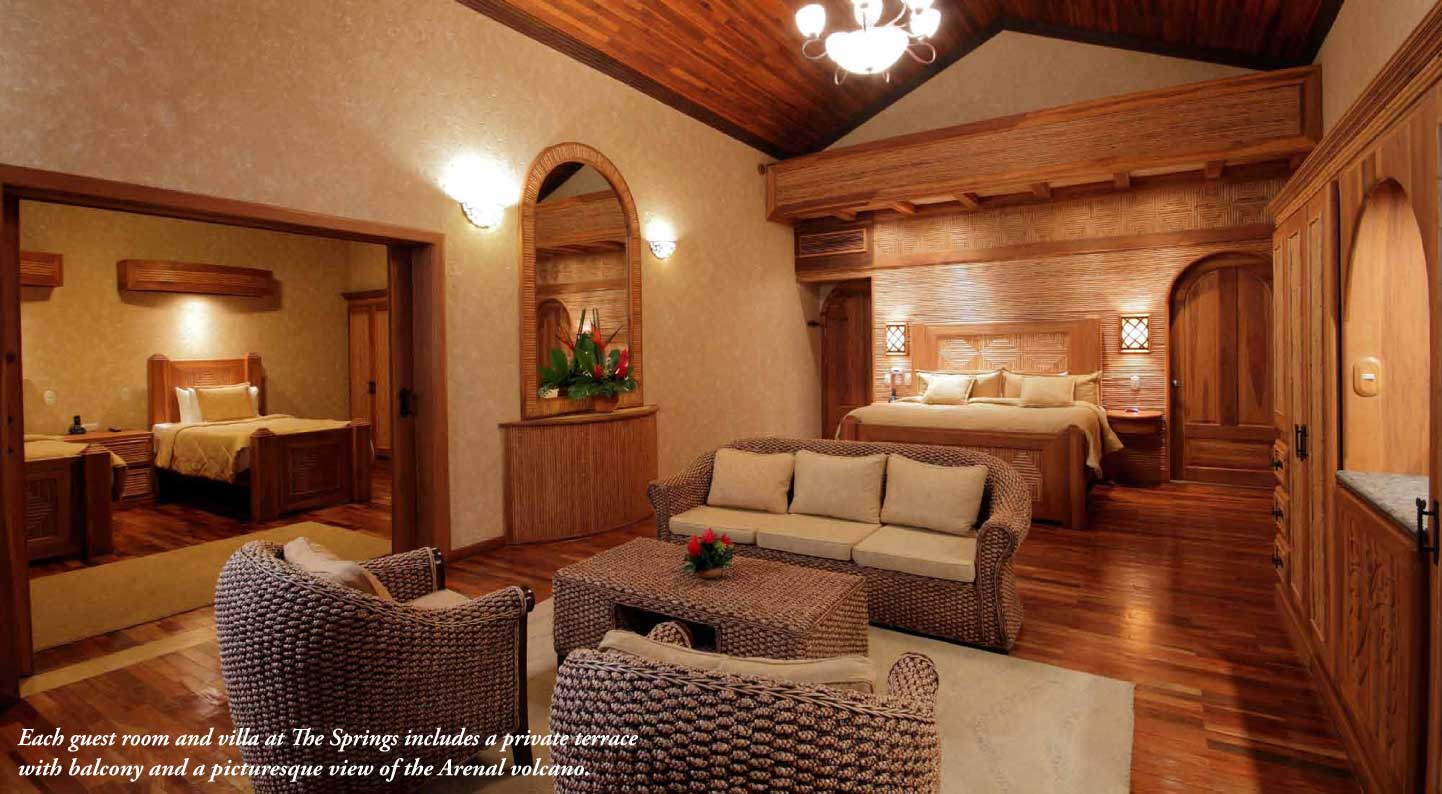 Located in the heart of a tropical rainforest at the base of an active volcano, this five-star luxury hotel offers discriminating travelers the ultimate vacation experience. For more information about The Springs, please visit www.springscostarica.com.