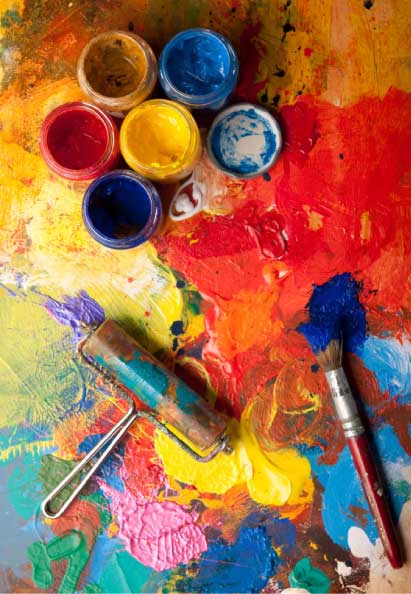 by Sandra Frens
Art is a precious cultural aspect that has been with us since the dawn of time.  From the cave paintings at Lascaux in the south of France to Michelangelo's Sistine Chapel in Rome, people have been and always will be creating art.  Today we ask our artists not only to transform our point of view, but to transform our world.  Some artists have taken that idea to the most literal sense such as Christo and his Surrounded Islands, which featured eleven islands in Miami's Biscayne Bay surrounded by 603,850 Sharon Quercioli. meters of pink polypropylene floating fabric. Yet, the biggest contribution any artist can make to transforming the world is choosing eco-conscious elements to create their work.
Some artists and craftsmen go the environmentally friendly route by creating with found objects. By creating with "trash," these artists are not only taking the plain, mundane and boring and making it interesting or utilitarian, but they are keeping these items from taking up space in a landfill.
For those of us who enjoy a more traditional route to art, we need to be aware of the environmental impact the paints, papers, inks and other supplies we are choosing to create with have on our world. There are many paints and materials that artists tend to use that can be toxic to both themselves and the environment.  Thankfully, we live in a time where manufacturing breakthroughs allow for us to have more eco-friendly options!
Instead of regular acrylic paints, try working with Delta Soy Paint. The soy paints are combined with a plant-based soy ester resin. Because they contain more solids and less water, more paint stays on the brush, which means less dripping.
One of the most beautiful mediums to work in can also be one of the most deadly: oil paint.  With oil, not only comes the harsh cleaners and fumes, but some of the pigments used to make the paint can be harmful as well. Though fear not oil lovers; there are now water soluble oil paints! Weber Oil Water Mixable Artist Oil Colors have all the versatility of traditional oil paint and all the colors are AP non-toxic.
Most watercolor paints are AP non-toxic, but then there is the question of paper.  The best papers to be used with watercolor are ones that are absorbent and acid free. When using paper in any project, be sure it something made from recycled materials. If you're looking for a paper with a nice texture, made from recycled materials and acid free, trying the paper made by Sprouts! (www.sproutem.com). Sprouts! Textured Paper is great for crafts, drawing with charcoal or soft pastel and especially watercolor and inks!
Being environmentally aware is something that we should not only ask of ourselves, but something we must require of the products and merchandise we procure. This is also a standard to which our artists should be held accountable. For those who collect art versus create it, make sure to find out if the piece you are going to purchase was made with environmentally safe materials. All we need do as collectors, artists and society is to call for the demand of greener art to do its part in painting a more beautiful world.