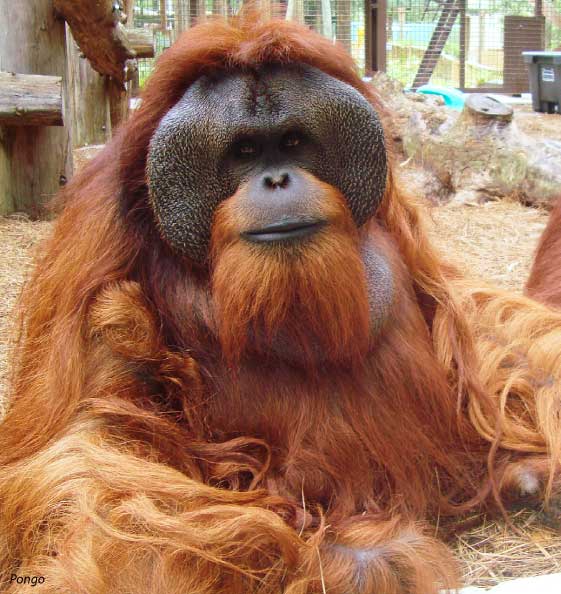 by Glenn R. Swift
Thanks to the vision and dedication of Patti Ragan, a true pioneer in primate rescue, 29 chimpanzees and 15 orangutans now live in a beautiful wooded refuge in Florida, spending their Golden Years climbing and swinging in 40ft. tall domed habitats.
Known as the Center for Great Apes, the sanctuary is located in Wauchula, just a few miles from the beautiful Peace River, on 120 acres of tranquil tropical forest. Manned by a team of dedicated professionals and supported exclusively by the generosity of private donations, the sanctuary is the only one of its kind in North America to care for both species of great apes.
Recently, Sharon and I, along with two very special friends of ours, were given the opportunity to visit the Center and behold these beautiful creatures. To see their expressions up close and literally feel their emotions was undoubtedly a once-in-a-lifetime experience. We saw young males confidently display their strength and athleticism and mature females affectionately caring for their young. Clearly, all of the apes were being lovingly cared for in a remarkably clean and natural setting. And despite years of neglect (in some cases downright cruelty), all of the apes appeared happy in their new home—just as Nature intended.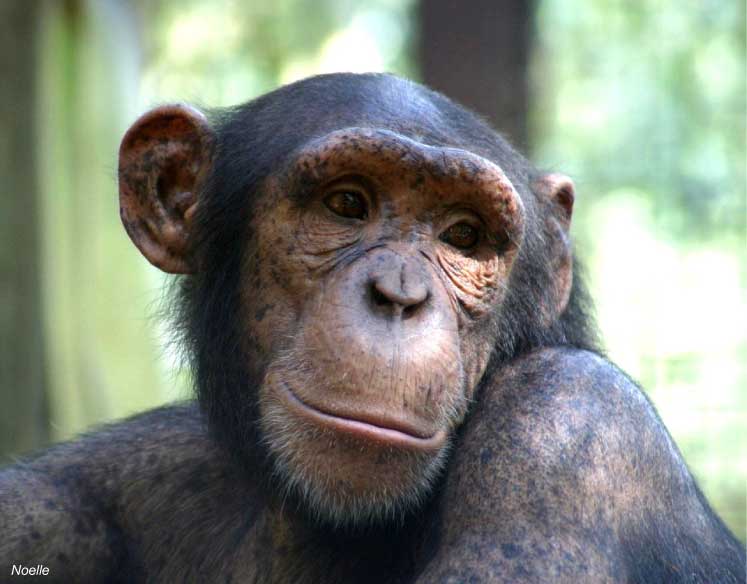 This is nothing short of remarkable considering that diverse backgrounds of the apes. Some spent their earlier years in harsh laboratory settings subjected to repeated medical experimentation, while other "celebrity apes" worked in circuses, TV advertisements and movies. Still others were taken away from their mothers as tiny infants and sold as private pets, but eventually the cute and cuddly creatures became far too big and strong to handle. (By age six a chimpanzee has five to seven times the strength of a human being.)
Since great apes in a captive environment often live into their fifties and longer, many end up in dangerous situations or get dumped in unsuitable places for many, many years. Fortunately, the Center for Great Apes provides these primates with a permanent home while rehabilitating them to live again with their own species with good nutrition and in an enriching environment.
Mission
"Our mission is to provide a permanent sanctuary for orangutans and chimpanzees who have been rescued or retired from the entertainment industry, from research, or who are no longer wanted as pets. The Center provides care with dignity in a safe, healthy and enriching environment for great apes in need of lifetime care," said Founder and Director, Patti Ragan.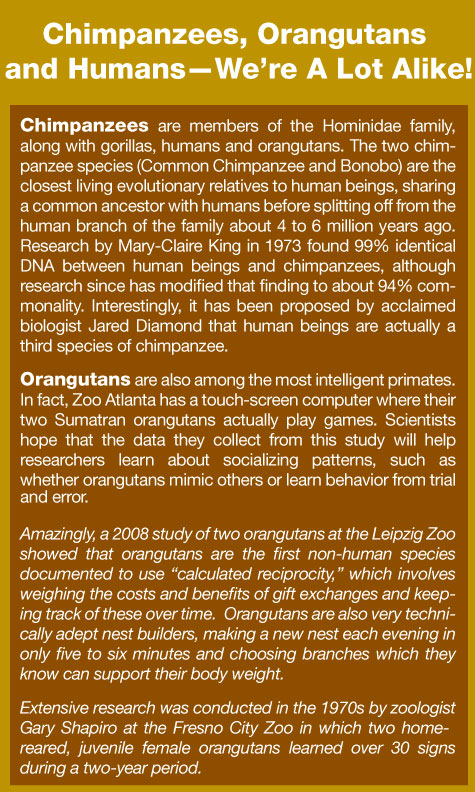 Patti Ragan
The motivation behind the Center's creation goes back nearly three decades to the rainforests of Borneo, where Ragan spent several months volunteering at a rehabilitation project for wild orangutans. While there, her duties included tracking wild orangutans to observe behaviors for a long-term study and providing foster care for a group of infant orangutans. The orphans were being rehabilitated for return to their forest homes in Borneo. During this intense time of living with orangutans and gaining experience caring for orphaned infants, Ragan learned to love and appreciate their quiet, gentle nature.
Five years later, because of her previous experience with orangutans in Borneo, she was asked to help care for a four-week old infant orangutan at a small bird park in Miami. Thinking that the infant was going to eventually live with other orangutans at an accredited zoo, Ragan became disheartened when the owner said that he was sending the young ape to a trainer for circus work. Due to several circumstances, including a serious illness that affected the infant, the young orangutan was not sold to the circus, and the owner later agreed to allow Ragan the opportunity to find an appropriate captive home for the infant.

She soon learned that most accredited zoos did not want a mixed Bornean/Sumatran orangutan, especially one that was hand-raised. Realizing that there were little or no opportunities for placement in an accredited zoo (and that there would never be a chance for him to live in the wild), Ragan set out to find a sanctuary for the orangutan infant. However, in 1990, there were only two primate sanctuaries in the United States, but none that had orangutans, let alone any meaningful experience to care for them.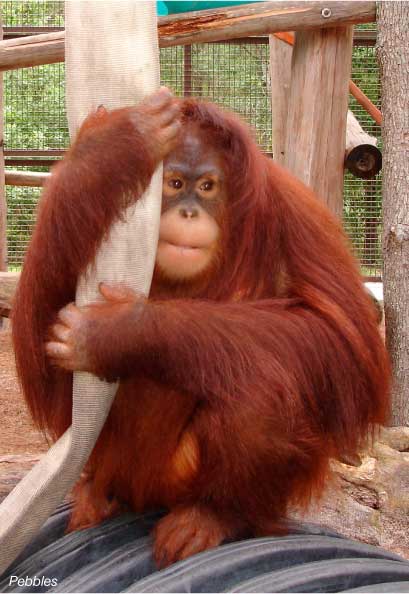 Wishing that someone would start a sanctuary in the U.S. for orangutans that could not be cared for at major zoos, or be returned to the wild, Patti decided to establish a nonprofit organization for that purpose. While still volunteering to care for the now one-year-old infant orangutan at the Miami bird park, Ragan was then asked to also give foster care to an infant chimpanzee for a few months. But at that point she was told the little chimp would be sold for work at Universal Studios in Orlando when he turned 18 months old. Suddenly, the idea of an orangutan sanctuary became an orangutan and chimpanzee sanctuary.
Ragan was determined not to let the infant chimp be sold into entertainment.
After formally establishing the Center for Great Apes as a nonprofit organization in 1993, it took four more years to find the perfect location for a sanctuary site, meaning one that was both affordable and could meet the needs of the apes. Ragan found that place in Wauchula, a small rural community in southern Central Florida. Starting with 15 acres of a beautiful and tropical wooded habitat surrounded by orange groves, the sanctuary has now grown to 120 acres and provides a home for more than 40 great apes.
Those first two infants Patti cared for became the first great ape residents living at the sanctuary. Pongo, the infant orangutan, is now a magnificent adult male 18 years old and 240 pounds. And, Grub, the infant chimpanzee, later became the dominant and powerful leader of his group of chimpanzees at the Center.
Accreditation
In recognition of Ragan and her staff's extraordinary commitment to providing the best care possible, the Global Federation of Animal Sanctuaries (GFAS), the only globally recognized organization providing standards for identifying legitimate animal sanctuaries, recently granted full accreditation to the Center.
"The Center for Great Apes is a shining example of all that a sanctuary should be," says Patricia Finch, GFAS Executive Director. "It is hard to encapsulate in a few words all that is so right with this sanctuary. Patti Ragan, as well as their chief veterinarian, each has over 20 years' experience in working with great apes, which means that the orangutans and chimpanzees are receiving a level of informed care that is simply unsurpassed. And the facility itself is inspiring with a mile of elevated chutes that allow the great apes to meander throughout the sanctuary and observe other groups of apes or even walk themselves to the infirmary for health checks," Finch added.
The accreditation means that the Center for Great Apes meets the comprehensive and rigorous definition of a true sanctuary and is providing humane and responsible care for the primates, meeting rigorous and peer-reviewed standards for operations, administration and veterinary care established by GFAS. The accreditation status also provides a clear and trusted means for public, donors and government agencies to recognize the Center for Great Apes as an exceptional sanctuary.
Your Donation Helps
The ongoing costs of caring for these magnificent beings are staggering—over $20,000 per ape. Sadly, very few former owners provide financial support to the Center to take care of their apes. The Center receives no government assistance of any kind, with support coming exclusively from animal welfare grants and individual supporters who care about great apes, improving their lives and providing care for them.
There is an ongoing need for lifetime care for primates in desperate situations. The Center is, therefore, in a continuous mode of fundraising and construction of additional indoor and outdoor housing. Currently, the Center houses 44 chimpanzees and orangutans that range in ages from 5 to 50 years. So, please consider doing whatever you can. These chimpanzees and orangutans deserve our continued support as dispensation for all the suffering they have endured at human hands.
Benefits of Membership and Support
As a member of the Center for Great Apes, you'll be enhancing the quality of life for its current residents as well as supporting the continued work to provide for those apes still in need of refuge. All members will receive a subscription to the Center's newsletter and invitations to member events. Additionally, members joining at higher levels may schedule special visits to the sanctuary.
Benefits of Adoption
While you cannot actually take an ape home, you can help give your favorite apes the protection, support and love that guardians provide.
If you would like to help financially with the care of a particular chimpanzee or orangutan that is special to you, the Center has personalized "adoption opportunities" ranging from $150-$10,000.
The Center for Great Apes is a 501(c)(3) nonprofit organization and all contributions are tax deductible as allowed by law. To become a member, adopt an ape or make a donation, please visit www.centerforgreatapes.org or call (863) 767-8903.
Wish List
The Center is constantly need in need of everyday items ranging from blankets and paper towels to brooms and mops. For a list of the Center's desperately needed items, click here: www.amazon.com/gp/registry/wishlist/2J6ISYP9UINIX