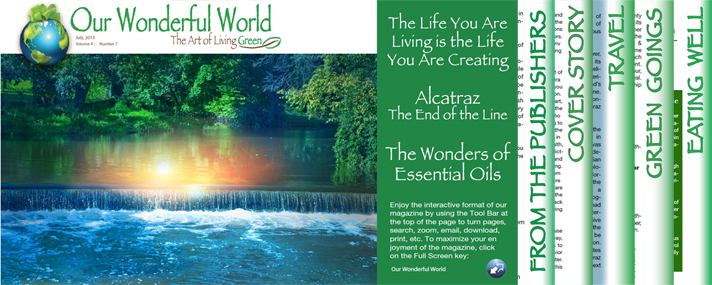 Our Wonderful World Magazine
Our Wonderful World is a high-end digital, monthly magazine that provides you the know-how to "go green" with sustainable living ideas and cutting-edge information about earth-friendly products that can improve the environmental sustainability of every aspect of your life, all of which honor your body, your soul and the Earth. You'll also find interesting, helpful information about improving your health, getting fit, refreshing your spirituality, achieving work-life balance and enhancing serenity. Then again, you'll also get the very latest in energy conservation tips, natural skincare, herbal remedies, jewelry, organic recipes, upcoming "green" events… and a whole lot more.
Our Wonderful World Media and Entertainment, Inc. believes that the true measure of our success is the change that we make in helping to protect and nurture our environment, our families and our health.