by Jan Davisson
SHAKESPEARE BY THE SEA
You know that it's summer time when The Palm Beach Shakespeare Festival delights audiences with Shakespeare by the Sea at "Stratfrord upon Carlin." Park that is… It's an outdoor extravaganza at the Seabreeze Amphitheater in Jupiter.
For over 27 years years, founder Kermit Christman and his talented production team have taken the words of the Bard and put the setting in another century or timeframe, everything from 22nd century to "mod sixties" to "roaring twenties." Does it take away from the traditional script? Not a chance. It draws an audience that might never come out to see a Shakespearean play, especially students and young adults.  It's just plain genius and so darn much fun!
This year's production is Love's Labour's Lost and runs for two weekends, July 6-9 and July 13-16. Gates open at 6:30 p.m., no admission or reservations; however, a $5 donation is suggested for adults. It's such a good deal, who could say no to that request!
So, get out your beach chairs or blankets; pack up your picnic baskets or plan on visiting the food trucks! A cooler with libation is suggested as it is outside, under the stars and palm trees; however, that balmy ocean breeze make outdoor theatre in Jupiter, a special treat.
SHAKESPEARE BY THE SEA, SEABREEZE THEATER, CARLIN PARK, A1A, JUPITER. FOR INFORMATION: (561) 966-7099
PALM BEACH DRAMAWORKS
It's hot, hot, hot outside, but our local theaters are cool, cool, cool. Starting with the upcoming Sweeney Todd, Demon Barber of Fleet Street at the Don & Ann Brown Theatre on Clematis Street in West Palm. Presented by Palm Beach Dramaworks, it's just another example of how they keep their audience extremely happy. PBD's past season went from one hit to another, bringing back some favorites and introducing the audience to playwrights they might not have had an opportunity to enjoy, such as Tru  by Jay Presson Allen   and The Cripple of Inishmaan by Martin McDonagh, their final season choice. They opened the season with the Pulitzer Prize-winning The Night of the Iguana by Tennessee Williams.
Right up front, you know you're in for a treat as the Sweeney Todd music and lyrics were written by Stephen Sondheim, with book by Hugh Wheeler.
The character of Sweeney Todd actually dates back to 1846 when he first appeared in a British penny dreadful for 18 weeks. ( Penny dreadful is a pejorative term used to refer to cheap popular serial literature produced during the nineteenth century in the United Kingdom. The term is roughly interchangeable with penny horrible, penny awful, and penny blood.)
The sinister doings of Sweeney Todd continued as he became a part of British culture in numerous productions, two silent films and a ballet. Sondheim first saw the show when in England and decided that he wanted to make it into a musical both suspenseful and downright scary. The idea certainly panned out for Sondheim as the original production, directed by Harold Prince and starring Len Carious and Angela Lansbury, all won Tony awards. In fact, it garnered eight Tonys.
Now that I've whetted your appetite (play on words you'll soon discover) to hear more about the throat-slitting barber, Sweeney Todd and his accomplice Mrs. Lovett, who grinds up his victims into meat pies, here's a bit about the PBDW cast.
Directed by Clive Cholerton, who not only has directed past musicals at PBDR ie: last year's summer hit, 1776; Most Happy Fella, Zorba and Camelot and several other concert type musicals. The title role of Sweeney Todd will be portrayed by Shane Tanner who has done five productions at BRDW; however, I remember him mostly for his dark portrayal of the brooding, sinister Jud in Oklahoma at the Wick Theatre.
His conspirator, Mrs. Lovett is that sweet-faced actress Ruthie Stephens. The talented young actress has some big boots to fill. Remember, Mrs. Lovett was played by Angela Lansbury in the Broadway production, another sweet-faced female. Others in the cast include Paul Louis Lessard, Jennifer Molly Bell, Evan Jones, Michael McKenzie, Shelley Keelor and Alex Mansooria and, of course, Jim Ballard, the workingest actor in South Florida. He was last seen in a dark role in The Cripple of Inishmaan.
Sweeney Todd: The Demon Barber of Fleet Street runs from July 14-August 6. Tickets are now on sale. If you'd like a sneak peek behind the scenes, check out the Drama Wise Series. It's a chance to probe into the whys and wherefores of Sweeney Todd from director to actors' viewpoint. This day long event is scheduled for July 13 starting at 10 am with luncheon break and then an afternoon session. For additional information, please call the box office or go online.
Palm Beach Dramaworks 201 Clematis Street West Palm Beach FL 33401 Tickets: 561–514–4042 Ext. 2; www.palmbeachdramaworks.org.
PGA ARTS CENTER
Funny Old Broads opens on July 6 and runs through July 30 at the newly formed PGA Arts Center. The show is a lighthearted look about life in the middle ages, ours that is; growing up in the "burbs" and filled with humor, song and touching personal memories.
It was written and performed by Caryn Bark, Pam Peterson and Jan Slavin and is part of the PGA Arts Center's Summer Series. All three women have wonderful resumes, everything from radio and television to stand-up comedy credits and awards. Slavin and Peterson perform regularly in their own musical duo, The Boomer Babes. Bark is a regular on the Marie & Friends radio show, hosted by Marie Osmond. She is also the author of the novel Mittelschmerz, a comic romance about Chicago's Jewish community. Showtimes are Thursday and Saturday, 2 pm & 7:30 pm; Friday 7:30 pm and Sunday 2 pm. For additional information, check out the website or call the box office. Funny Old Broads runs through July.
PGA Arts Center, 4076 PGA Boulevard, Palm Beach Gardens 33410 Tickets: (855) 448-7469 or online at www.pgaartscenter.com.
WICK THEATRE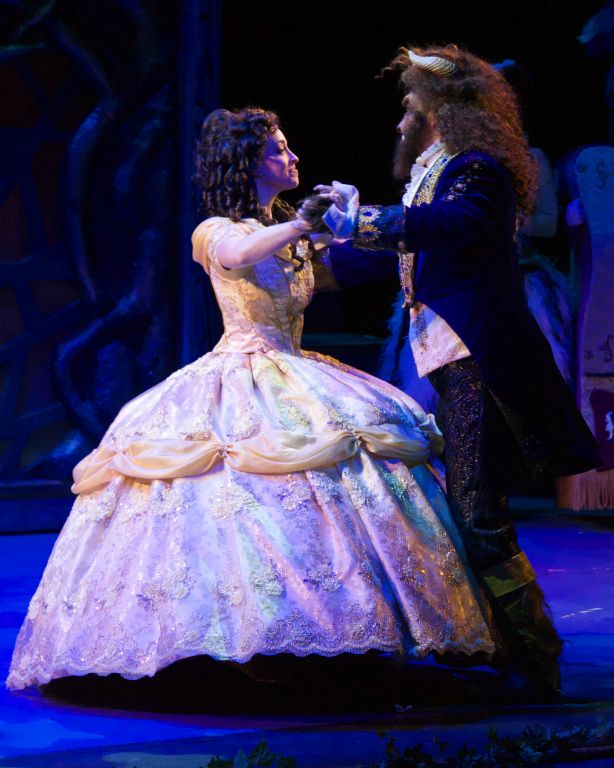 It's not too late to get tickets for yourself and a favorite little girl to Beauty & the Beast at the Wick Theatre in Boca Raton. Not only does it feature the wonderful story of Belle and the beast, but they also have several special events hosted by the characters from the show, such as a story time with the beautiful bookworm Belle, or tea with the delightful Mrs. Potts, or a candlelight dinner with Lumiere the candelabra with the French accent. The food events take place in the charming Tavern at the Wick dining room at the theater. This is all part of the Wick's mission to acquaint younger children to live theatre. Unfortunately, the show closes on July 9.
The Wick Theatre, 7901 N. Federal Hwy., Boca Raton. Box office (561) 995-2333 or online at www.wick.org  
KRAVIS THEATRE FOR THE PERFORMING ARTS
As long as we're on theater for kids, the Kravis has an upcoming show featuring favorite characters from PAW Patrol television show. According to the writeup, the production features a cast of everybody's favorite PAW Patrol characters. PAW Patrol Live! shows that "no job is too big, no pup is too small" and shares lessons for all ages about citizenship, social skills and problem-solving as the characters each use their unique skills and teamwork. The performance features up-tempo music and a brand new cleverly written script that is a good introduction to live theatre for kids. Classic theatrical scenery along with a high-tech video wall visually transports families to an authentic PAW Patrol environment, including locations from various TV series like Adventure Bay, The Lookout, Seal Island, Farmer Yumi's Farm and Jake's Mountain. Special interactive video allows the audience to participate via interviews, solve clues with the Pups, follow Mayor Goodway and much more. The production is presented by VStar Entertainment Group and Nickelodeon. PAW Patrol Live has four performances at the Kravis; July 15 and 16; 10am and 2pm both days.
Kravis Center for the Performing Arts, 701 Okeechobee Blvd., West Palm Beach Tickets (561) 832-7469 or (800) 572-8471; www.kravis.org   
ACTORS PLAYHOUSE, CORAL GABLES
If you're planning a staycation in South Florida, a visit to Coral Gables with the kids might just be what you're looking for. The Actors Studio has a Saturday performance throughout July, Dorothy Meet Alice and then there's Venetian Pool, which thrills adults and kids alike with its fantasy setting. Of course, the zoo and the Seaquariam are also close by. Lots of hotels of all prices are available in the Gables, including the historic Biltmore, very upscale with fantastic food and pool, where Johnny Weissmuller, the original Tarzan, used to swim.
Image what would happen if Dorothy from Kansas met Alice from Wonderland and got mixed up together in a magical meeting that includes the people from the Land of Oz and Wonderland! It's a delightful romp through the imagination of a young girl who procrastinated doing a book report and seems to have gotten her stories intertwined. Dorothy Meets Alice, book and lyrics by Joseph Robinette, Music by Karl Jurman. Saturday performances only at 2 pm.
"All Kids Included" Sensory-Friendly Performance on July 22 at 11 am
ACTOR'S PLAYHOUSE AT THE MIRACLE THEATRE, 280 MIRACLE MILE, CORAL GABLES, FL. (305) 444-9293