by Glenn R. Swift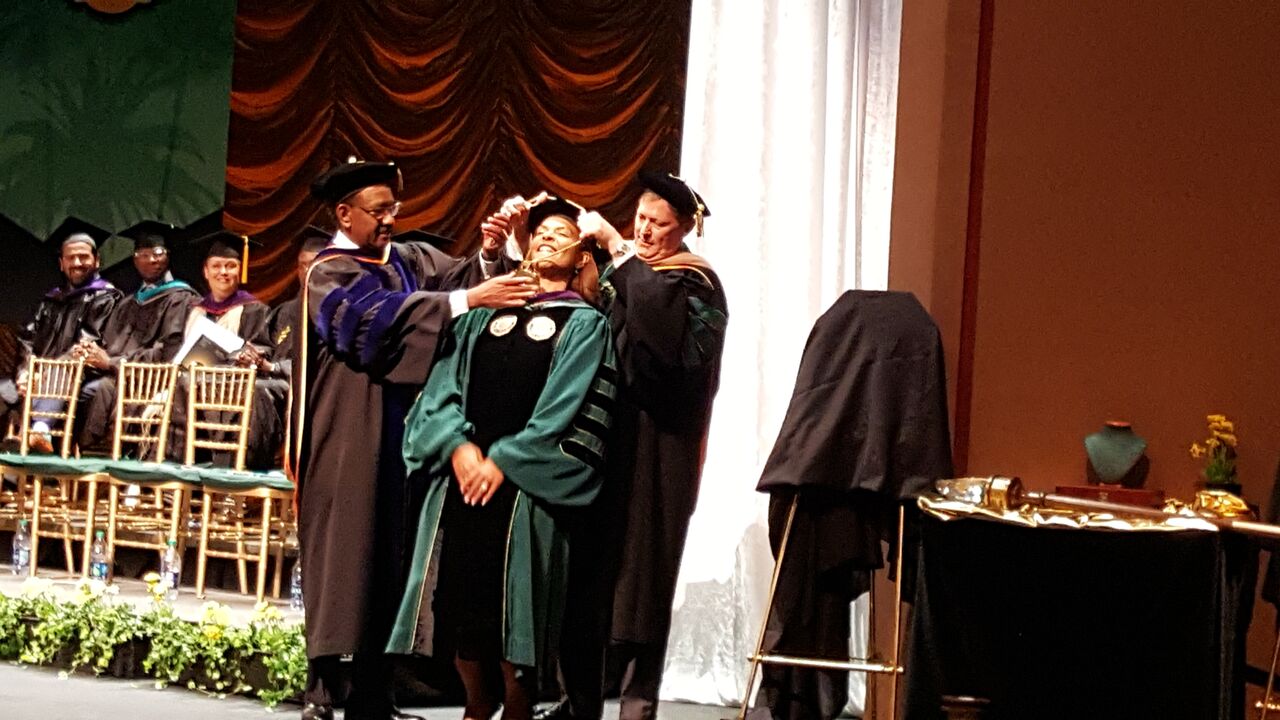 The investiture of Palm Beach State College President Ava L. Parker, J.D., was held March 2, culminating weeklong activities that corresponded with the opening of the fifth campus in Loxahatchee Groves and a new era in the college's history. College and university presidents from around the state and other dignitaries were among the attendees for the academic ceremony formally inaugurating Parker as Palm Beach State's fifth president. College leaders decided to tie the event to the school's recent opening of the Loxahatchee Groves campus and engage communities that the college serves.
During the investiture ceremony Thursday officially installing her as Palm Beach State College's fifth president, Ava L. Parker, J.D., announced a $1 million gift to the College from a Palm Beach Gardens couple who have a passion for education.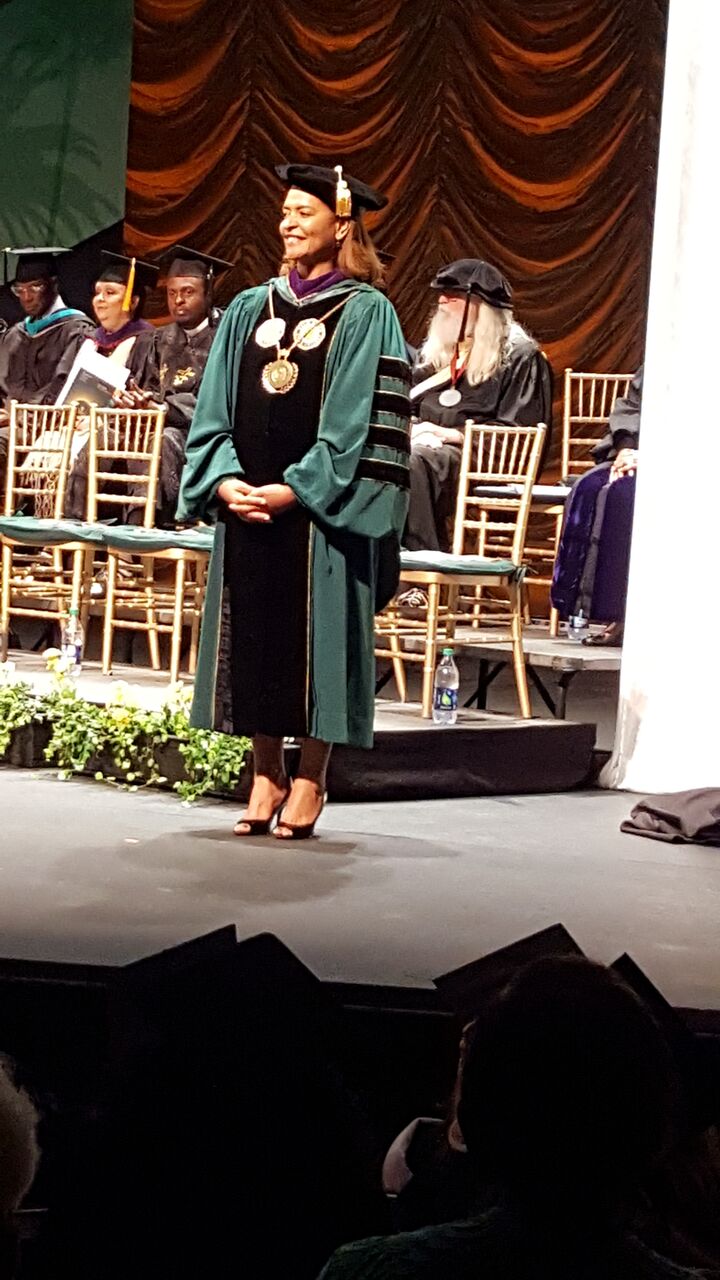 Themed "Investing in a New Vision," the academic ceremony drew more than 500 people to the Duncan Theatre on the Lake Worth campus, including the Florida College System chancellor, college and university presidents, lawmakers and business leaders. It created an ideal backdrop for the announcement of the generosity of Jan Winkler and Hermine Drezner and for Parker's appeal to others to invest in Palm Beach State.
Parker also announced during her investiture address that the Palm Beach State College Foundation's Charitable Gift Annuity Program has been renamed in their honor – Winkler/Drezner Charitable Gift Annuity Program. The surprised and teary-eyed married couple of 24 years had been presented to the crowd in a two-minute video before they were brought to the stage and presented with flowers.
Winkler said he and his wife, who have lived in Florida since 1997, also started a program in which students are awarded college scholarships in the third and fifth grades. He said they fell in love with Palm Beach State after visiting and exposing the children to the Duncan Theatre. "We believe in this place. We think it's a wonderful opportunity for young people who have little prospects to suddenly have great prospects. That's why we're involved, and that's why we'll continue to be involved."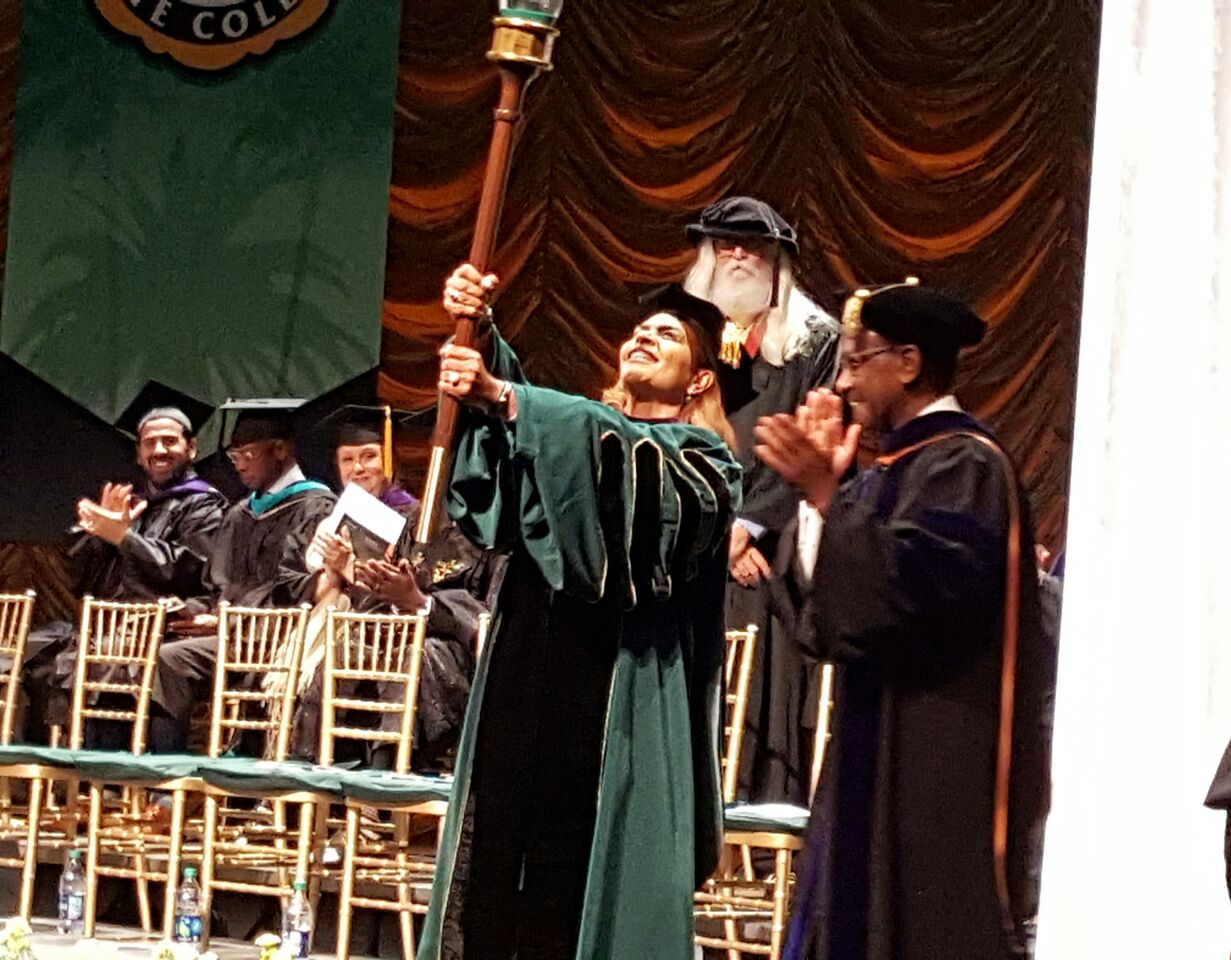 Parker enthusiastically reaffirmed the College's commitment to serve its three key constituencies: students and their families, the community and businesses. "We will richly invest in each of our constituents to ensure a return for Palm Beach County and the state of Florida,'' she said.
She said the College will be more strategic with its internal initiatives and strengthen its partnerships with businesses, Florida Atlantic University and others to ensure that students are academically prepared for a fast-changing, technology-driven workforce, equipped with the necessary people or soft skills to be effective in the workforce and involved in community service.
"I know that we are going to make a difference because of our faculty and staff. I know we are going to make a difference because of our students, and I feel that I've been blessed to lead this organization at a very pivotal time in its history,'' she said.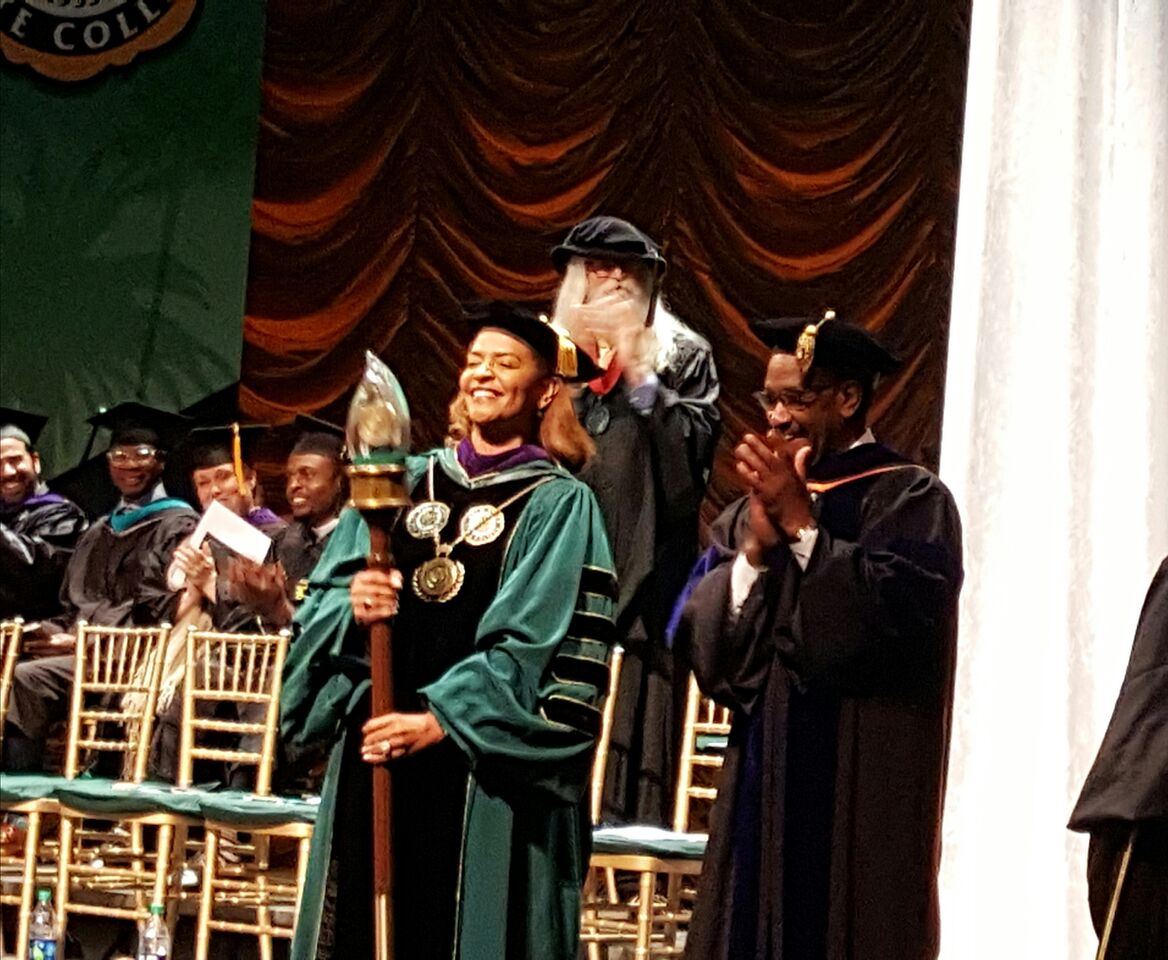 The speakers during the nearly two-hour ceremony highlighted Parker's passion, tenacity and leadership and concluded that Palm Beach State College is in good hands with her at the helm. She became the College's first female president July 1, 2015, succeeding Dr. Dennis Gallon, who retired after 18 years and who assisted trustees with the investiture of Parker and the presentation of a medallion to her.
"When Palm Beach State College President Dennis Gallon decided to retire, I'll admit I was a little bit nervous for the institution because we know that institutions are built on the foundations of great leaders," said State Sen. Bobby Powell, Jr. "When it was announced that Dr. Parker would be leading this institution, I had a sigh of relief because I knew that she could take this institution to a greater level."
The investiture ceremony concluded a week of activities that tied into the Feb. 27 opening of the College's fifth campus in Loxahatchee Groves. Following the ceremony, there was an outdoor reception, fittingly on the Campus Commons behind the Administration building where Parker's office is located. The crowd streamed out of the Duncan Theatre and along a path that included the musical performances of Palm Beach State's drumline, launched during Parker's tenure, and a dancing panther mascot dressed in formal wear, to a huge tent with live music and food.
"I am honored to lead Palm Beach State during this period of growth and new direction,'' said Parker. "All of our employees, our students and our community are critical to the success of this institution and the direction which we are now headed. This week is a celebration of the positive impact this institution has on Palm Beach County."
Other investiture week events included:
Saturday, Feb. 25
A college-wide day of student day of service at Feeding South Florida in Boynton Beach
Monday, Feb. 27
A campus presidential celebration at 11 a.m. in the Meldon Lecture Hall at the Palm Beach Gardens campus
An ice cream social from noon to 1 p.m. in the Martin Luther King, Jr. Plaza; noon to 3 p.m. at the Campus Commons and 5 to 6 p.m. at the Center for Bachelor's Programs on the Lake Worth campus
Tuesday, Feb. 28
Grand opening and ribbon at the Loxahatchee Groves campus at 4 p.m.
Wednesday, March 1
"Visionary Women of Today" panel discussion and continental breakfast from 8:30 to 10:30 a.m. in the Lecture Hall (Room 103) at the Humanities and Technology building on the Boca Raton campus. Panelists include Verdenia C. Baker, Palm Beach County administrator; Dr. Laurie George, president and CEO of the United Way of Palm Beach County; Kelly Smallridge; president and CEO of the Business Development Board of Palm Beach County and Dr. Lisa Williams-Taylor, CEO of the Children's Services Council, Palm Beach County. Parker also made remarks. Arlene Herson, cable TV producer/host of the Arlene Herson Show, moderated the discussion.
Thursday, March 2
Spirit Day from 11 a.m. to 1 p.m. on the intramural fields at the Lake Worth campus
Parker became Palm Beach State's first female chief July 1, 2015. During her first year, she immediately went to work on helping to secure $9 million from the state legislature to complete the first building of the fifth campus and keep plans for the campus on track. The funds had been vetoed the year before her arrival. She also led the college in signing a memorandum of understanding with Boca Raton-based Modernizing Medicine to create a training hub at the new campus. Through the partnership, PBSC students training for health information technology careers will have access to the company's groundbreaking technology to help prepare them for the workforce, and Modernizing Medicine will have access to some campus facilities to provide training for its customers.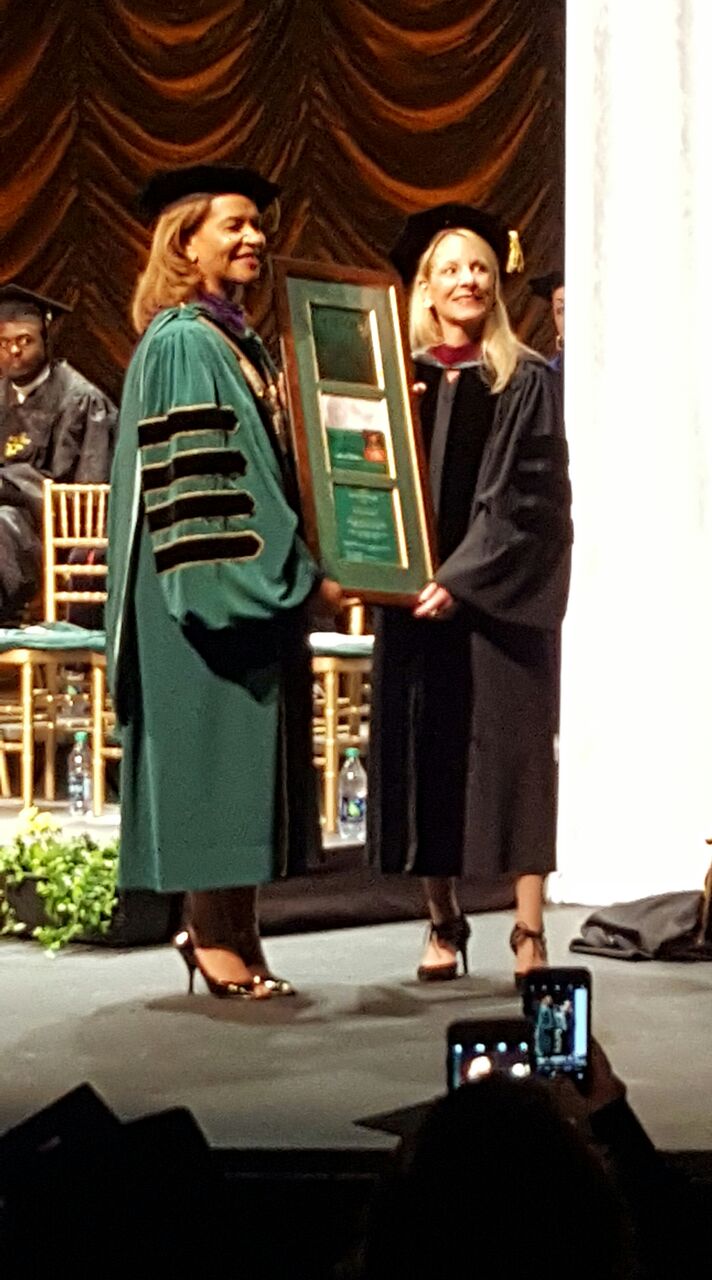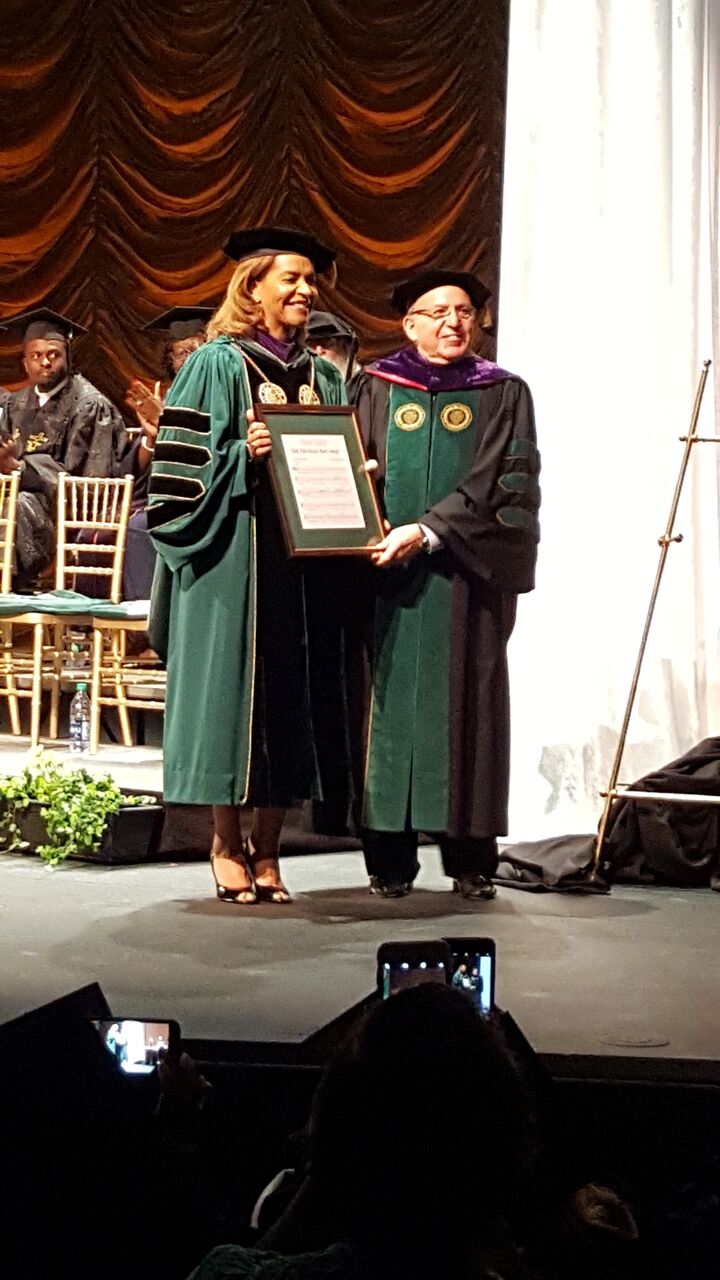 Save