by Sharon Quercioli
Wow, it is that time of year again, and we are all wondering what we can give to the person that has everything! I am diffusing Christmas Spirit and Idaho Balsum Fir to get in the spirit and connect to all that I am thankful and grateful for in my life. Check out some of these amazing ideas that will make wonderful holiday gifts for the people you love.
Essence of the Season (Item No. 3118)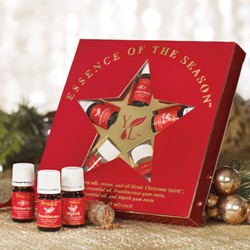 Essence of the Season™ lifts spirits with festive, seasonal scents. This beautifully packaged set includes five traditionally significant oils and resins. With 5-ml bottles of Frankincense and Myrrh essential oils, Christmas Spirit™ essential oil blend, and Frankincense and Myrrh resin. Your home will be filled with the beautiful, uplifting spirit of Christmas.
Wolfberry Tea Set (Item No. 19286)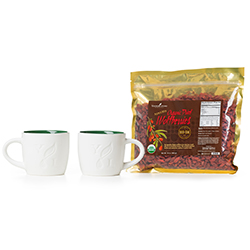 Warm up their hearts with the Wolfberry Tea Set. It is t
he perfect way to cozy up and enjoy the comfort of the holidays. This set comes complete with two exclusive mugs, a full 16-ounce bag of Organic Dried Wolfberries, and a recipe card of your soon-to-be-favorite tea.
NEW ART Skin Care System (Item No. 5363)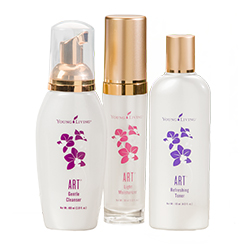 Young Living's ART® Skin Care System safely and effectively cleanses, tones, and moisturizes your face to bring out your natural and inherent beauty. That is the beauty of ART®! The ART® Skin Care System includes: 1 Light Moisturizer (30ml), 1 Refreshing Toner (4 fl. Oz) 1 Gentle Cleanser (3.38 fl oz.)
Through December 31 (or while supplies last), with any purchase of our ART Skin Care System, you'll get a free Young Living spa headband.
Winter Wellness System (Item No. 19279)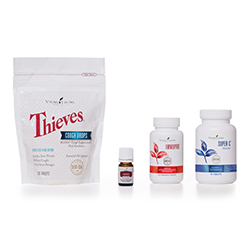 Support your immune system* all winter long with this discounted set of Young Living wellness products. It's filled with Thieves Vitality essential oil blend, Super C chewables, ImmuPro, and our new Thieves Cough Drops to keep you and yours feeling great.
Includes:
Thieves® Vitality
Super C™ chewables
ImmuPro™
Thieves® Cough Drops
*These statements have not been evaluated by the Food and Drug Administration. This product is not intended to diagnose, treat, cure or prevent any disease.
I have these kits and suggest them all depending upon the individual. Give the gift that keeps on giving! I wish you all a HEALTHY, HAPPY, ABUNDANT and JOYOUS Holiday Season!


Young Living – Florida
Sharon Quercioli
Independent Distributor: 516264
Phone: (561) 309-7276
E-mail: sharon@owwmedia.com