by Sharon Quercioli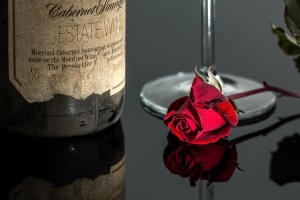 During the holidays, we often turn to either coffee, tea, hot chocolate or wine to keep us warm on these cooler days. It can get downright chilly—even here in Florida. However, after a few drinks, those wine bottles start to pile up in your recycling bin. I'm a big fan of recycling, but did you know that you can also reuse them and repurpose them? Just make sure to clean out those bottles really well and take those labels off.
Making Your Own Wine or Alcohol
Are you interested in making your own wine? If the hobby intrigues you, keep a few of those wine bottles handy so that you can have a place to put your homemade brew. Yes, just like home-brewing beer, you can also bottle your own wine. Some people like to mull their own wine or infuse their own flavored alcohol.
Dispensers
You can use it as a dish soap dispenser, hand soap dispenser or even as a dispenser for homemade oils. Clean them out really well, and then find an appropriate top for your bottle. You can find hand pumps, droppers, stoppers and pouring spouts at places like craft stores or décor shops. You can even use these bottles as an interested container for small pieces of candy. Paint a rectangle along the side of the bottle using chalkboard paint so that you can easily label the various containers.
Bookshelves
If you have enough of the same type of bottle (and if they are tall enough), you can use them to help support and hold up shelves in a unique bookshelf. Don't know how to go about it? You can find some photographic instructions on Roy Mohan Shearer's flickr page (https://www.flickr.com/photos/zero-waste/4851422530/).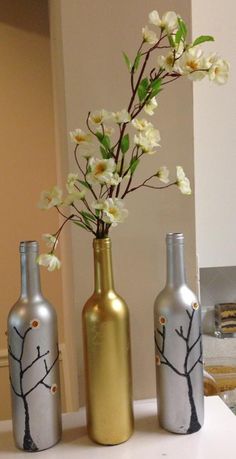 Fancy Décor
When it comes to using wine bottles as décor, the options are endless. You can paint them on the outside (or inside if the bottle is clear) so that they can match your current theme, or you can even wrap them in twine or rope for a more nautical theme. They make excellent vases if you want to add a splash of color in different rooms as well. The color from the painted bottle and the flowers can brighten any environment.
Make a Lamp
With a little bit of creative engineering, you can even turn a wine bottle into a lamp! You can find some helpful tips, advice, cautions and a how-to at Wine Folly (http://winefolly.com/update/how-to-make-wine-bottle-lamp/).
Candles
The most traditional way to reuse a wine bottle is to make a candlestick holder or candelabra out of it. The wax dripping down the sides adds a touch of vintage class to any dining room. If the fat end of a candle is too big for the mouth of the wine bottle, melt it down with another candle. Then, while the wax is still soft, fit it snugly into the mouth of the bottle. Once it hardens, that candle stick wont' go anywhere.
You can also turn them into citronella candles by adding a wick, some glass pebbles (to help hold the wick down) and citronella oil. If you have a glass or bottle cutter, you can even turn the bottom of a wine bottle into a small candle or votive holder. I found this lovely tutorial on LovelyGreens.com (http://lovelygreens.com/2014/12/wine-bottle-candle-tutorial.html).
Don't Forget the Bottle Caps and Corks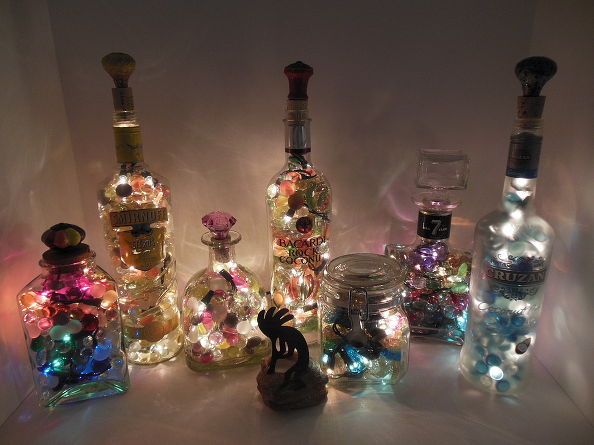 You can use wine bottle caps as magnets (with some hot glue and magnetic pucks found at your local craft store), or you can glue them together to form a drink coaster. You can even use corks as coasters if you hot glue them together. If you get enough of each, you can make them into a work of art as well.
Rolling Pin
If you're not into crafts, you could always turn it into a rolling pin. Just make sure that your bottle isn't tapered around the body, otherwise, you'll end up with some very lopsided cookies.
Do you have some ideas, thoughts or questions that you would like to add? We would love to hear from you! Please feel free to add your thoughts in the comment section below!