"Picnic"
by Jan Davisson
No need to pack a basket to go on this Picnic. Just get dressed to the nines, and head for the Don & Ann Brown Theatre, 201 Clematis, West Palm Beach. That's where the 2015/16 season opened for Palm Beach Dramaworks. Director William Hayes zeros in on the William Inge classic, Picnic, which runs through November 8.
Remember the movie directed by Josh Logan with the all-star cast headed by Kim Novak dancing to "Moonglow"? And, of course, the shirtless drifter William Holden? Who could forget the incomparable Rosalind Russell as Miss Rosemary Sidney, the frustrated school teacher!
And what's better than a movie? A live production in an intimate setting! Well…You're in luck; you'll be able to see the "sensual, provocative and funny award-winning script come to life at the Don & Ann Brown Theatre. What's even better is that director William Hayes didn't take the easy way out and just direct his outstanding ensemble in the already known script. Instead, he brought new life into the production by peeling away the layers of each character and making it about the entire cast instead of just the leads. This is an amazing production with original costumes, fantastic stage setting and wonderful, new original music!
The setting is the combined yards of Flo and Helen in the Midwest. Flo (Patti Gardner) is an over worked mother with an unfulfilled life, bringing up two teenage girls while running a boarding house. The trouble begins when the next door neighbor, Helen Potts (Elizabeth Dimon) invites a sexy drifter named Hal (Merlin Huff) to do some chores around the house. Flo's oldest daughter, Madge (Kelly Gibson), is blossoming into young womanhood; the Labor Day festivities are about to begin, and the ladies get a shot at some "eye candy" for the long weekend. Trouble begins brewing as the drifter comes in contact with numerous ladies, including a frustrated spinster school teacher, Miss Rosemary Sidney (Margery Lowe) and her reluctant suitor Howard Bevans (Michael McKeever).
The 1953 Broadway musical introduced Paul Newman to an adoring public. It was also directed by Josh Logan, who won the Tony for it; however, no awards for seeing into the future. Newman was cast as Alan, Hal's friend, and as an understudy for Hal (Ralph Meeker). Director Logan didn't think that Newman had enough sex appeal to be the shirtless drifter. Eventually, Newman took over the role of Hal and then left for Hollywood to make several hit pictures. Ah, revenge is sweet.
Madge is a true fifties gal when life was all about being pretty and getting your Mrs. degree. If you can step up in the world to someone like Alan Seymour (Taylor Miller), whose family runs the town and belongs to the country club, so much the better. Mama Flo keeps trying to instill her hopes and dreams into her pretty but frustrated daughter Madge, who really wants to be something other than just a pretty face. Adding fuel to the fire is brainy younger sister, Millie, a bit of a tomboy to cover the fact that she's overshadowed by her sister. She emerges as a butterfly at the picnic but still loses out to Madge.
It's a thoughtful script but there is quite a bit of humor throughout, mainly provided by the spinster school teacher pals of Rosemary (Margery Lowe). (Julie Rowe) as Irma Kronkite, an uptight, judgmental person, manages to get that prudish look on her face while appearing to be letting loose. She is introducing (Natalia Coego) as Christine Schoenwalder to the wild side of the small Kansas town. The interaction is priceless. Add this to Michael McKeever's performance as Rosemary's very reluctant boyfriend, who is totally bewilder when he finds himself engaged, and you have lots of humor. Lowe and McKeever are both Florida actors who can hold there own no matter what stage they're on. It's always a treat to see either of them in a cast.
The set design by Michael Amico is such that you feel they might have loaded it up in Kansas and rebuilt it on Clematis Street. It's brilliant with even a working outdoor water pump. Add the great lighting design by Donald Edmund Thomas and original costume designed by Brian O'Keefe, and you have an award-winning script performed in an award-winning production through November 8. For tickets, call (561) 514-4012 Ext. 2 or order on line at www.palmbeachdramaworks.org.
The best thing about Palm Beach Dramaworks is the variety of scheduled events throughout the year. From the Summer Concert Series to the upcoming Dramalogue Talking Theatre Series when  theater greats such as Paul Gemignani, recognized as the preeminent musical director on Broadway, offers a peek behind the curtain Tuesday, December 8. The New Year will kick off with everyone's favorite dancer/director/choreographer, Tommy Tune on January 4, 2016. The theater talks are at 2 pm and 7 pm at the ridiculously low price of $20. For additional information, call (561) 514-4042. Next up: The History Boys by Alan Bennett and directed by J. Barry Lewis, December 4 through January 3.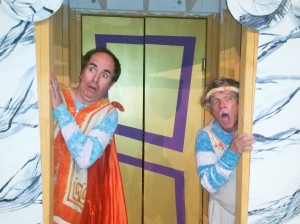 A reminder that A Funny Thing Happened on the Way to the Forum continues through October 31 at the Wick Theatre in Boca Raton. If you love to laugh, you'll adore this zany comedy set in old Rome and starring the hilarious antics of Ken Jennings as Psuedolius. He gets lots of help in the laugh department from Michael Ursua as Hysterium and Michael Scott as Senex. One of my South Florida favorites is Jim Ballad as Miles Gloriosus… and is he ever. He'd be a perfect Lancelot in Camelot, or even better, Gaston in Beauty and the Beast. He's got the acting chops and the voice. Of course, the costumes are fantastic since the Wick ladies have a wonderful Costume Museum set up in the theatre. By the way, it's well worth getting matinee tickets so that you can arrive early, have the tour of the Costume Museum and then enjoy lunch in the Tavern at the Wick. For information, call (561) 995-2333.
For director Bob Walton, it's a challenge to take a script loaded with slapstick comedy and keep it funny without being silly. He managed to walk that tight rope just perfectly. For tickets, call the Wick at (561) 995-2333 or on line at www.theWick.org. It's located at 7901 N. Federal Highway, Boca Raton. Next Up, let's give a big shout out to Dolly Levy: Hello Dolly
Next Curtain Up will be the Agatha Christie thriller: The Mousetrap, to kick off the Maltz Jupiter Theatre season. It runs from October 25-November 8.
Here's the information you'll need to get tickets for these productions.   Live theater is like nothing else. It's something that should be experienced by everyone from toddlers to senior citizens. Treat yourself or give a wonderful experience to someone your love.
Maltz Jupiter Theatre, 2001 E. Indiantown Rd, Jupiter; Tickets: (561) 575-2223; www.jupitertheatre.org; The Mousetrap (Oct. 25-Nov. 8) Billy Elliot (Dec.1-20).
Kravis  Center for the Performing Arts, 701 Okeechobee Blvd., West Palm Beach, FL 33401; Tickets: (561) 832-7469 or (800) 572-8471; www.kravis.org; Kravis on Broadway Series: The Blue Man Group (Dec. 8-13) 42nd Street (Jan. 5-9, 2016).             
Palm Beach Dramaworks, 201 Clematis Street West Palm Beach, FL 33401; Tickets: (561) 514-4042 Ext. 2; www.palmbeachdramaworks.org; Picnic (Oct. 7-Nov. 8) The History Boys (Dec. 4-Jan. 3, 2016).
The Wick Theatre 7901 North Federal Highway, Boca Raton, FL 33487; Tickets: (561) 995-2333.www.thewick.org: A Funny Thing Happened on the Way to the Forum (Oct. 1-31); Hello Dolly (Nov. 6-Dec. 4).
Cutlines:
1.The ensemble cast from Palm Beach Dramaworks production of Picnic: Maren Searle, Patti Gardner, Merlin Huff, Elizabeth Dimon, Kelly Gibson, Taylor Miller, Michael McKeever, & Margery Lowe
Photo credit: Samantha Mighdoll
Merlin Huff as Hal, and Kelly Gibson as Madge in the current Palm Beach Dramaworks production of the award winning play by William Inge, Picnic, directed by William Hayes.
Photo credit: Samantha Mighdoll
The hilarious antics of Ken Jennings as Psuedolius and Michael Ursua as Hysterium in the current production of A Funny Thing Happened to Me On The Way to The Forum at the Wick Theatre in Boca Raton.
Photo credit Kay Renz