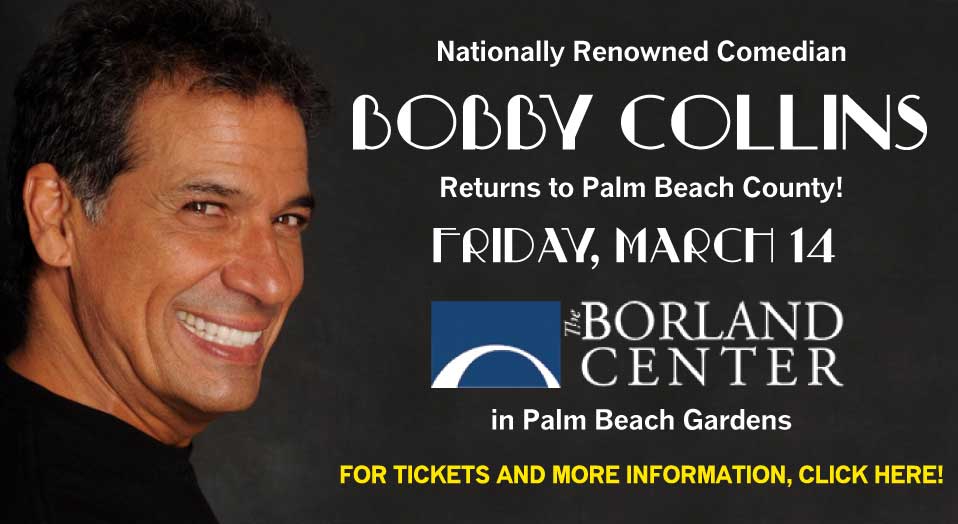 NATIONALLY RENOWNED COMEDIAN, BOBBY COLLINS, RETURNS TO PB COUNTY An Evening of Standup Comedy The Borland Center for the Performing Arts 4901 PGA Boulevard, Palm Beach Gardens 33418 Friday March 14th, 2014 at 8pm
Mr. Collins, returns to Palm Beach County after 3 previous years at The Atlantic Theater and last year's sold performance at The Borland Theater. Mr. Collins will bring his nationally renowned brand of humor to The Borland Center for the Performing Arts for one night only on March 14th, at 8pm.
Described as a "perfect fusion of Dean Martin & Jerry Lewis" by the New York Post, Collins is known for his live stage performances, cable TV specials, numerous talk show appearances, feature film roles and comedy CDs. Mr. Collins performs over 200 dates per year in the US, Canada and abroad.
Mr. Collins has released six comedy albums: "I'm on the Boat", "Women and Children First", "On the Inside", "I Wanna Go Home", "You're Not Coming With Us", "Mr. New York and Out of Bounds".
He has opened for such showbiz legends as Frank Sinatra, Cher, Julio Iglesias, Tony Bennett and Dolly Parton and was Rosie O'Donnell's predecessor in hosting  "VH1's Standup Spotlight." He has also appeared in numerous television shows and movies, and is regularly featured on XM Satellite Radio.
Mr. Collins was nominated for a CableACE Award as well as for the American Comedy Awards 1997 "Stand–‐up Comic of the Year." His second CD, "Out of Bounds," was submitted for Grammy consideration.
Ticket Info: Tickets are $32 and can be purchased through http://www.theborlandcenter.org/event/bobby-collins-comedy/ or Box Office: 561-904-3101
For Interview Requests, additional information, video clips, pictures etc., please visit www.BobbyCollins.com or call/email, Frank Licari at 561-262-0114 or Licari.Frank@gmail.com.