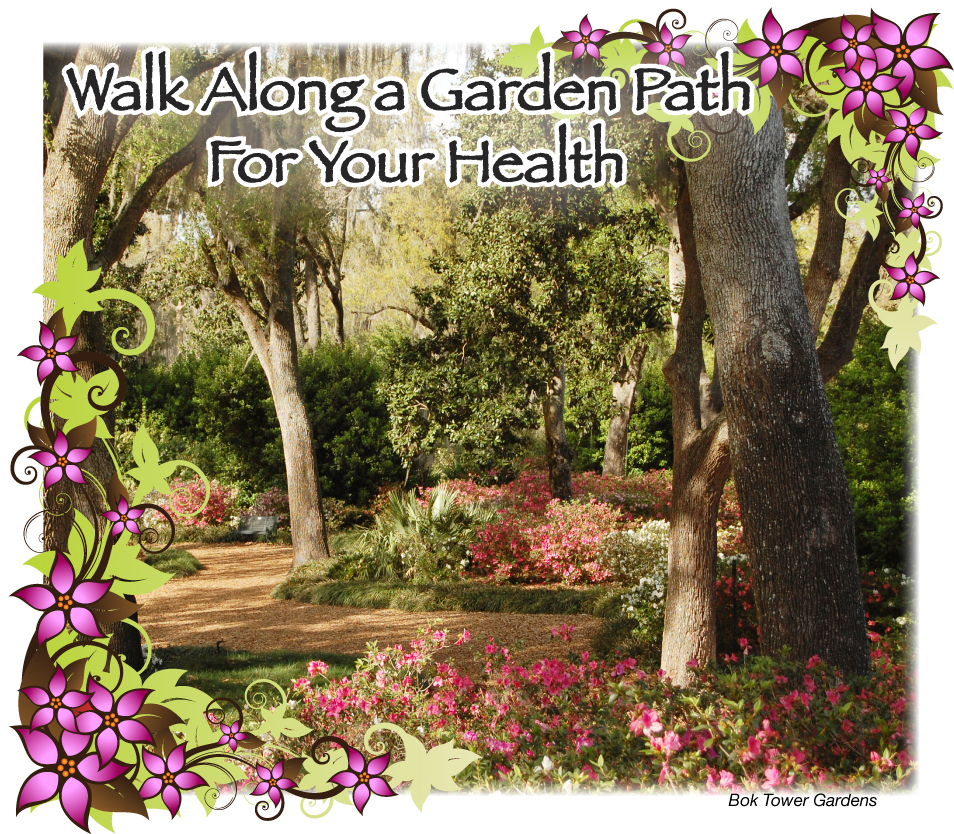 by Teresa VanDyk Marshall
 "I have two doctors, my left leg and my right."  –  British Historian George M. Trevelyan
A beautiful scene… A moment of silence… A deep breath of fresh air… A moment unplugged…
It seems these days, we are all plugged in somehow or another.  While staying connected with our friends, colleagues and loved ones are more convenient now than ever, and enjoying a peaceful "unplugged" moment is increasingly rare in today's fast paced world. It's not surprising that stress and fatigue abound.
We were most inspired by research into the little known benefits of taking a nature walk. Besides the serenity and relaxation one can enjoy, studies show there are actual medical benefits that can be realized when walking in a park. With gardens and parks accessible virtually everywhere across our nation, locations to escape to are seemingly endless.
And for our Smart phone readers, we regretfully must add that there is no app that replaces a nature walk…yet.
Two doctors in particular have taken it even a step further, saying the health benefits of walking in a park make the activity worthy of a medical prescription. Dr. Kay Judge and Dr. Maxine Barish-Wreden of Sacramento, California had their studies published in a 2010 Seattle Times article.
Their studies revealed:
Green environments reduce stress, depression and anxiety.
Green environments improve the function of the body's immune system.
Green environments lower blood pressure.
Green environments lower concentrations of the stress hormone cortisol.
Supporting these doctors' findings, The New York Times published an article about a Japanese study with 280 healthy people in Japan who were asked to participate in researching the health benefits of Shinrin-yoku or forest bathing. Some were asked to walk through a wooded area for a few hours, while others were asked to walk through an urban area. On the second day, the groups traded places. The scientists found that walking among the plants produced "lower concentrations of cortisol, lower pulse rate and lower blood pressure."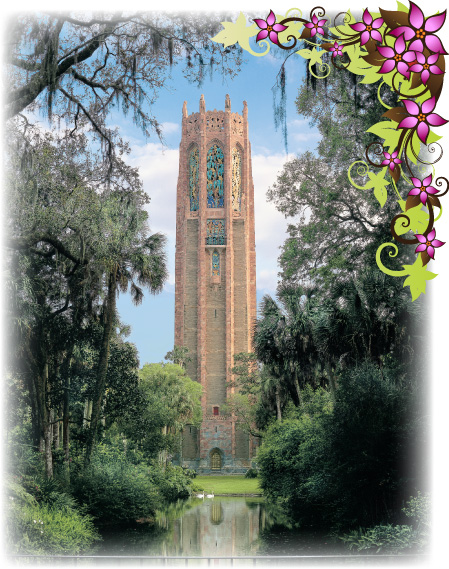 Interestingly, the scientists in that same article state the benefits are not all in our head. They claim that a major contributing factor are the phytoncides nature walkers are exposed to, airborne chemicals that plants emit to protect them from rotting and insects, which also seem to benefit humans.
Having an understanding of the physiological benefits of taking time in a garden, we have compiled this brief list of a few popular parks here in Florida that we'd like to share with our readers.
Bok Tower Gardens, Lake Wales
Bok Tower Gardens has been voted Florida's "Best Garden" by readers of Florida Monthly Magazine, and it's easy to see why.  Their Rare Plant Conservation Program has won two recent state conservation awards. Dutch immigrant Edward Bok, Pulitzer Prize-winning author and world peace advocate, dedicated the Gardens as a gift to America in 1929. Woodland paths, groves and historic Olmsted gardens surround the 60-bell, 205-foot Singing Tower carillon, one of the world's greatest architectural treasures. The Gardens also host various special events throughout the year, from art exhibits to musical performances.
With more than 600 acres of conservation lands and endangered plants, visitors can walk the ¾ mile Pine Ridge Nature Preserve Trail through a 100-acre endangered Longleaf Pine/Turkey Oak and Sandhill ecosystem. Visitors can also view many endangered plants and animals found nowhere else in the world.
Becoming a supporter of their garden also has its rewards. Garden members can enjoy reciprocal discounts at gardens and botanical centers across America.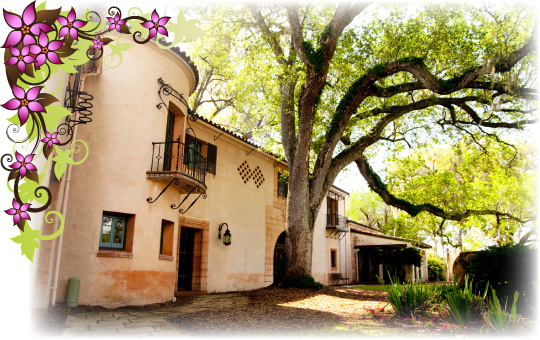 Fairchild Tropical Botanic Garden, Miami
Since 1938 Fairchild Tropical Botanic Garden has assembled an outstanding collection of taxonomically arranged and well-documented tropical plants, emphasizing palms, cycads, flowering trees and shrubs, vines and fruit trees. Except for certain cultivated plants and critically endangered species, many of these plants are collected from the wild. These collections are now a resource of world significance. They also are an important local resource, providing the beauty which makes Fairchild a major cultural and visitor attraction, as well as offering a basis for education, research and conservation.
Secret Woods Nature Center, Dania Beach 
Broward County's first nature center, which opened in September of 1978, comprises three vegetative communities found along and influenced by the New River: an inland freshwater cypress/maple wetland, a pond apple/mangrove community along the river, and, farther inland, a laurel oak hammock. The 57-acre site is now designated as an Urban Wilderness Area.
Butterfly Island is one of the newest additions to the Nature Center, a 3,800-sq. ft. butterfly garden with a 250-foot mulched path leading through it. Commonly seen butterflies here include the Monarch, Zebra Longwing, Cloudless Sulphur, Queen, Gulf Fritillary, Giant Swallowtail and Atala Hairstreak.
Morikami Gardens, Delray Beach
Morikami's gardens feature various elements creating a natural sanctuary, including the sound of relaxing waterfalls, creaking of the bamboo trees in Bamboo Grove and several peaceful areas off the main path. In addition, the strong cultural influence creates a getaway to Japan, away from busy life in South Florida.
Participants in the grant-funded Stroll for Well-Being program express profound and positive changes in their outlook on life, ability to cope and find peace. In the words of one participant, "The beauty of Morikami has truly improved me, physically and mentally."
Morikami is dedicated to preserving our environment in maintaining the garden and facility, including practices such as recycling water for irrigation and using environmentally friendly pesticides and fertilizers. In addition, Morikami is dedicated to recycling, from the museum offices to festivals to the Cornell Café.
Society of the Four Arts Gardens, Palm Beach
After a major reconstruction project, the Four Arts Gardens combine a variety of landscape architectural styles and features to create an eclectic garden full of ideas and inspiration. Artistic sculptures and fountains further enhance this stunning garden masterpiece. The Garden Club of Palm Beach and The Four Arts Gardens work in a partnership that goes all the way back to 1938 in cultivating this oasis of lush beauty for visitors and gardening enthusiasts to enjoy.