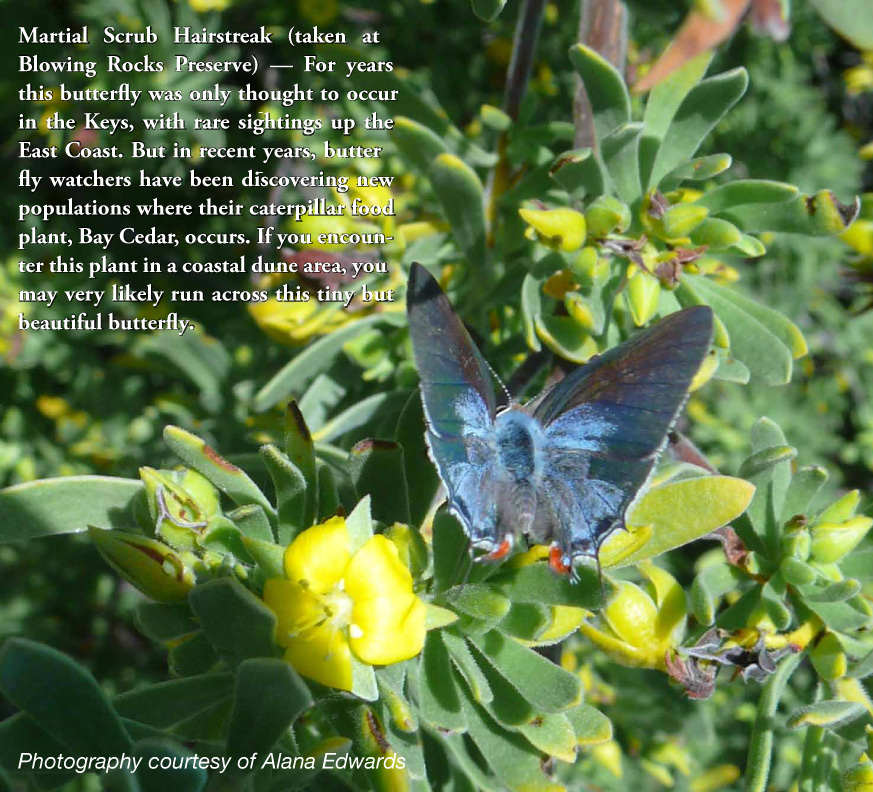 by Hilde Hartnett Goldstein
Pipevine swallowtail. Red-spotted purple. Long-tailed skipper. Many Florida butterflies are even more spectacular than their names suggest. Several species of butterflies, however, are in serious decline, particularly in South Florida.
The Miami blue, which once was common across the southern tier of the state, was last seen on Bahia Honda, in the Florida Keys, in February 2010. Though still found in a national refuge off the Keys, it appears to have vanished from the Keys themselves, and from the Florida mainland.
No Zesto's skippers have been seen in Florida since 2004, and Schaus' swallowtail is found only in a few places in the Keys. The Florida leafwing is in serious trouble, as is the Bartram scrub hairstreak.
Scientists believe that habitat destruction and fragmentation are the greatest threats to butterfly populations. Other factors may include loss of native vegetation, particularly tropical hardwood hammocks, changing weather patterns, invasive plants and animals, and pesticide use. But no one knows for sure why some populations are disappearing.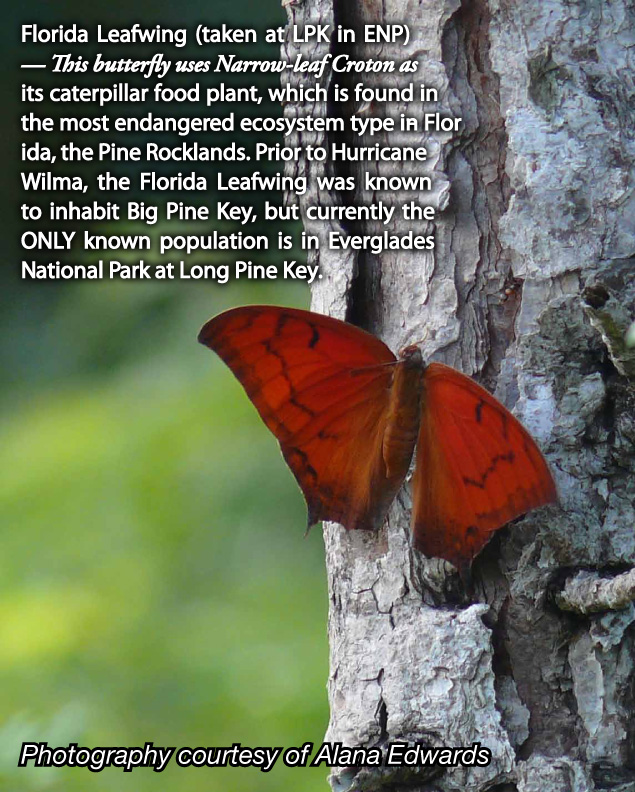 "We can look at an ecosystem, and to us it looks pretty good, but the butterfly isn't there any more. There is a change that we can't see with our human eyes. We have to figure out what it is that is causing these issues,'' said Alana Edwards, President of the Palm Beach County Chapter of the North American Butterfly Association. "Of the species that I've seen over the years, I've seen many of the populations declining in numbers. If a population gets really small, they can just wink out."
Whatever the reason, the decline has alarmed conservationists, researchers and butterfly enthusiasts.
"When you look at the very big picture, these spineless, boneless critters really stand tall as a barometer of environmental health," said Kathy Malone, President of the North Central Florida Chapter of the North American Butterfly Association. "If they disappear, what's in the future for other creatures?"
There are approximately 160 butterfly species found in Florida.  "Between 10 and 15 are known to be in serious decline," said Dean Jue, biologist with Florida State University's Florida Natural Areas Inventory (FNAI), which tracks rare and endangered plants and animals. In all, FNAI has 80 species on its list of butterflies that merit attention, though most do not appear to be in dire trouble at present.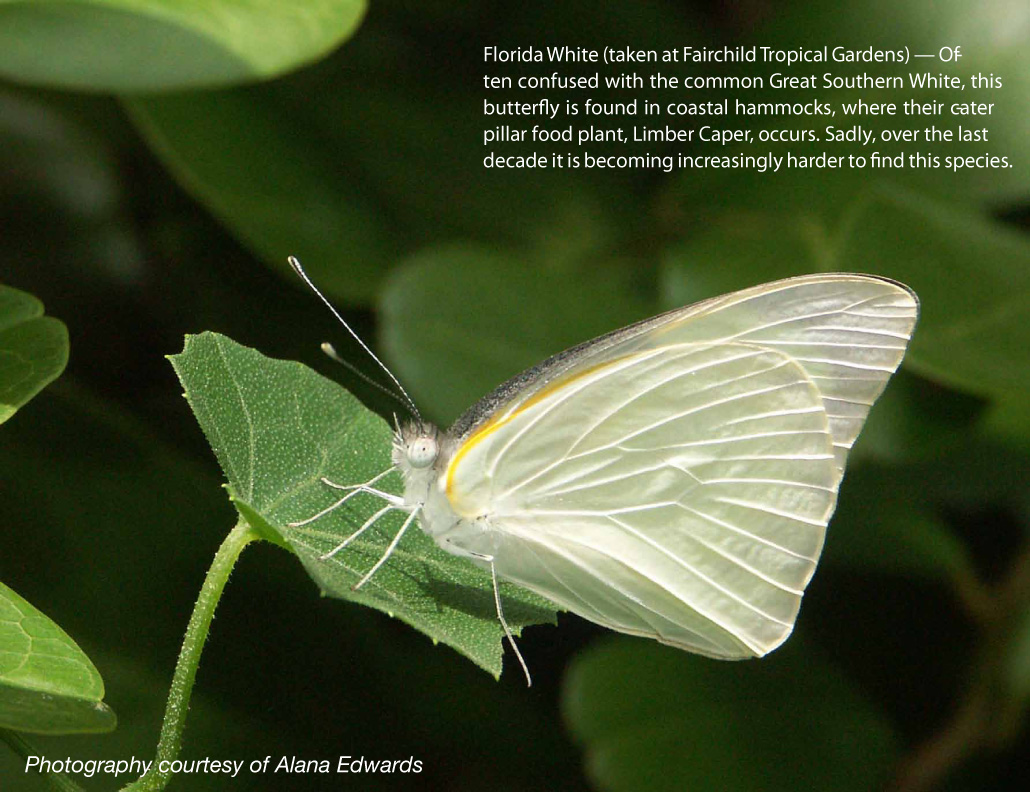 Despite their status as symbols of beauty and change, butterflies, like many invertebrates, are not well understood.
"There is so much about butterflies that we don't know," said Jue. "We can't put radio transmitters on them."
What is known is that Monarchs, which migrate thousands of miles and live for as long as nine months, are not typical. Most butterflies spend their lives within a few square miles, changing from caterpillars to chrysalis within a few weeks. "As butterflies, they sip nectar, pollinate flowers, mate and lay eggs, and then they die," Jue said.
Caterpillars are an important food source for birds, mammals, reptiles and other insects. "Between 80 to 90% of them never make it to the butterfly stage," Jue said.
Jue is a member of The Imperiled Butterflies of Florida Work Group, which was formed by the Florida Fish and Wildlife Conservation Commission and is made up of representatives from federal, state and local agencies and conservation organizations. The group is working to devise ways to protect butterfly populations, such as limiting mosquito spraying in habitats of rare species. First, however, they must pinpoint where those species can be found. That effort depends largely upon "citizen scientists" — volunteers who go out in the field, binoculars and cameras in hand, and report what they find to their local North American Butterfly Association chapter or to FNAI.
North American Butterfly Association: http:/www.nababutterfly.com/guide_southflorida.html
Florida Butterfly Gardening:  www.afn.org/~afn10853/butterfly.html
One morning last month, Edwards and Malone set out in search of the Martial scrub hairstreak, a small butterfly on the FNAI list.
A friend had seen clusters of the butterfly's preferred plant, the bay cedar, in the dunes near the Boynton Beach Inlet. The plant, a tall shrub with a cedar-like fragrance and yellow flowers, is on the state's endangered plant list. Edwards and Malone found nothing at the first stand of bay cedar they encountered, but at the second, a small butterfly, perhaps an inch in length, zigzagged among the leaves.
"I see a Martial's," shouted Edwards, peering into her binoculars.
"They have the most gorgeous blue iridescence on the top, and when they fly they just flash that," noted Malone, as she waded into the brush, hoping to get close enough to where it had landed to get a photograph.
Over the course of the morning, Malone and Edwards identified about five Martial scrub hairstreaks, confirming a new location for the species. "Anyone with an interest can help monitor butterflies," Malone said.
"We need to know more to learn how to protect butterflies," said Malone. "Anyone can get out there and take photos and send them to the North American Butterfly Association chapter. We can identify them. Let us know where you saw them, what time of day, and we can help feed that information into our (FNAI) surveys."
To find your local chapter of the North American Butterfly Association, go to www.naba.org. More information about butterflies is also available from the Florida Museum of Natural History at www.flmnh.ufl.edu.
So what can YOU do to prevent the decline of this magnificent creature? Click here and find out!