by Jan Davisson
The old year is out and in steps 2017 with lots of opportunities to see great theatre right here in Palm Beach County.
The year ended with several outstanding productions from Jupiter to Boca. The Maltz Jupiter Theatre again brought in the multi-talented Matt Loehr in a zany musical comedy, Me and My Girl. It is sure to garner some Carbonell nominations and awards. The production, staged and produced by the talented Maltz Jupiter Theatre "behind the scenes production" people, was a visual delight. A lot of the audience that goes to the Maltz are unaware that everything from the scenic design and construction, costumes and wig designs, and, of course, the casting and direction, is all produced in Palm Beach County. This is truly a remarkable feat. No wonder so many awards are presented to this talented group! The Scenic Designer is Paul Tate Depoo lll, who lists in his credits The Will Rogers Follies, The Wiz, Les Miserable's, Annie, Music Man and Hello Dolly...and that's just at the Jupiter Theatre. The Musical Director is Helen Gregory and her talented group of musicians. The fantastic costumes for Me and My Girl were designed by Gail Baldoni who includes in her credits designing the New York Philharmonic's production of My Fair Lady. Her credits range from live theatre to movies to television.
There's even a Wig Designer, Gerard Kelly, whose Broadway credits include the National tour of Hair, Hello Dolly and My Fair Lady. From the lighting and sound to the choreography, Me and My Girl proved to be a tight production with all the elements of a solid hit for the Maltz Jupiter Theatre.
Trying to top that could be difficult; however, Producing Artistic Director Andrew Kato has another hit up his sleeve. The Producers opens January 10 and runs through the 29. The show is based on the Mel Brooks 1968 film starring Zero Mostel and Gene Wilder and the Broadway show starring Nathan Lane and Matthew Broderick, which took home a record number of Tony Awards. Of the 15 nominations for The Producers, it won a record 12. Of course, when dealing with a comedic genius like Mel Brooks, you know that he'll push the envelope to keep audiences in a constant state of laughter. Tickets are now on sale…if there are any left, that is.
Standouts in the Me and My Girl production included the female lead Julie Kleiner who portrayed a girl from the Lambeth District of London. Definitely the wrong side of the tracks and certainly not ready to jump in and become a countess. Star Matt Loehr as Bill Snibson, learns that he is in line to become the heir of Hareford Hall in Hampshire, England. Summing it up: think My Fair Lady with a male star. Loehr is amazing. His talents extend from dancing and singing to pratfalls and remarkable timing. He's sorta a combination of Dick Van Dyke and Ray Bolger. Another standout was Mary Stout as Duchess Maria, a Broadway veteran, who holds her own when on stage with Loehr. This is no small feat! The choreographer Dan Knechtges created some wonderful scenes, especially The Lambeth Walk, the highlight of the production. The 2017 season promises to be outstanding, ending with Gypsy. For tickets and information contact:
Maltz Jupiter Theatre, 1001 E. Indiantown Rd, Jupiter, Tickets: (561) 575-2223; www.jupitertheatre.org
The December production of An American in Paris at the Kravis Theatre was so beautiful you felt your heart beating. It takes place right after World War II in Paris. I can still see Gene Kelley and Oscar Levant in the original movie. The stage production for the Kravis on Broadway Series brought back all those wonderful memories. It was a true holiday gift to the community.
Now Kravis kicks off the rest of the Kravis on Broadway series with the live adaptation of the 1987 hit movie Dirty Dancing, which starred Jennifer Grey and Patrick Swayze. It was a romantic love story just loaded with fantastic dancing to heart-pounding music and was destined to become a hit musical. The show was adapted for the stage in 2004 when it premiered in Australia. Dirty Dancing has thrilled audiences in the Far East and Europe. Now, the Kravis on Broadway series brings the live production to their stage. The action takes place in 1963 so the music includes hits from Marvin Gaye, The Drifters, The Chantels, Lesley Gore and other singing sensations of the era along with their hit songs Do You Love Me?; Hey! Baby and everyone's favorite, I've Had the Time of My Life.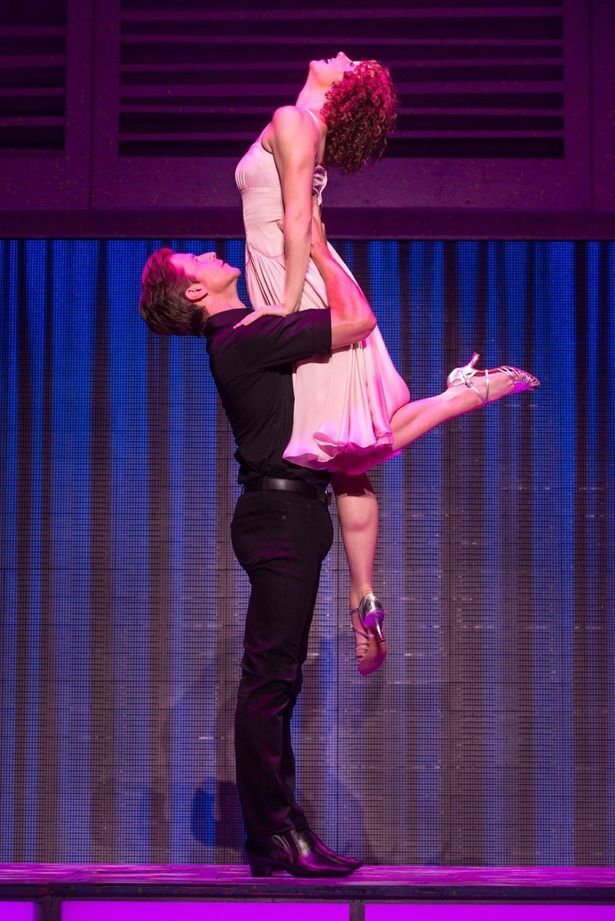 Dirty Dancing runs from January 3-8 at the Kravis Center and is followed by another incredible show that celebrates the music of the sixties and seventies, Beautiful: The Carole King Musical from February 1-5. King's songs are the music of your life in those years. Seems like she wrote everything good that we heard on the radio, it was the sound trace of that generation. Songs that still fill us with wonderful memories. The classics include You Make Me Feel Like a Natural Woman, Take Good Care of my Baby, You've Got a Friend, So Far Away, It Might As Well Rain Until September, Up on the Roof, and Locomotion.
Kravis Center for the Performing Arts, 701 Okeechobee Blvd., West Palm Beach Tickets (561) 832-7469 or 800-572-8471; www.kravis.org    
How do you direct a one-man show on one set? Ask Director Lynnette Barkley, who took the remarkable talents of actor Rob Donohoe and created a magnificent production of Tru written by Jay Pressor Allen. The story of Truman Capote, who was one of those celebrities whose talent was being a celebrity and socializing with the "A list." After having part of his unpublished book featured in Vogue magazine with its slightly veiled descriptions of his A list pals…to his chagrin, they dumped him and at Christmas time! This is where Tru kicks in and a brilliant show is presented by Palm Beach Dramaworks at the Don & Ann Brown Theatre.
Next up is Collected Stories by Donald Marguilies. The play premiered on Broadway in a limited engagement and starred Linda Lavin and Sarah Paulson (a native of Tampa) with direction by Lynn Meadow. February 3-March 5, the Palm Beach Dramaworks presents this 1997 finalist for a Pulitzer Prize script about loyalty versus creative freedom and the moral dilemma faced by the protégée' of an established author. Should she write about her mentor's affair with a famous poet?
It must be a coveted role as it has starred the elite of actresses including Helen Mirren, Uta Hagen, Debra Messing and Maria Tucci. See for yourself February 3-March 5. Tickets now on sale! You might also want to inquire about Dramawise, a peek behind the curtain prior to the opening. The discussion, Q & A and luncheon will be held on February 2, 2017. Great way to examine the characters, themes and viewpoints expressed by the playwright.
Palm Beach Dramaworks 201 Clematis Street West Palm Beach FL 33401 Tickets: (561) 514-4042 Ext. 2; www.palmbeachdramaworks.org
The month of December ranged from drama to beautiful dancing production to high jinks on the Maltz Jupiter Theatre stage. In South County, the Wick Theatre and Costume Museum captured the spirit of the season with a hilarious version of Sister Act starring Patrece Bloomfield as Deloris Van Cartier who is being hidden from a gangster… in a convent. Once Deloris takes over the off-key church choir, the laughter reaches a crescendo. Bloomfield is an outstanding comedian and singer. One of the high points of the movie that starred Whoppie Goldberg was her scene sneaking into a bar next store to the convent. She is followed by two sister nuns trying to save her. This also stole the show at the Wick. Margot Moreland as Sister Mary Patrick is just as funny as Kathy Nijimy who starred in the movie. Her sidekick is the novice nun, Sister Mary Roberts (Jessica Brooke Sanford), who has led a very sheltered life. Her exposure to the seamy side makes the scene even better. When it comes to taking the role created in the movie by Maggie Smith, they sure cast the right person. Danette Cuming as Mother Superior is just that!…Superior! Her credits as an actress are outstanding. Last, but not least, I now have a new actor to keep tabs on just in case he's in another local production. Don Seward, as the gangster Curtis Jackson, takes command of the stage any time he's on it. His credits include The Wiz, whose main character requires a booming voice. Trust me! Seward lives up to that requirement.
Back in the summer of 1957, I lived in Washington D.C. and got to see a lot of pre-Broadway tryouts, one of which was West Side Story with music by Lenard Bernstein. It has gone down in history as the contemporary musical version of Romeo and Juliet. Everyone of importance attended the gala opening (not me), and it received rave reviews… Now, the Wick Theatre is presenting West Side Story opening on January 12, 2017 through February 25. West Side Story brings all the best qualities to musical theater…dancing, wonderful songs, great story line and drama.
The Wick Theatre, 7901 N. Federal Hwy., Boca Raton. Box Office (561) 995-2333 or the www.wick.org