by Sean Herbert
I always remember the dinner table as a child and my brother who hated any kind of vegetable arguing with my mother why he had to eat his peas. My mother's patented Norman Rockwell responses ranged from "Starving children in some far off country" to simply "Eat them, they're good for you." I always knew my mother was smart, but even she probably never knew how right she was!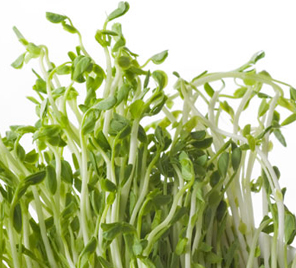 Peas (or more specifically pea sprouts) are called "The Perfect Food." Why? Pea sprouts are a complete protein, serving to build muscle tissue. Pea sprouts are also high in fiber and beta-carotene, which protects vision and creates an antioxidant effect against many forms of cancer. Pea sprouts help to build muscle, strengthen teeth and stimulate H cells. They have even been shown to help eliminate plaque deposits on arterial walls.
(Serving Size 120 grams)
Calories  154
Protein  11g
Carbohydrates  34g
Magnesium  67.2mg
Potassium  457g
Phosphorus  196mg
Zinc  1.3mg
Calcium  43.2g
Sodium  24mg
Iron  2.7mg
Vitamin A  199 IU
Vitamin B1  (thiamin)  0.3mg
Vitamin B2 (Riboflavin)   0.2mg
Vitamin B6 (Cyanocobalamin)  3mg
Vitamin C (Ascorbic Acid)  12.5mg
Folate  173 mcg
Pantothenic Acid  1.2mg
Omega 3 Fatty Acids  73.2 mg
Omega 6 Fatty Acids  318mg
(Analysis available at www.nutritiondata.com)
So we know they are good for you, but how do you incorporate them in your diet? Start your day with a green drink and be creative.
PEA GREEN DRINK: 1 cup of pea sprouts, 1 cup of sunflower sprouts, 2 cucumbers, 1.5 stalks of celery, slice of ginger and an apple wedge. Juice all ingredients using a sprout juicer or blender and chill. This green drink recipe should yield between 16 to 20 ounces of juice.
PEA SALAD: Incorporate pea sprouts in your salad of choice. Get them small and tender and chop to your heart's content. Pea sprouts will complement all of your dinner entrees as well. My favorite is 4 cups of sunflower, 1/2 cup of sprouted bean mix: adzuki, mung, garbanzo, red and green lentils, sliced pea sprouts on top and a mild vinaigrette dressing.
PEALICIOUS SOUP: Two 16oz packages of peas, 2 tablespoons of extra virgin olive oil, 1.5 cups of sliced shallots, 4 cups of vegetable broth, 3 tablespoons of fresh tarragon, stir in plain nonfat yogurt, add chopped fresh pea sprouts to your liking. You can also use a food processor to regulate texture and mix the sprouts in with the peas.
Knowing that you are incorporating nature's perfect recipe for health in your daily diet should provide you with plenty of…PEAS of MIND.

Save
Save