by Sharon Quercioli
Fall is one of my favorite seasons. The crisp air is a refreshing change from the sweltering summer heat. But there is so much more to enjoy from this season as well! Pumpkin spice, warm sweaters, hot cups of tea… and those fall colors! There is something special about decorating your home with the bright, warm colors of the fall. Don't know where to start? Here are some of my favorite ideas to help you get going!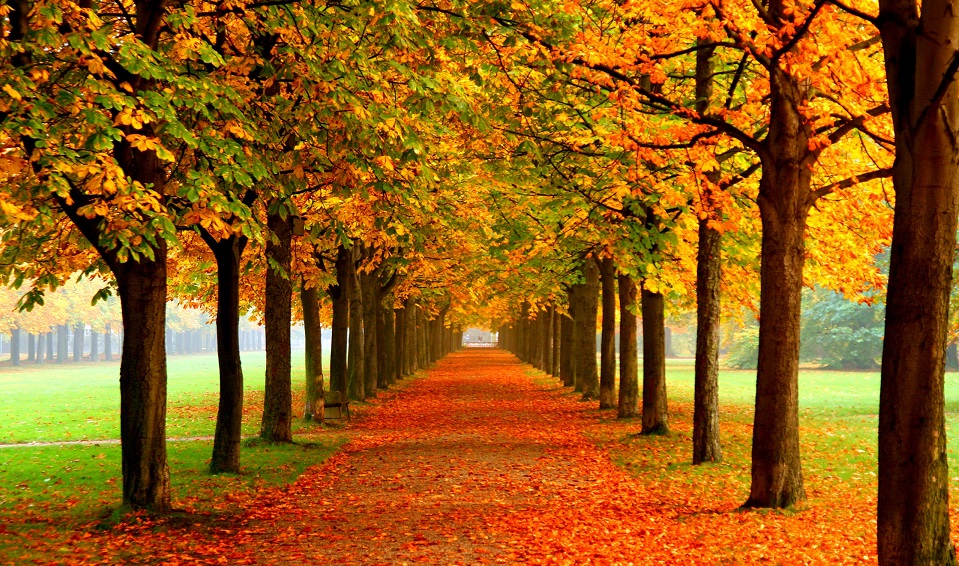 Scavenger Hunt!
You can create a fun family outing by scavenging for fall items with your loved ones! The rules are simple:
Only pick up items that have already fallen.

Do not disturb natural habitats.

Be careful for poisonous insects, foliage and animals.
A sample list could include:
Fallen leaves in red, yellow and orange

Twigs

Branches

Nuts and Acorns

Pinecones
Once you've taken your haul home, you can string leaves together with twine or thread to create garland for our mantel, doorways and banisters. You can place other items in baskets to keep around the home for a splash of fall color.
In order to sanitize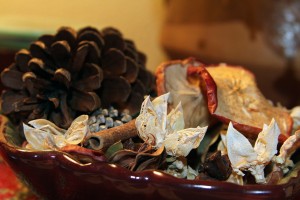 pine cones to ensure that you don't bring in extra bugs, sap and bacteria, gently wash them in a sink full of warm water with a half of a cup of vinegar. I usually leave them in there for about a half an hour, then let them air dry.
Here in Florida, we don't get as much of a drastic change in temperature and atmosphere when fall arrives. There isn't much in terms of fallen maple leaves and pine cones. However, you can still pick up what you see on the ground and change the color yourself with some newspaper and spray paint or dye! Give your home some extra autumn flair by painting branches gold and placing them in some vases by the front door.
Natural, Natural, Natural
There is nothing more vibrant than some fall leaves and harvest fruit! They bring a beautiful array of autumn colors into your home without having to deal with all that glitter and plastic from store-bought decorations. My favorite produce to use and display are apples, pears and pumpkins. Pair them with some beautiful glowing candles and some fallen stems and leaves to add to the autumn appeal.
BONUS KARMA: Growing your own fruits and vegetables is incredibly convenient! While I have a number of herbs growing in my garden, I prefer to take a trip to my local farmer's market to help support our local growers. After all, oregano doesn't look as festive as a basket full of fresh apples!
Mason Jars
My favorite element to decorate with isn't from the outdoors. Mason jars are a great craft tool that you can utilize every season. You can buy them in bulk at the store and reuse them every year instead of buying decorations that you use once before throwing them away.
One of my favorite crafts is creating votive holders out of them. Even in sunny Florida, the night air can be a bit chill in the fall and winter. You can warm up the atmosphere with some candlelight! I fill the bottom third with sand and nestle a small votive inside.
Homemade Potpourri
Decorating your home should involve all of your senses. Once you've brightened up your home with autumn colors, bring in the scent of fall with some of these potpourri ideas that you can simmer on your stove.
NOTE: I have a specific pot that I use for potpourri so that my apple-cinnamon blend won't have a hint of beef stew as well. Bleh!
Dry these ingredients, mix them up, and keep them in a glass jar (which can be displayed as décor as well). When you want to simmer them, use a teaspoon of the mixture for every cup of water. Bring it to a boil, then lower the temp to a simmer. Once you smell it throughout the house, turn off the heat.
BONUS: Most potpourri can be strained, dried and reused!
Yummy Apple Spice
Dried apple slices

Crumbled cinnamon or a 3" stick of cinnamon

A whole, grated nutmeg

Sliced orange peel (of one whole orange)

3 drops of cinnamon

A handful of carnation petals
Fall Spice Blend
A tablespoon of anise seed

A tablespoon of cloves

A teaspoon of nutmeg

A teaspoon of allspice

Two cinnamon sticks (crumbled)
You can use apple cider instead of water with this blend if you want a stronger scent!
Do you have some ideas, thoughts or questions that you would like to add? We would love to hear from you! Please feel free to add your thoughts in the comment section below!