by Sharon Quercioli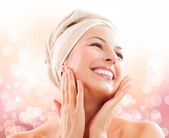 The best and most beautiful things in the world cannot be seen or even touched—they must be felt with the heart. (Helen Keller)
Skin Care Boost
When my skin starts to act up, I love to cleanse it for a beautiful looking face. Whether you skin is acting up or not they are easy recipes, so try them out!
Cleanse Recipe
Start with a good cleansing base oil, and pour ¼ cup into a clean glass bowl. I suggest:
CLEANSING BASE OILS
All Skin Types
For Oily Skin
For Dry or Maturing Skin
Sunflower
Jojoba
Apricot Kernel
Olive
Grapeseed
Avocado
Tamanu
Sweet Almond
Argan
Add 1–3 drops of one or more of the essential oils listed below:
ESSENTIAL OILS
All Skin Types
For Oily Skin
Dry/Maturing Skin
Frankincense
Bergamot
Rose
Geranium
Helichrysum
Myrrh
Lavender
Clary Sage
Sandalwood
Instructions:
Rinse your face with warm water to open your pores.
With upward rotations, massage oil mixture all over face for 1–2 minutes.
Leave mixture on face for 1 minute.
Saturate a clean washcloth with warm water.
Place towel on face and leave for 15–30 seconds.
Slowly and gently wipe off oil.
Repeat steps 5–7 until your face feels clean.
Three Tips to "Get Your Glow" for great looking skin!
Hydrate, Healthy Eating & Sleep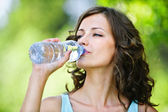 Hydrate
Make sure to continue to drink water all day. I love to make things interesting by adding Young Living lemon one day, grapefruit and then tangerine. I also change it up by adding cut cucumbers or sliced portions of my favorite fruits to my water.
Eat Healthy
You should try to eat antioxidant rich foods: leafy greens, legumes, blueberries, cucumbers, celery, nuts, apricots, fish, etc. I even try to juice wheatgrass, and drink it in the morning before eating or drinking anything else. These foods will help your overall health and keep your skin looking beautiful.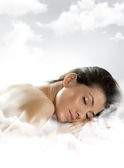 Sleep
Make sure to get enough sleep so you can rejuvenate your body and skin. I need to get between 7 and 9 hours of sleep a night. The Mayo Clinic has a great resource to see how much sleep you need each night, depending upon your age and other factors.
Girls, these are my secrets…Let me know what you think after you given them a try!
So how much sleep do you really need? Click here and find out!