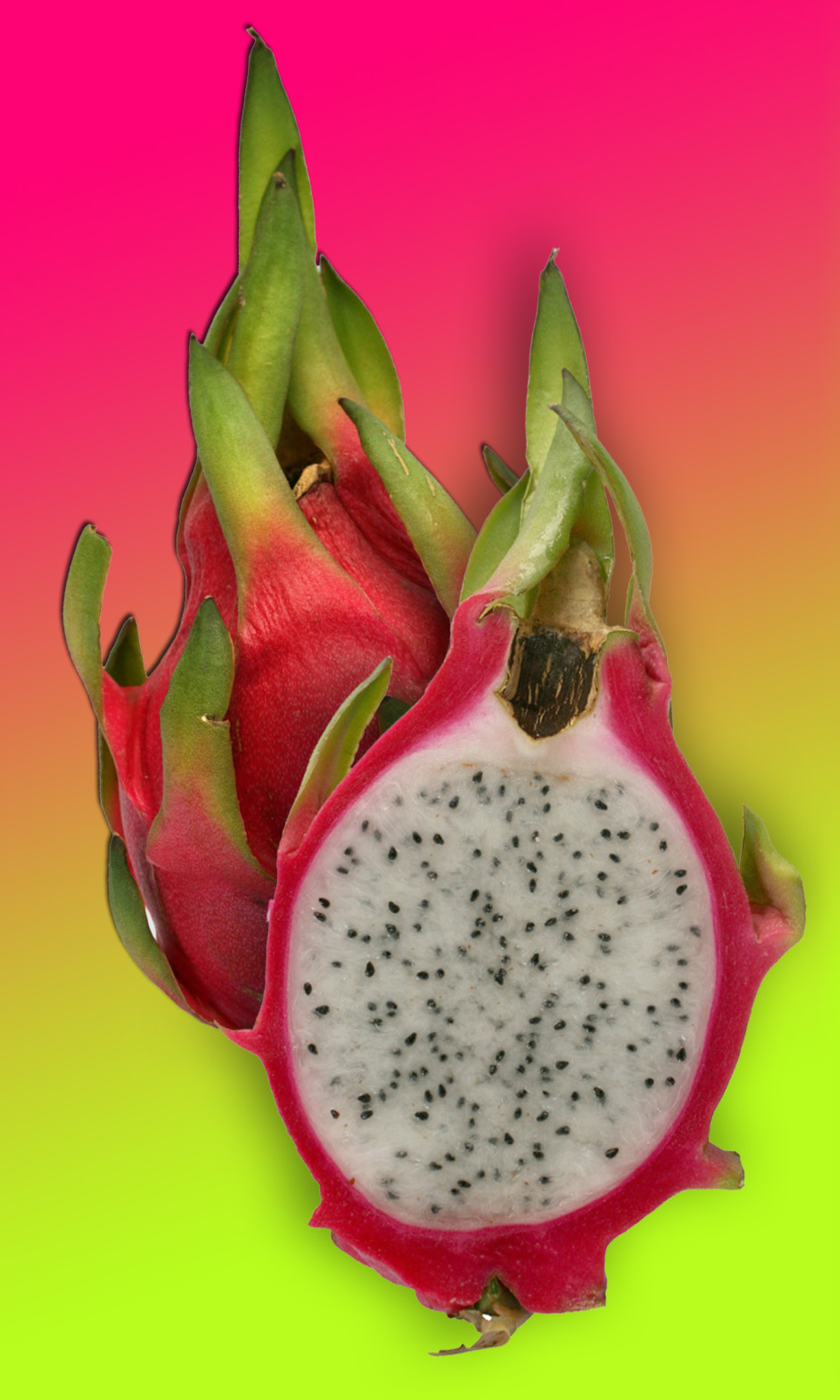 by Sharon Quercioli
Dragon fruit (a.k.a. "pitaya") is a beautiful fruit grown in Southeast Asia, Mexico, Central and South America, and Israel. The plant is football-shaped and has a leathery, leafy skin that is deep red or pink in color. It comes in three varieties: red flesh, white flesh and yellow flesh, all of which are embedded with hundreds of black seeds and have a mild, sweet taste. The best-tasting variety is the one with red flesh, which is succulent when eaten. Dragon fruit is low in calories and offers numerous nutrients, including Vitamin C, phosphorus, calcium, plus fiber and antioxidants.
Dragon fruit tastes wonderful! Sweet and crunchy, with a flavor that's kind of a cross between kiwi and pear. Dragon fruit is particularly suited to making drinks since it is mostly composed of water, making it quick and easy to blend. (See martini recipe included…yummy!)
One dragon fruit can weigh between 150g and 600g, but with its thick covering only about 60% is edible. To enjoy dragon fruits, it is best to eat the creamy pulp cold. The middle part is the sweetest, and, after cutting the fruits in half, you just have to spoon the flesh out.
They are among the many wonder fruits that are said to provide multiple health benefits. In addition, dragon fruits help protect the environment because they absorb carbon dioxide at nighttime, and then release oxygen to purify the air.
Health Benefits of the Dragon Fruit
If you are looking for fruits that are filling and delicious, but will help keep your weight in check, dragon fruits are a perfect choice. A 100g serving of dragon fruit has only 60 calories: 18 calories from fat (all unsaturated), 8 calories from protein; and 34 calories from carbohydrates. Dragon fruits do not have complex carbohydrates, so they can be easily broken down by the body.
Dragon fruits are high in fiber, so regular consumption can help avoid constipation, improve your digestive health and help you reduce weight.
Dragon fruits do not contain cholesterol, saturated fat and trans fat, so regular consumption will help manage your blood pressure and control your cholesterol levels. The seeds of dragon fruits are high in polyunsaturated fatty acids (omega-3 and omega-6 fatty acids) that reduce triglycerides and lower the risk of cardiovascular disorder.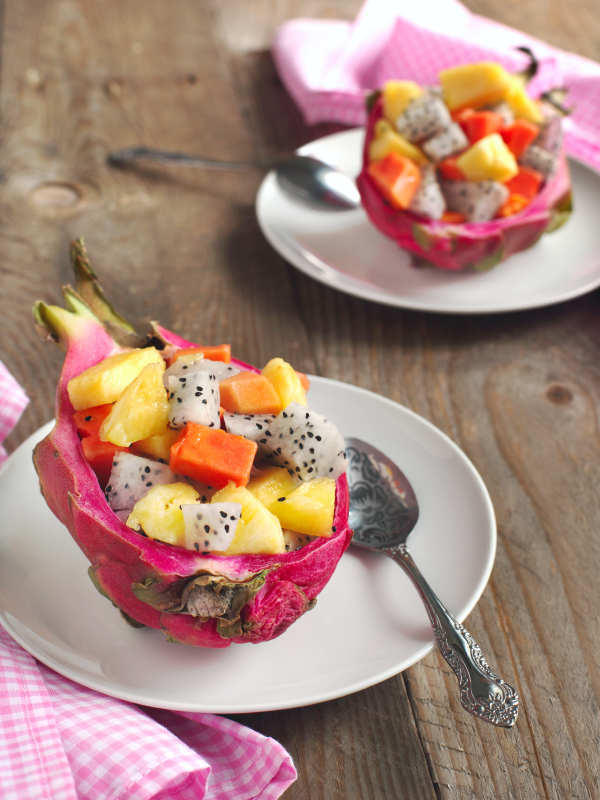 Dragon fruits are rich in vitamin C, containing 9mg per serving that is equivalent to 10% of the daily value. Thus, eating dragon fruits helps strengthen your immune system and promotes faster healing of bruises and wounds. In fact, regular eating of dragon fruits will help ward off chronic respiratory disorders such as asthma and cough. Dragon fruits also contain B vitamins: B1 for better carbohydrate metabolism; B2 for recovery and improvement of appetite; and B3 for reducing bad cholesterol while improving skin condition.
Dragon fruits are also packed with minerals such as calcium for stronger bones and teeth, phosphorus for tissue formation and iron for healthy blood. One dragon fruit contains approximately 8.8g of calcium, 36.1mg of phosphorus and 0.65mg of iron.
Lycopene is also present in dragon fruits, and this is the pigment responsible for their red color. Lycopene is said to prevent prostate cancer. Dragon fruits contain phytoalbumins, which have antioxidant properties that help prevent the formation of cancer cells. In addition, dragon fruits are also known to increase the excretion of heavy metal toxins from the body.
So, I'm challenging you to try these delicious recipes. Meanwhile, I'm on my way to the market to purchase my dragon fruits. Besides all the health benefits, the Thai Fruit Salad and the Martini are amazing! You couldn't ask for anything more.
THAI FRUIT SALAD RECIPE
What a taste of paradise! You can use a mixture of tropical and local fruit, which you can toss together in a sweet coconut-lime fruit salad dressing that enhances (but never overwhelms) the luscious taste of the fruit. Choose your own combination of fruit for this easy fresh fruit salad. You can serve this beautiful Thai fruit salad in a pineapple or in your special fruit bowl.
Ingredients
1+1/2 cups fresh papaya, cubed
1 cup pineapple chunks, fresh or canned
1 banana, sliced
1 cup mango, cubed
1 cup strawberries, sliced or cut into quarters
1 cup other fruit, local OR exotic such as blueberries, melon, dragon fruit, lychees, longans or rambutans
Garnish: starfruit slices
1/4 cup coconut milk
1 tbsp. freshly-squeezed lime juice
2 tbsp. brown sugar or palm sugar
Fruit Salad Dressing
Preparation
Stir fruit salad dressing ingredients together in a cup until sugar dissolves. Set aside.
Place all the fresh fruit in a mixing bowl.
Pour the dressing over and toss well to mix.
Pour or scoop the fruit salad into a serving bowl or into a prepared pineapple boat. Garnish just before serving with a star fruit slice.
.
DRAGON FRUIT MARTINI RECIPE
This Dragon Fruit Martini is fabulous and beautiful to serve! Your guests will be delighted by this refreshing cocktail, and the marvelous-looking dragon fruit also makes a great conversation starter! I tested this recipe both with and without the coconut milk, and it was delicious both ways. CHEERS!
Yield: 3-4 martinis
Ingredients
1 ripe dragon fruit – should be soft enough to indent skin slightly with your thumb
1/3 cup vodka
1 tbsp. freshly-squeezed lime juice
2 to 3 tbsp. white sugar, to taste
2-3 ice cubes
1/4 cup coconut milk
garnishes: dragon fruit wedge, slice of lime or star fruit
Preparation
Prepare your dragon fruit by scooping out all of the flesh.
Place dragon fruit flesh in blender or food processor. Add all other ingredients and blitz 20 to 30 seconds on high speed.
Taste-test for desired strength and sweetness, adding more vodka if not strong enough, or more sugar if you'd prefer it sweeter. (Note that the sweetness will also depend upon the ripeness of your dragon fruit—the riper, the sweeter it will taste.) If too sweet for your taste, add another squeeze of lime juice. If too strong for your liking, add more coconut milk.
Pour out into martini glasses, and garnish with your choice of garnishes.
Here's to you with love!