by Sharon Quercioli
Living in South Florida there is one thing you cannot escape—INSECTS! Mosquitoes, fire ants and a whole slew of other bugs that like to bite and sting just come with the territory. Thankfully, we rarely have to deal with too many of those pests in our urban areas, but if you enjoy being out in nature (as I do)—watch out!  There are plenty of different bug repellents on the market, but many of them contain harsh chemicals that are not good for the environment, let alone our skin and bodies.
So, should our fear of being bitten or stung keep us from going outside and enjoy the natural beauty in our world? NO! There are natural essential oils you can use to deflect insects and keep from being bitten.
For my birthday,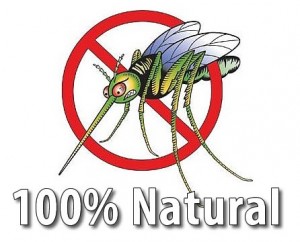 my girlfriends and I went on an excursion into the Everglades with Billie's Swamp Safari. Most of us know in the swamp you'll run into all kinds of bugs, including overgrown mosquitoes, but we did not enter unprepared! I went in armed with Young Living Purification mixed in a small spray bottle with water. The girls and I sprayed ourselves with the mixture and not one of us had a single bug bite when we left the Everglades.
The amazing blend of water and Purification came in handy again during my recent venture to Costa Rica. While hiking the hanging bridges in the beautiful lush rain forest, we were protected by this natural and safe bug spray alternative. People could not believe that we were not bothered by any insects.
Purification is good for more than just a natural and environmentally friendly bug repellent. Purification is one of the most fabulous oils that Young Living makes. I always keep a bottle in my purse and a bottle at home.
What is PURIFICATION? It's an antiseptic blend of Citronella lemongrass, rosemary, melaleuca, lavandin and myrtle formulated for diffusing to purify and cleanse the air and neutralize mildew, cigarette smoke and disagreeable odors.
Here are a few more ways to use this powerful and natural oil: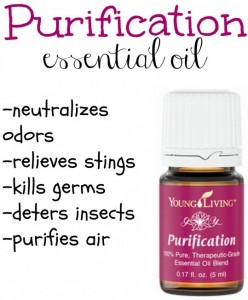 Spritz several drops of Purification oil mixed with water to repel insects. It works great!
Put a drop of Purification oil on insect bites to cleanse and stop the itching.
Diffuse Purification oil to clean the air and neutralize foul or stale odors.
Put several drops of Purification oil on a cotton ball and place in the air vents in the home, office, hotel room or other enclosed area.
While traveling, inhale Purification oil during flights to protect you from pathogens found in the recirculated air.
Apply a drop of Purification oil on blemishes to clear the skin.
Rub a drop of Purification oil on the outside of a sore throat when it is first beginning.
Rub a drop of Purification oil on a blister to cleanse and disinfect.
Put 2 drops of Purification oil on two cotton balls and place in the toes of smelly sneakers to combat odors.
Place a drop of Purification oil on each end of a cotton swab and place on top of your cold water humidifier to clean the air.
Dilute Purification oil with V-6 Vegetable Mixing Oil and swab the nasal cavity to ward off the flu.
Apply Purification oil and Peppermint oil diluted with V-6 Vegetable Mixing Oil to a cotton swab, and rub just inside the ear to eliminate ear mites in cats and dogs.
Put several drops of Purification oil on a cloth to rub out mold.
Remember, if you want a natural way to repel insects along with many other natural remedies, carry a bottle of Purification in your purse. You will never be sorry.