by Teresa VanDyk Marshall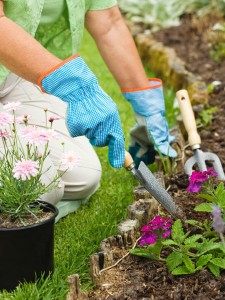 Break out your watering cans and pruning shears because it's January in the Florida Garden! 
On a related side note, we feel it must be mentioned that Florida observes Arbor Day on the third Friday in January each year. So, if you are able, join in celebrating the day by helping to plant a tree!
We really do live in a great place to be a gardener in January. My garden is just exploding with lush color and growth. Our tea olive shrub has us enraptured with its magnificently fragrant flowers. Our lemon balm has nearly tripled in size in the last month or so.  According to www.FloridaGardener.com, there are a great many plants that do wonderfully here, especially when planted right now, including watermelon, strawberries, salad greens, cucumbers and a great many herbs.
We love the advice of Dr. Sydney Brown of the University of Florida's Institute of Food and Agricultural Sciences (IFAS division) when laying out our January garden plans. Here are just a few highlights from their January South Florida edition Gardening newsletter: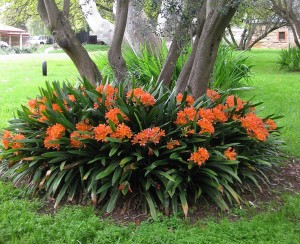 Lilies – Florida's Bulbs: Plant Now for a Blossoming Spring!
Unfortunately, tulips aren't too comfortable here in South Florida.  That's all right though because we have other bulbs that love it here, and they are beautiful. Plant them now for full bloom in spring! Kaffir (or Clivia) lilies are highly recommended for their showy orange flowers accented by glowing golden centers. The Agapanthus lily family is also lovely to plant and offers a lovely violet blue shade to the garden when it blooms.
Bring on the Fresh Vegetables!
We can continue to plant cool season crops that include beets, cabbage, turnips, lettuce and broccoli.
Herb Gardens That Love Our Winters
We should find Tarragon, Fennel, Thyme, Dill and the Mint family will thrive if planted now.
Winter Dryness Affects Plants, Too!
Remember that more water might be needed in the winter months as the typically dry air here during the winter leaves our plants and the earth they are in a bit on the dehydrated side.
Keep the Flowers Coming…
Continue to deadhead flowers to encourage new blossoms. Monitor the garden for insects and disease. Especially check our citrus trees, because now is when the aphid damage starts to show.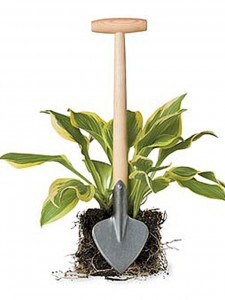 If a Freeze Is in the Forecast…
If it can be done, bring the plant inside. Otherwise, water plants thoroughly ad cover them between 12 and 24 hours before the freeze. For more wonderful gardening insights or to get pointers on a different gardening region in Florida, we are pleased to provide a link to the University of Florida IFAS website: http://solutionsforyourlife.ufl.edu/lawn_and_garden/calendar
So, it might be a snowy winter wonderland in our country's northern regions, but here there's a great chance for an early spring. Have fun planning and happy gardening to you all!