by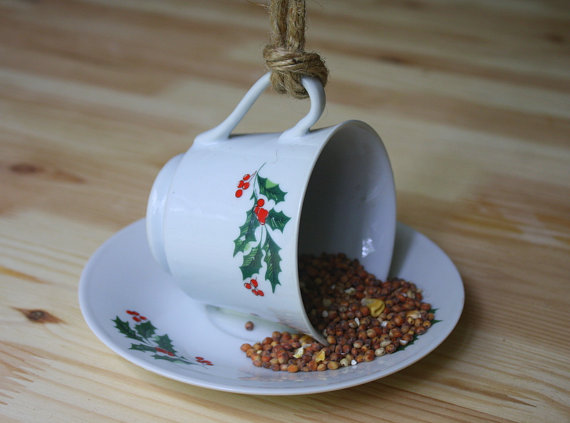 Sharon Quercioli
Our holidays are filled with family, friends, and the giving spirit. However, for most of us out there, the "giving spirit" also comes with a ton of wrapping paper and trash. Opt out of those extra boxes and wrapping this year and try giving your loved ones a gift that is eco-friendly. Check out some of these ideas when you go shopping this year.
There are a plethora of gifts that you can buy, which are repurposed or upcycled from other things.
http://www.uncommongoods.com/gifts/collections/recycled-gifts
Uncommon Goods has a great and unique selection of gifts that are made from items like discarded bike chains, old records, old stadium seats, reclaimed wood, and old hardware.
http://eartheasy.com/give_recycled.htm
Eartheasy also has a collection of unique gifts which are also made from recycled materials. They are made by companies and individuals who have a desire to make a difference in the world.
https://www.etsy.com/market/recycled_gifts
Also Etsy is known for handmade items that are directly from artists and artisans from around the world. They also have a wonderful section of recycled gifts to share. But it's not just about the actual gifts. You can also purchase bows, gift tags, wrapping paper, and ornaments made from recycled materials.
DIY Gifts in Reusable Containers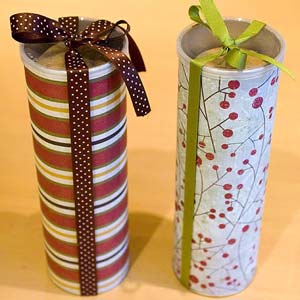 I love making DIY gifts. It is a great way to show your loved ones that you care about them. There are many types of gifts to choose from, depending on what you like to do:
Edible gifts (homemade candy, jams, syrups, infused liquor, extracts, etc.)

Candles

Paper

Lip balms and skin care gifts

Photo prints

Knitted or crocheted items

Growable gifts
For example, giving the gift of plants is a great way to offer a present which will enrich the lives of your loved ones. Seedlings, terrariums, air plants, and herb plants are great starters for people who don't often do a lot of gardening.
http://www.sproutem.com/category/Christmas-Standard-Size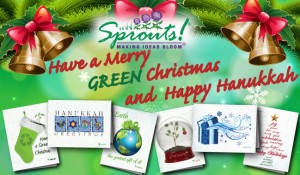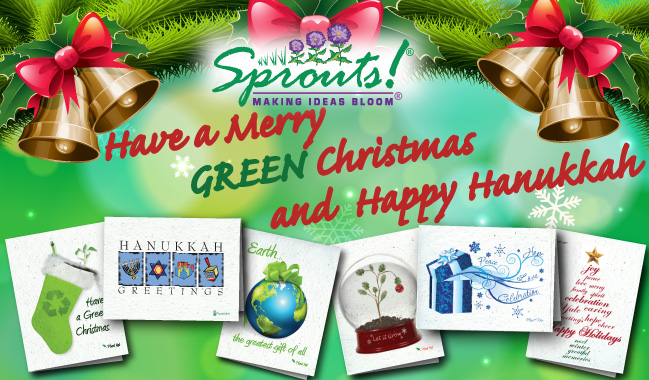 While you're at it, why not give the gift of a unique Christmas card made from handmade plantable seed paper? We offer plantable recycled paper that is embedded with wildflower seeds. Unless customized, the Sprouts Plantable Christmas Cards come with the verse: "May the seeds of peace blossom throughout the world." Look through the designs at the link to find one that fits your personality!
The Gift of Donation
Making a donation in the name of your loved ones is a great way to help the world and make your family and friends feel all warm and fuzzy during the holidays. To make it personalized, look into what your specific loved ones feel passionate about and donate to a cause that would be important to them. Do you have a sister that is a writer? Make a donation in her name to a local literacy foundation or council.
The Gift of an Experience
Giving the gift of an experience is a great way to help your loved ones create memories that will last a lifetime. You can gift a vacation, money toward a vacation, movie tickets, or help them get outside by gifting them a membership to a sailing club, rock climbing lessons, or some outdoor equipment. Being able to enjoy the great outdoors in a eco-friendly way is a great gift for someone that you love.
The Gift that Keeps on Giving
Another thoughtful gift that would help your loved ones act more eco-friendly would be to give them an item which would cut down on their single-use containers. Depending on how your friends and family live on a day- to- day basis, you may find one of these items to fit their tastes:
Reusable travel mugs

Bento boxes

Compost pails

Salad containers

Reusable snack bags for kids

Bamboo utensils

Chopsticks

Cloth dish towels (to replace paper towels)

Water filters

Eco-friendly water bottles
Do you have another idea for a green gift for the holidays? Do you have any questions? Be sure to jot down your thoughts in the comment section below. We love to hear from you!