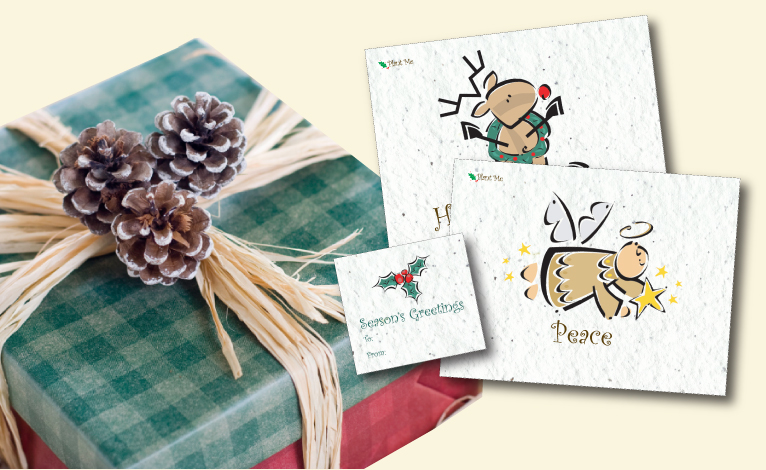 by Sandra Frens
As a child, Christmas was my most treasured holidays. I knew if I was good all year Santa would come down the chimney and reward me with a mountain of presents on Christmas morning.  Each gift would be wrapped meticulously in the most exquisite of papers with the most beautiful bows—and in a flash those papers and bows would be nothing more than shreds waiting to be tossed out with the rest of the trash. Sadly, back then "Santa" and "Mrs. Claus" (my dad and mom) did not consider the waste they were creating with their thoughtful and beautifully wrapped gifts.
All the winter holidays involve some sort of traditional gift giving, and that usually means there will be gift wrapping. But do we have to give-up the trappings of a holiday with beautifully wrapped packages to live a more sustainable lifestyle? NO!  There are many ways to wrap a gift and still live and breathe sustainability this holiday season or during any gift giving occasion!
First, let's go over some major don'ts when it comes to choosing how to wrap your presents. Never use a foil gift wrap or put glitter on your presents! Foil gift wraps (not to be confused with kitchen aluminum foil), although beautiful in appearance, are the hardest on our environment with no ability to bio-degrade. Glitter is another one of those materials that is not recyclable. Even if used on eco-friendly paper, glitter will render it no longer recyclable. Just being aware of the materials you're using can make a big difference in staying eco-friendly.
Now let's talk about the many ways to wrap a gift and still be environmentally conscious.
Holiday bags and boxes are two of the simplest ways to go green this holiday season; the trick is keeping them to use the next year, the year after and so-on! Just make sure they are made of eco-friendly materials because eventually they will wear out and need to be recycled.
Use holiday fabric to wrap gifts. You will only need about a yard or two from the fabric store and use cloth ribbon to keep it all closed up. This will last for many years, and you will spend less than buying a new roll of gift wrap every year.
Another cloth option is using a pillowcase and tying it up with a big beautiful cloth bow. Or, if you are giving clothes and other presents, wrap the other presents in the clothes and tie with ribbon.
A classic gift wrap alternative is using old newspaper or kitchen aluminum foil. These two are easiest to obtain and can be made up fancier with a decorative cloth ribbon and bow.
Using wrapping paper isn't totally out of the question either.  Just be sure the paper you are purchasing is recyclable and comes from other recycled paper. This is easy to find by searching the Internet for "recyclable gift wrap."
In addition to using sustainable gift wrap, make sure your gift tags and cards are also eco-friendly. Buy tags and cards that are made from 100% recycled paper, like Sprouts! plantable seed paper cards (www.sproutem.com).  If you're using seeded tags or cards in your gift giving, you're also sending an extra gift of flowers, too!
The holidays can still hold the beauty of established traditions and maintain a sustainable atmosphere. By just changing a few little things, we can have a huge impact upon the world we all share. Let's keep our various holiday traditions alive, only this year I'm dreaming of a GREEN Christmas.