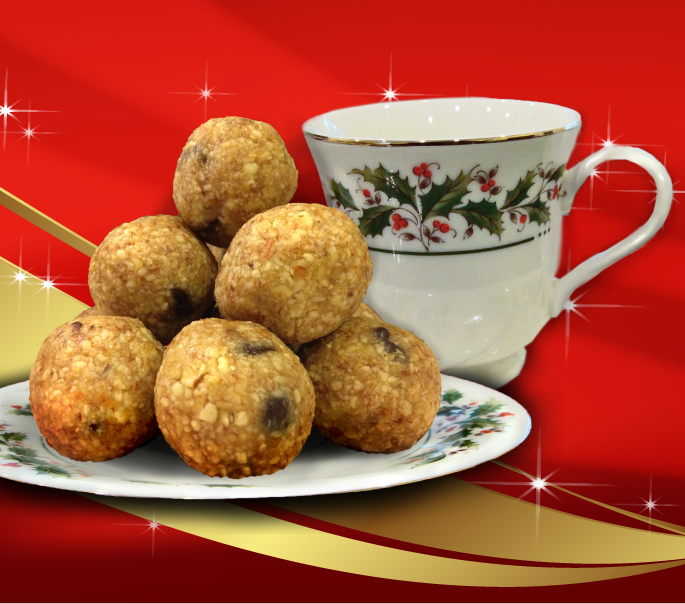 by Sandra Frens
Ahh winter! The time of year when Mother Nature waves her wand and covers the North in a blanket of beautiful shimmering snow. Or for those of us in South Florida, she delivers a few days of brisk beach weather. Regardless of where you live, you feel the change in the air, and it brings a smile to your heart. Winter is the time for merriment, celebration, appreciation and love.
Along with all the winter festivities come the decadent meals and desserts to tempt our taste buds. These indulgences are not always the most healthy food choices, but fear not! There are ways to make even the most classic sweets with a healthier and more delicious twist.
A classic Christmas tradition is to leave out the milk and cookies for Santa to nibble on as a thank you for his yearly delivery of toys and gifts. This is far from the most energizing snack food we could leave for old St. Nick, but there is a more health conscious alternative! This year show the Jolly Old Elf some love by leaving him Vanilla Silk (soy milk) and some vegan, no-bake, chocolate chip cookie balls! These cookies are completely vegan, gluten-free and need no refrigeration! 
One of the main ingredients of these delicious cookies is finely ground nuts, which have some wonderful health benefits. In addition to being packed full of protein, nuts are phytochemical powerhouses and low in saturated fats. They contain many other protective nutrients—calcium, magnesium, potassium and vitamin E. Nuts also contain an abundance of flavonoids and isoflavones, compounds thought to help ward off cancer and cardiovascular disease.  (We have to make sure we take care of Santa's health after all!)
Vegan, no-bake chocolate chip cookie balls also make a great gift instead of the usual cookies and cakes. If you really want to make these into a healthy and eco-friendly treat to give away to family, friends and co-workers, box up a few of the cookie balls in a small plantable seed paper box (you can find some at www.sproutem.com), and tie cloth holiday bow around it. Use the bow to attach a small recipe card sharing how to make these outrageous cookie balls! This is a great way to give someone an inexpensive holiday gift that's not only from the heart, but heart healthy!  
Ingredients
3/4 cup Raw Agave Nectar (start with 1/2 cup and add more if needed, depending upon how dry your "flour" is)
1 Tbsp Vanilla Extract
1 cup Rolled Oats or Oat Flour
2 cups Raw Almonds (or Cashews or Pre-Made Almond Meal)
3/4 cup Vegan Chocolate Chips – or to preserve true raw status, take 2 Tbsp Raw Cocoa Powder and add 1 Tbsp Agave, optional dash of vanilla extract, whisk and blend. Spread into a thin layer on wax or parchment paper, freeze. Take frozen chocolate off parchment and crumble the shreds into the mixture as your raw "chips."
Directions
Measure out all of your wet ingredients and dump them into a large bowl.
Measure out all of your dry ingredients.
Blend the oats in your food processor into oat flour.
Dump them in the bowl with the agave and vanilla.
Blend the almonds into almond flour. CAUTION: Blend in batches of no more than a cup at a time or you will end up making almond butter. Then place it in the bowl with everything else.
Mix all the ingredients together and add chocolate chips, and mix it up some more.
Use a cookie scoop or your hands to form into balls.