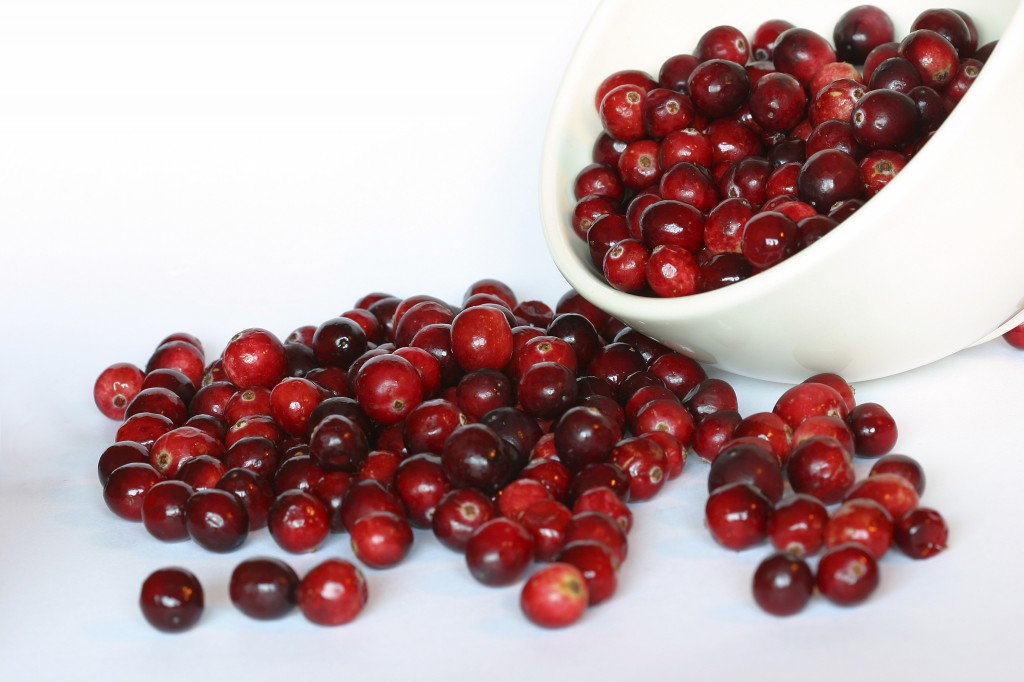 by Sharon Quercioli
It is my favorite time of year. We all have so much to be thankful for – our family and friends, leaves changing colors, cooler weather, children all dressed up for Halloween and so many other things. Let me share with you one of my favorite berries that every Thanksgiving table should include  ̶  the classic cranberry!
A cousin of the blueberry, this very tart, bright red berry can still be found growing wild as a shrub, but when cultivated is grown on low trailing vines in great sandy bogs. The American cranberry, the variety most cultivated in the northern United States and southern Canada, produces a larger berry than the wild cranberry or the European variety.
Cranberries are festive and terrific for the body and mind. Don't wait for the holidays, grab some today! As the holiday season approaches (it's not that far away, you know), thoughts often wander to many of the holiday treats and delights that contribute to the season. Pumpkin pie, sweet potatoes and stuffing are just a few of the highlights, but don't forget about the cranberries. They have been used for centuries by Native Americans in this country for medicinal purposes. They were first commercially planted in Massachusetts in 1816 and are a member of the same family as the blueberry.
Benefits of the Berry
Not only are cranberries a tasty addition to any holiday meal, they are packed full of nutrition as well. Let's look at some of their health benefits.
Infection Fighting  ̶  Cranberries contain proanthocyanidins (PACs), which have been shown to prevent bacteria (including E coli) from adhering to the walls of the bladder and urinary tract, thus helping to prevent infection. Indigenous peoples have used cranberry preparations for years to treat urinary tract infections. The quinic acid in cranberries has shown some ability to prevent kidney stones and appears to possess general anti-inflammatory and infection-fighting properties.
Good for the Mouth  ̶  Cranberries have the power to inhibit some oral bacteria from their capability to form dental plaque and cavities. The berries reduce the amount of streptococcus mutans colony forming units, which are a known cause of cavities. Their anti-bacterial and anti-inflammatory properties also help to prevent gum disease.
Tummy Friendly  ̶  These red nutrition all-stars also possess the ability to fight the bacteria which cause stomach ulcers. They inhibit the H pylori bacteria's ability to adhere to the mucous lining of the stomach.
Heart Friendly  ̶  Cranberries are high in antioxidants and flavonoids, both of which help protect against heart disease. The flavonoids have antioxidant powers that reduce the risk of arthrosclerosis by inhibiting LDL (bad cholesterol) oxidation. They also raise HDL (good cholesterol) levels, improve circulation and aid in stroke recovery.
Cancer Fighters  ̶  Due to their high antioxidant and anti-inflammatory ability, cranberries are proving to be potent cancer fighters. Specifically, some studies have shown cranberry supplements to reduce the incidence of breast tumors.
Fight Father Time  ̶  Cranberries and other foods high in ORAC values (antioxidants) may protect against age-related problems such as loss of coordination and memory.
Herpes Be Gone  ̶  A phytonutrient in cranberries appears to be effective against the herpes simplex virus which causes genital herpes. The cranberries show an ability to inhibit the attachment of the herpes virus. More research in human subjects is needed, but the findings so far are positive.
Vitamins & Minerals Cranberries are rich sources of vitamin C, manganese, fiber and potassium, all of which are great for a healthy mind and body.
Recipes
Cranberry/Banana Bread
This is one of my favorite recipes that I make when I can get fresh cranberries.  When I have bananas that are getting to ripe, I make several loaves and give them to my family and friends. I love this recipe and so do the people I give them, too.
Ingredients: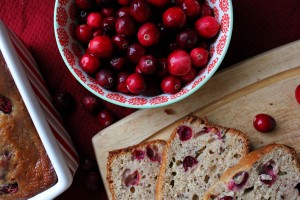 ½ cup shortening
1 cup sugar
3 eggs
1 1/3 cups mashed banana (3 large bananas)
1 bag of fresh cranberries
2 1/3 cups all-purpose flour
3 teaspoons baking powder
½ teaspoon baking soda
½ teaspoon salt
½ cups chopped walnuts
Cream shortening and sugar until light and fluffy. Add eggs and bananas and beat for 2 minutes or until blended. Mix flour with baking powder, soda, salt and nuts. Stir into banana mixture just to blend. Add cranberries and mix. Spoon into greased 9" x 5" x 3" loaf pan. Bake at 350F for 60 to 70 minutes. Cool bread in pan for 10 to 15 minutes.