Four of Mother Nature's Superfoods!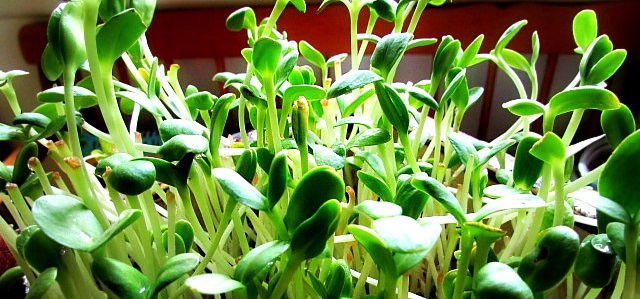 by Sean Herbert
There are so many reasons to incorporate Sprouts in your diet… let me count the ways! Today, we'll focus on sunflower and pea sprouts, broccoli sprouts and buckwheat.
Sunflower Sprouts and Pea Sprouts are two of the authentic "super" foods on the planet! Both are super easy to grow, even if you are an apartment dweller, as they don't require an outdoor garden. In fact, we have all the supplies you need to start growing your own sprouts and wheatgrass today. It's simple and we can help you get started.
Sprouts get Five Stars because they truly do support cell regeneration and are rich in antioxidants, minerals, vitamins and enzymes that protect against free radical damage. They also contain more than 30 times the nutrition of organic vegetables. Minerals such as calcium and magnesium bind to protein, making them more bioavailable. The bioavailability is enhanced by soaking, fermentation and sprouting, which means you are getting a lot more nutrition!
Sprouts also have an alkalinizing effect on your body, which could help to protect you against disease, including cancer (as tumors are known to be acidic). Sprouts are abundantly rich in oxygen, which can also help protect against abnormal cell growth, viruses and bacteria, none of which can survive in an oxygen-rich environment.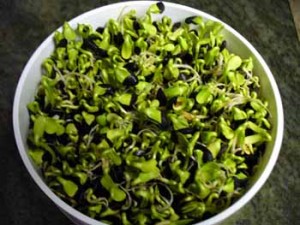 In addition, Sunflower Sprouts are an excellent source of protein and high-quality fiber, which is an mportant yet frequently overlooked weight loss aid. The more fiber the better and a healthy gut is a happy gut!
Now, let's talk about Broccoli Sprouts!
Did you know that 10 pounds of Broccoli Sprouts translate into as many cancer-protecting phytochemicals as 1,000 pounds (half a ton) of mature broccoli? Wow!
In addition, research has shown that Broccoli Sprouts have the capacity to prevent a number of health challenges: Diabetes, Heart disease, Osteoarthritis, Hypertension, Cancer, Allergies, Ulcers caused by H-pylori and even UV radiation damage to your skin, when applied topically.
A major benefit of Broccoli Sprouts relates to its ability to detox pollutants. And finally, Broccoli Sprouts are getting mainstream attention! The following was reported by Time magazine: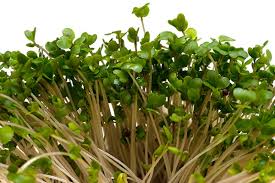 "Broccoli Sprouts specifically are a source of glucoraphanin, which creates sulforaphane when chewed or swallowed. That compound accelerates the body's ability to detoxify from various pollutants…"
This is great news, and we are thrilled Broccoli Sprouts are finally getting the attention they deserve.
Last but not least, I'm going to give a shout-out Buckwheat. Why? Buckwheat happens to be rich in Rutin, a component of Vitamin P that combats hardening of the arteries and strengthens the walls of capillaries. By the way…Did you even know about vitamin P? Well, the body requires P to fully absorb vitamin C, so it is very important.
The abundance of Rutin can be seen by the pink stalk of the sprout. Feeling a little foggy? Buckwheat is also rich in lecithin, which is important for our mental capacity. Regular intake of lecithin prevents mental fatigue and stress. (There's a lot of that going around these days.) Buckwheat also helps neutralize the body of toxins, cleanses the lymphatic system and alkalizes the body. In addition, it helps neutralize the effects of radiation. We love our buckwheat!
So, as you can see…. Sprouts are nature's perfect food. They are extremely dense nutrition and embody all the energy and nutrients you need. We are thrilled that more information is becoming available for people regarding the health benefits of eating and juicing sprouts.  You can not only halt disease, but we are confident that you can sometimes reverse disease by using not only Wheatgrass in your diet, but Sprouts, too!
This is a wonderful salad that we came upon, and it's so easy to make! With just a few strawberries, a little lettuce, some balsamic vinegar, a drizzle of agave nectar and, of course, some of our nutritious sunflower sprouts, you have an amazing energy salad full of nutrition!
Strawberry Sunflower Sprout Salad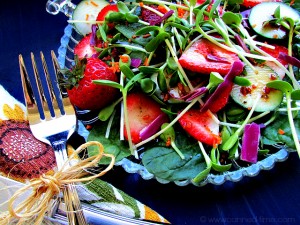 4 ripe Strawberries sliced
1 heaping handful of fresh Sunflower Sprouts
sliced Cucumber
chopped red cabbage
drizzle of agave nector
drizzle of balsamic vinegar
ground black pepper

Sean Herbert, Owner
Your local "Juicetritionist"
1880 West 10th St
Riviera Beach, FL 33404
(561) 689-9464