by: Sharon Quercioli
Fireworks, barbecues, warm summer breezes, family and friends are all signs of a great 4th of July! Whether you're invited to a 4th of July party or hosting your own, make this holiday a great excuse showing off your creative skills in the kitchen. Not only are these recipes patriotic, they're also healthy alternatives to what you may normally see at barbecues and cookouts. This way you can indulge without feeling all the guilt!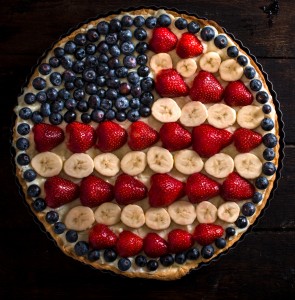 No Cheese Cheesecake!
Everything you love about cheesecakes without all the calories that the cheese packs on!
Oat Flour Crust
Ingredients:
2 3/4 cups of gluten-free oat flour
1/2-1 teaspoon salt
6 Tablespoons of coconut oil, melted
¼ cup crumbled pecans (or any other nut)
1 tablespoon chia seeds
Instructions:
Preheat oven to 450 degrees. With a food processor, chop the pecans until they are crumbles. Using a fork, mix all ingredients in a bowl until dense dough forms. Press the dough into the pie plate. Prick dough with fork several times. Bake for 15-20 minutes until golden brown. Let cool completely.
Filling
Ingredients:
2 tablespoons unflavored gelatin
2 small lemons, juiced (use 1 for a less tangy taste)
2 cups plain Greek yogurt
14 oz. coconut cream
1/2 cup raw honey
1 teaspoon vanilla extract
1 vanilla bean
1/2 teaspoon sea salt
Instructions:
Place the gelatin and lemon juice in a small glass or heat-proof bowl. Set the bowl in a small yet deep saucepan with simmering water (over low heat). Stir until gelatin is melted. Remove the bowl from the saucepan and set aside. Combine the rest of the ingredients in a food processor, and process until well-mixed. Process for about 60 seconds. While the machine is still running, mix the warm gelatin mixture in and process another 30 seconds (EDIT: make sure it is mixed in WELL or the cheesecake will not set evenly). Fill the pie crust with the filling! Place the cheesecake in the fridge.
Topping
Ingredients:
12-15 Strawberries
¾ cup blueberries
2 bananas
Instructions:
Cut the strawberries into halves, set aside. Slice the bananas so they come out like little circles. Now its time to decorate! Take the cheesecake out of the fridge. Make sure the filling is set. It's better to create the flag when its cold. Use the blueberries for the blue portion of the flag. Alternate rows of bananas and strawberries for the white and red stripes of the flag. Display your masterpiece for your guests!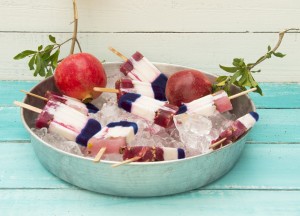 All Natural Fruit and Yogurt Popsicles
All the deliciousness of your favorite popsicles made with all natural sweetness!
Ingredients:
2 cups of strawberries
2 cups of blueberries
honey to taste
1 1/2 cups plain Greek yogurt
popsicle molds
popsicle sticks
Instructions:
Using a blender or a food processor, puree the cups of blueberries. Depending upon how chunky you want your popsicles, you can blend the blueberries for about 5 seconds. Add honey for taste. Fill molds about 1/3 full, and put this in the freezer for one hour. When you take them out, add the popsicle sticks and freeze for another hour.
For the second layer, mix the yogurt with honey to your taste. For extra flavor, you can also some vanilla bean. Fill molds another 1/3 full, and freeze for 2 hours.
Finally, for the final layer puree strawberries with honey to taste, and fill the rest of the popsicle molds. You may want to freeze your popsicles overnight. If not, freeze for another hour or so, and they will be ready to eat!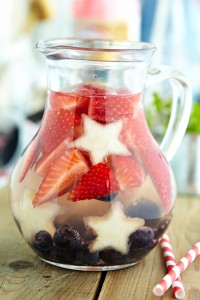 Red, White, and Blue Sangria
A sangria that literally shows off its stars and stripes!
Ingredients:
½ c of blueberries
½ cup of sliced strawberries
1 star fruit sliced
½ cup of Smirnoff Sorbet Light Summer Strawberry
2 Bottles of Riesling (any white wine will do but Riesling tends to be lower in calories)
1 cup of Triple Sec
½ cup of lemon juice
1 cup of 7UP
Instructions
Combine all the ingredients into a pitcher, and leave in refrigerator to chill until ready to be served.