Balancing Body Energies and Helping to Give Courage and Self-Esteem
by Sharon Quercioli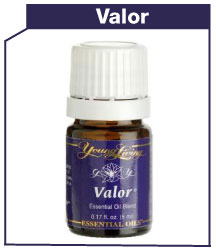 Valor essential oil blend is an oil that I consider to be very special. It is a remarkable blend created to encourage and support proper spinal alignment. Valor is also a blend that balances and aligns the body's electrical energies by releasing toxins and viruses from the spine. Moreover, it's a powerful tool for massage therapy and other natural health practices. You can use Valor when your polarity is off. Just put a couple drops on your wrists and cross wrists together.
Here's a comment from Gary Young:
"Try Valor for a good night's sleep. Going to bed, take 6 drops of Valor, and rub each foot very well with it. Valor on the feet is such a marvelous experience for improving your sleep patterns for those that have restless sleep, restless legs, you know, some of those things that go along with being upset, hormonal imbalance. Hormonal imbalance is a major promoter of restless nights, restless legs, waking up/going to sleep, tossing and turning. It's very common, very typical and Valor is such a tremendous support to those things."
Believe me, I use it every night and love it!
Let me introduce you to the oil blends that make Valor a remarkable oil:
Spruce – helps the respiratory and nervous systems. Its aromatic influences help to open and release emotional blocks, bringing about a feeling of balance. Also known as the black spruce, this tree has a tall thin profile with short branches. The needles on the tree stand out angularly from the branch at all angles and contain the resin ducts that bear the majority of essential oil in the tree. The branches at the crown tend to cluster together forming a "crow's nest" and protecting the small (1 ½ inch diameter), purplish, seed-bearing cones, which small animals use for food and shelter. The bark is scaly and relatively thin with a dark muddy green-brown to grayish hue. Specialty items made from black spruce include healing salves from the gum, antiscorbutic and diuretic beverages from twigs and needles, and rope from the roots.
Rosewood – is soothing and nourishing to the skin. It has been researched at Weber State University for its inhibition rate against gram positive and gram negative bacterial growth. It balances the immune system by influencing the central nervous system. Its 70% linalool content accounts for its sedative effect, and also for its usefulness in dispelling a general feeling of malaise. The floral, woodsy aroma of this oil makes it perfectly suited for a post-workout massage or soak in the tub.
Blue Tansy – is highly relaxing and balancing. Its main constituent is azulene, which has a powerful effect on the brain and is the element responsible for the bright blue color of this oil.
Frankincense – is considered the "holy anointing oil" in the Middle East and has been used in religious ceremonies for thousands of years (Exodus 30:34). It was well known during the time of Christ for its anointing and healing powers. Today it is being used therapeutically in European hospitals. High in sesquiterpenes, it is stimulating and elevating to the mind and helps in overcoming stress and despair, as well as supporting the immune system.
Almost every week I share my story with family and friends that are experiencing difficulties sleeping or relaxing the body and tell them about Valor. It is a wonderful oil that I use every day. A great anytime gift – Valor Salt Glow. You can make this fabulous mixture and give it as a gift. It is for the entire body from the neck down.
Valor Salt Glow
Equal parts of Epson Salt, Kosher Salt, Sea Salt
1 teaspoon of V6 Mixing Oil per cup of salt
10 – 15 drops of Young Living Valor
(#3429) Essential Oil Blend per cup of salt
Package in a nice container and it makes a wonderful holiday gift.
Enjoy!


Young Living – Florida
Sharon Quercioli
Independent Distributor: 516264
Phone: (561) 309-7276
E-mail: sharon@owwmedia.com
"These statements have not been evaluated by the FDA. Products and techniques mentioned are not intended to diagnose, treat, cure or prevent any disease. Information provided here is in no way intended to replace proper medical help. Consult with the health authorities of your choice."