by Sharon Quercioli
"Drinking a daily cup of tea will surely starve the apothecary." – Chinese Proverb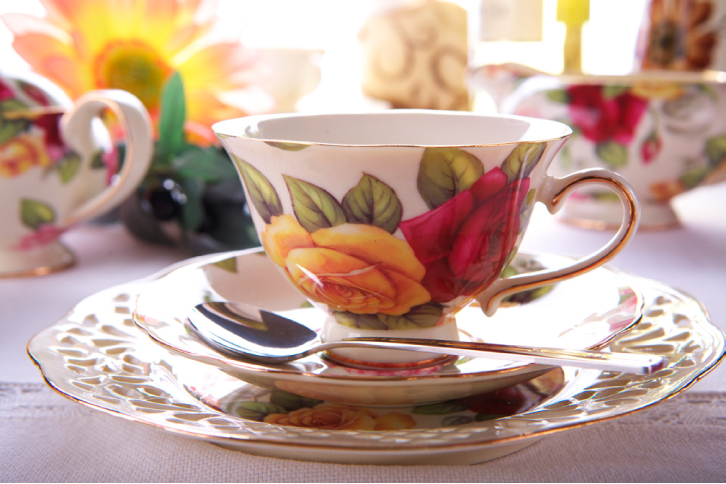 Dieting and living a healthier lifestyle can prove to be a little difficult. Fortunately, Young Living has a new product on the market that will definitely help; it's called Slique Tea.
Slique Tea is not your grandmother's tea, but an exotic blend of Jade Oolong tea, Eucadorian Ocotea Leaf, Arabian Frankincense powder, Pure Vanilla Essential Oil and Amazonian Cacao. The truly unique property of this tea is that it has specifically been designed to greatly assist in the battle for weight loss. With its rich blend of flavonoids (a dietary compound generally associated with helping maintain certain normal, healthy body functions), Slique Tea provides a natural and delicious alternative to sodas and sugar-filled fruit drinks. It also contains catechins and polyhpheols, which may be useful as part of a successful weight-management regime when paired with physical activity and a healthy diet.
What makes Slique Tea so beneficial is its rare ingredients, which in and of themselves provide a slew of health benefits.
Jade Oolong Tea
1.  It has capacity to aid weight loss. Scientists from the University of Tokushima (Japan) proved people who drank two cups of oolong tea each day burned over 157% more fat than those who drank the same amount of green tea.
2. It can do wonders with combating the effects of aging skin, especially regarding wrinkles and dark spots.
3. It assists in preventing heart disease and cancer.
4. It helps reduce high blood pressure by lowering our LDL (bad) cholesterol level, and its polyphenols have positive effects upon our arteries.
5. It can help prolong and improve vitality, lifespan and brain power.
6. Regular consumption of oolong tea can result in a stronger immune system and improved abilities of our body to resist various inflammatory diseases including cold and flu.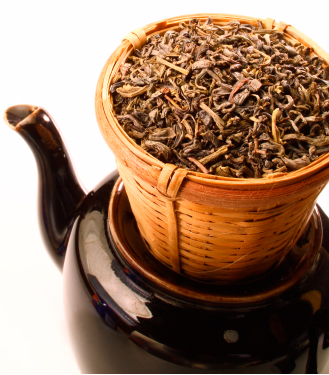 Eucadorian Ocotea Leaf
1.  Decreases glucose levels
2.  Decreases triglyceride levels
3.  Decreases blood pressure
4.  Has anti-inflammatory properties
Arabian Frankincense powder
1.  Digests and increases the oxygen levels in the body while moving out toxins
Pure Vanilla Essential Oil
1.  Has calming effect upon the brain and numbs cravings
2.  Numbs the nerves and gives relief from anxiety, anger and restlessness
3. Stimulates weight loss by significantly reducing a person's sweet food intake
Amazonian Cacao
1.  Naturally rich supply of antioxidants (98%)
2. Good source of dietary fiber
3. One of the highest dietary sources of magnesium, flavonoids and polyphenols
4. Has a high source of Vitamin C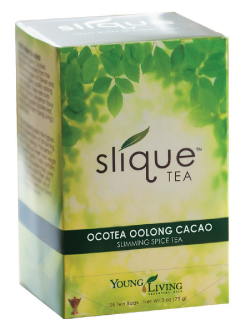 How to Prepare the Tea
It is delectable served hot or cold. Slique Tea is a guilt-free staple with any diet regimen. Use daily before and after workouts, with meals, or any time you need a boost.
Bring 8 ounces of water to a rolling boil, let cool for 3 1/2 minutes.
Place one pouch in a cup, mug or filter and add water. Steep for at least 3 minutes and add, if you wish, one of your favorite Young Living Essential Oils as desired.
To purchase Slique Tea or other Young Living products, email Sharon Quercioli at sharon@owwmedia.com.