by Sharon Quercioli
Arugula is always one of the first items in my grocery cart. I love it in salads, a snack or cut up with fresh tomatoes and mozzarella cheese and basil with balsamic dressing. Yummy!
Arugula, also known as Garden Rocket (or roquette if one prefers the French variation), is a bitter salad green similar in many ways to other leafy greens, but is classified as cruciferous, like broccoli and cauliflower. The herb grows to about 2.5 feet tall and puts out lovely, purple-veined white flowers.

Not only is this star of many a spectacular salad easy to grow in our gardens, but it's very nutritious for us as well. High in antioxidants and many other nutrients, it's a great addition to the menu that doubles as that famous ounce of prevention worth a pound of cure!
Evidence Suggests Arugula Strengthens Our Immune System
Cruciferous veggies seem to be especially useful in protecting against certain cancers due to the presence of glucosinolates in their composition, which our bodies transform into isothiocyanates, which is just a fancy word for that which can regulate immune function and play a role in cancer prevention.
From a different angle, vegans love the healthy boost of iron they get from munching Arugula. Not too much iron, but just enough to keep our blood healthy and happy.
Milk or Arugula — How Arugula Strengthens Our Bones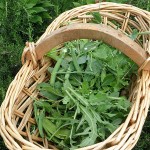 Dole's Nutrition Institute found out some great facts supporting Arugula promoting bone health. Their findings stated that "Arugula provides an excellent source of folate, vitamins A and C, and over 100% of your daily vitamin K needs…. It is a good source of calcium, magnesium and manganese. The fact that this leafy green, unlike spinach, is lower in oxalates (which … can inhibit mineral absorption) gives a 'green' light to arugula's calcium availability."
Even Its Seeds Are Great for the Tummy!
In an article published online by the U.S. National Library of Medicine, studies found that Arugula seed extract, also known in natural medicine as Eruca Sativa, have anti-acidic, anti-ulcer properties, possessing "anti-secretory, cytoprotective, and anti-ulcer activities against experimentally-induced gastric lesions."
All in all – Arugula is a fantastic herb, salad green and its peppery flavor comes with a nutrient packed punch for all to enjoy! If you are looking for a new way to prepare arugula beyond your favorite garden green salad, we are pleased to share this recipe by Nirasha Holcomb and Maili Halme Brocke to inspire you. Enjoy!
QUINOA ARUGULA SALAD
INGREDIENTS: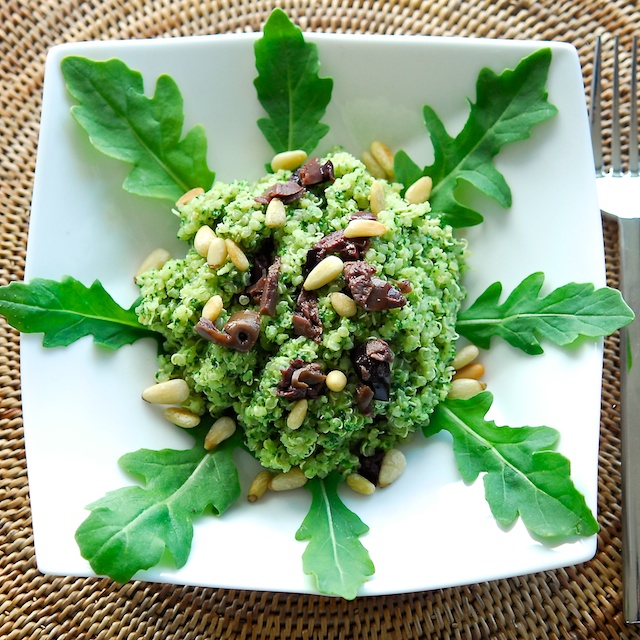 1 ONE LB. BOX OF ORGANIC QUINOA
1 LARGE YELLOW ONION
1 CUP PINE NUTS, TOASTED (NUTS ARE OPTIONAL)
2-3 TABLESPOONS CAPERS, RINSED (OPTIONAL)
1  13.75 OZ. CAN ARTICHOKE HEARTS, PACKED IN WATER
JUICE FROM TWO LEMONS
MINCED FRESH PARSLEY
BASIL
SALT AND PEPPER TO TASTE
1/3 PINCH OLIVE OIL
PINCH OF KOSHER SEA SALT FOR ONION
1 SEVEN OUNCE BAG OF BABY ARUGULA
2 CUPS SUGAR PLUM TOMATOES (OR CHERRY TOMATOES), CUT IN HALF
1 CUP FRESH PARMESAN CHEESE
INSTRUCTIONS:
While you are getting all of your other ingredients together, cook the quinoa (following instructions on the box) in boiling salted water. Rinse the quinoa in cool water before adding other ingredients.
Sauté onion over medium heat in 1/3 of a cup of olive oil. This may seem like more olive oil than you would generally use to sauté, but the extra oil will be flavored with the onion and used as the dressing for the salad. Put a pinch of salt on the onion while cooking.
Cook onion for 15-20 minutes, stirring occasionally, until the onion is translucent and sweet. (The longer you cook onions, the better they are, so don't skip this part.)
In the largest bowl you have, toss the warm onions with cooled quinoa. Be sure to use all of the oil from the sauté pan.
Toss in arugula, tomatoes, feta (or parmesan), pine nuts, capers, artichoke hearts, herbs of your choice, lemon juice and sprinkle of salt and pepper. Toss gently to combine.
Serve promptly at room temperature.