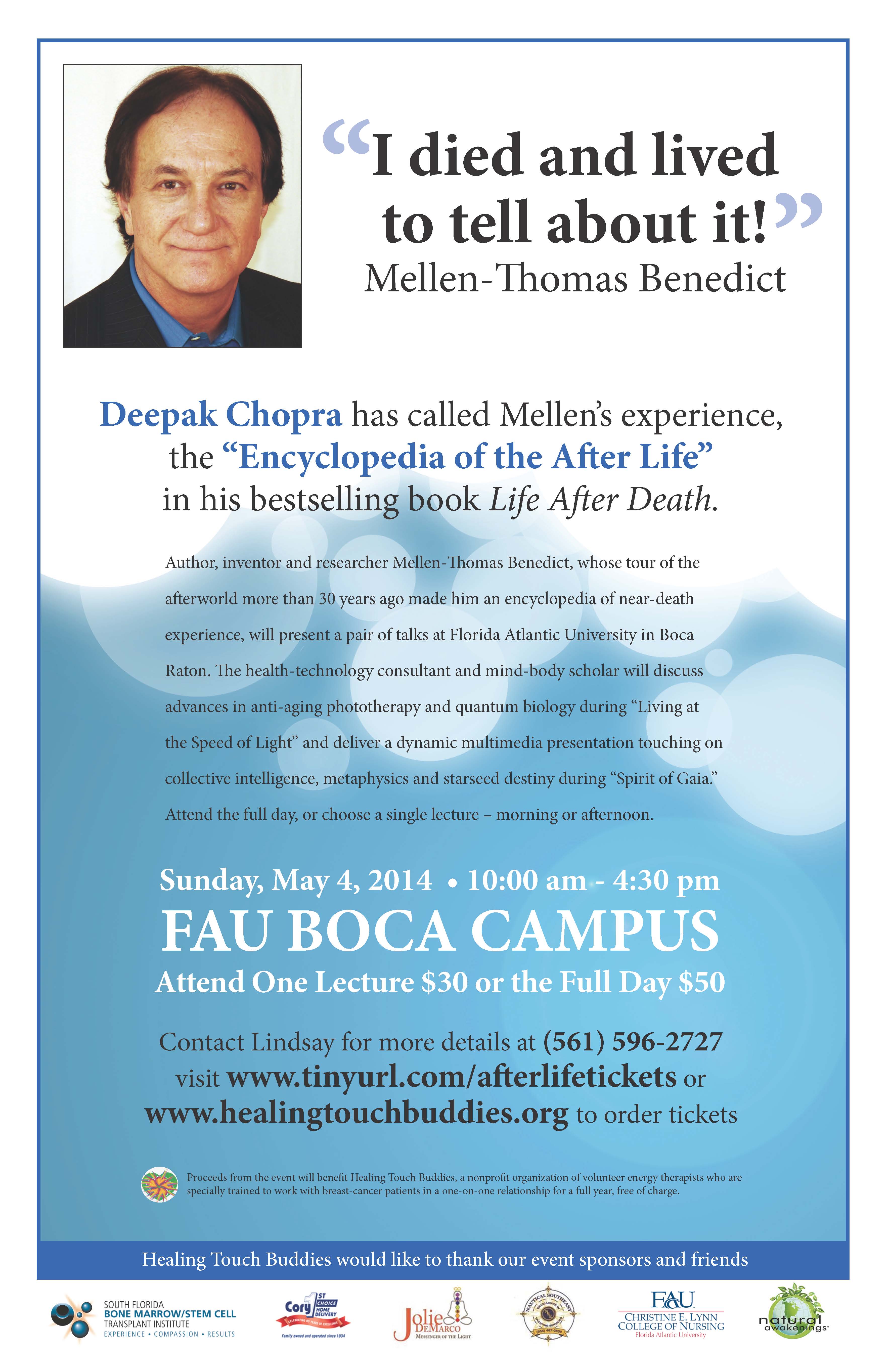 Near-death-experience expert Mellen-Thomas Benedict will enthrall audience at May 4 event
On May 4, Benedict will present "I Died and Lived To Tell About It" – an inspirational lecture-and-lunch event that will include such sessions as "Living at the Speed of Light" and "Spirit of Gaia." The health-technology consultant and mind-and-body scholar will discuss advances in anti-aging phototherapy and quantum biology during "Living at the Speed of Light" while delivering a dynamic multimedia presentation touching on collective intelligence, metaphysics and starseed destiny during "Spirit of Gaia."
"The first time I heard Mellen's story, my life was changed forever," said Lindsay Babich, board chairwoman of Healing Touch Buddies, the local nonprofit organizing the lecture. "I understood how important a positive attitude is to my very existence and the future of our planet."
Proceeds from the fascinating fundraiser support the nonprofit's volunteer certified energy therapists who provide care and comfort to breast-cancer patients.
"In this, our 10th year, I have come to understand the value of what we do," said Betty Ann Baker, Healing Touch Buddies' co-founder and executive director. "This is our way of bringing peace and compassion to the world. Although it can be a challenge to hold an expansive, positive view in the midst of pain and suffering, we see and experience, looking deeply both inward and outward, endless richness to the mystery of our life and beyond."
In 1982, following a terminal brain-cancer diagnosis, Benedict lost all vital signs for 90 minutes and is believed to have died. When he awoke, not only was his disease in remission, but he also was able to recall the journey he took to the other side. The near-death experience revealed to him Earth's past and future, the soul's connection to the planet (Gaia) and mankind's role in the universe.
In the bestselling book Life After Death, Deepak Chopra called Benedict's experience the "Encyclopedia of the After Life."
The sessions run from 10 to 11:30 a.m. and 2 to 4 p.m., with vendor sales and lunch in between. Tickets cost $50 for the entire event, or $30 for either the morning or afternoon talks. VIP tickets, which include a wine reception from 4:45 to 6 p.m. and a DVD, cost $125.
Funds raised will enable Healing Touch Buddies to train new therapists in method, support and care. Therapists are required to undergo a minimum of intermediate training in healing touch or Reiki, or energy-medicine instruction at the Barbara Brennan School of Healing, prior to entering the breast-cancer-specific Healing Touch Buddies program. Today, close to 100 volunteers serve women in Martin, Palm Beach and Broward counties, and their hours annually amount to more than $100,000 in in-kind services.
Healing Touch Buddies is endorsed by the South Florida chapter of Susan G. Komen for the Cure and the Hippocrates Health Institute in West Palm Beach. Ongoing campaigns include "A Gift for Mom," to honor the memory of a mother, grandmother, sister or friend; "Train a Volunteer," to generate scholarship money; "Raise the Light," through which lanterns are purchased to represent the flame of care and compassion; and "The Naomi Thomas Endowment Foundation," named after a former client.
Healing Touch Buddies provides energy therapy in one-on-one supportive relationships with patients diagnosed with breast cancer through a network of specially trained, volunteer energy-therapy providers. Regardless of stage of diagnosis or treatment protocol, clients receive consistent and reassuring therapeutic support for up to one year. For information, call 561-596-2727, email htbuddiesboard@gmail.com or visit www.healingtouchbuddies.org.