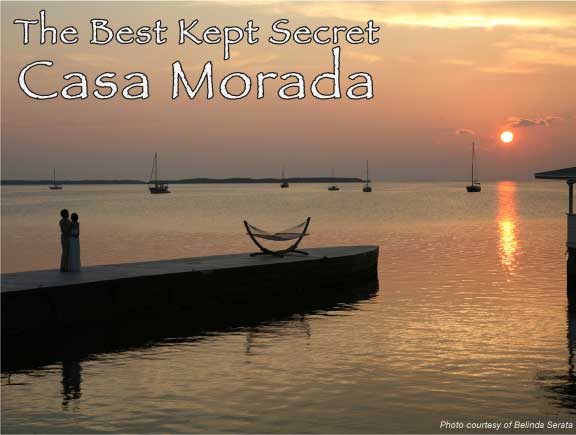 by Judy Lynne Ray
You're likely to miss it on the first go-round. Even our GPS took us past the modest, back-street, gravel-road entrance to Casa Morada.   It seems that this little gem is secretly sequestered from the public eye, inviting only the dedicated seeker to cross its threshold. But once inside you will follow a driveway, which quietly meanders through tropical foliage to a neat little open-air office, then curves down past the room-suites to a breathless vista of an inlet opening to the sea, and a white footbridge leading across the inlet and onto Casa Morada's own private island. So take heed if you are a world-weary  traveler seeking respite and solace on a path less traveled. This may be the place!
Casa Morada's "Island" is in the island chain called the Florida Keys, and is nestled quietly in the secret crannies of the island called Islamorada. In other words, it is an island on an island on a chain of islands. How's that for sequestered!
The Florida Keys are themselves uniquely convenient for Easterners, linked to the Florida mainland by causeway and waterways, eliminating all passport activity, money changing or major travel rituals. They seem to invite a sense of falling into them, defaulting to sand between the toes and more of the sea and surf than concrete or strip malls.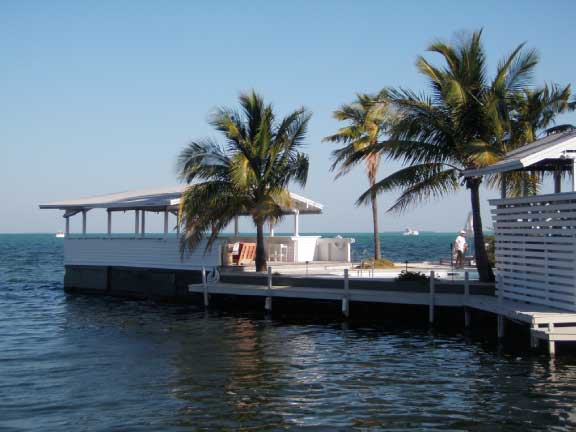 The narrow, beach-flanked island of Islamorada is about 90 minutes from Miami International Airport and also 90 minutes from Key West, at the farthest point of the Keys. It's name means "purplish isle"  (and Casa Morada's name means "purplish house)" and is said to derive either from a purple-shelled snail that once lived here, or a purple orchid or a purplish sunset. It is definitely a "no jacket required" locale featuring blazing sunsets and tropical drinks under open canopies.  Life focuses on the water. Cell phones and laptops take a back seat.
The 16 room-suites here are spacious (over 500 square feet) and meticulously appointed—all with private terraces. There is a definite touch of romance in the air, with large, open spa-tubs and clear-glass shower enclosures without privacy doors, white mesh netting as the décor and orchids everywhere. Casa Morada offers candlelit dinners on the "Island" or on your own garden or seaside terrace. Indeed, couples abound here, but there are singles, too and never a feeling of crowds. People smile at you dreamily, connect briefly, then return to their silence. After dark, with the starlit sky and the breeze-filled, salt-air sounds, people wander onto the Island, gaze at the sea and stars, and sometimes chat quietly.
"We attract people primarily in the 30 to 75 age range who are seeking  a quiet and unique experience," states Terry Ford,  one of the owners of Casa Morada. "These folks are not wanting a standard Marriot or Westin-type of resort experience, or even a 50-room resort, she continues. "They comment on the quiet, almost zen-like sense of serenity here. Guests here seek solitude with gracious amenities and personal attention, and they get it."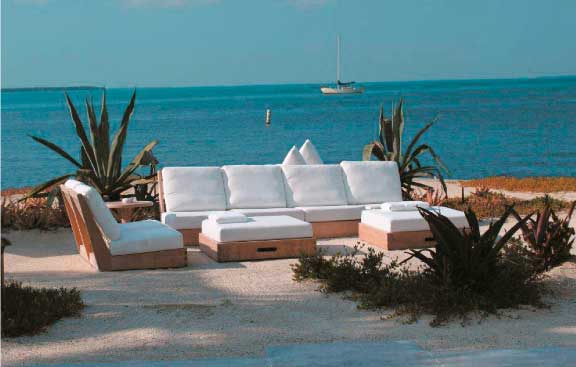 Terry and her two partners eased synchronously into the Casa Morada ten years ago after several delightful stays. "It was not even for sale," recalls Terry. But the three enterprising women managed to purchase the property by merely asking. And that type of thing may be part of the magic of this place—things happen easily! So new owners Terry Ford, Lauren Abrams and Heide Praver therein began a transformation of rooms, landscape, amenities and services with a dedicated purpose of quality, charm and upscale luxury.
Weddings? Brides seem to belong at Casa Morada. "We do usually two weddings a month," Terry replies. "They are almost always small, intimate groups, and we get plenty of proposals here also. There are engagements here almost every month. People fly in then pop the question."
And apparently, wedding couples want the same thing from a Casa Morada experience as the casual traveler wants: a unique, laid-back experience with a soft touch of elegance. And the staff complies with Wedding Packages (including flowers, champagne and the bayside vista of the Florida Atlantic), Honeymoon Packages, and just Romance Packages with rose petals in the room and in-suite massages.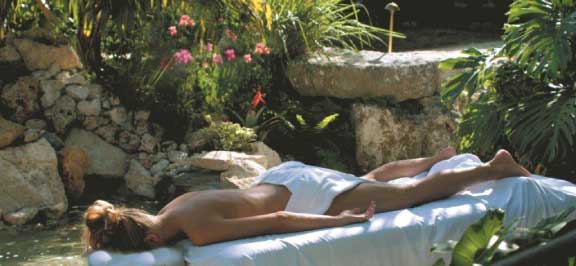 Although there is no on-site spa, Casa Morada's Guest Services offers an array of in-suite and terrace massages for guests, making it unnecessary to drive anywhere and easy to continue the de-stressing  immersion after the session by remaining where you are. Couples massages are popular, and many choose to have the massage in an outdoor grotto by a waterfall near the Garden Suites.
"Aside from weddings and massages, people don't do much at Casa Morada," claims Terry. "They are here to read, relax, re-charge, de-stress. Those are their words and we hear them again and again. In fact, when people check in they want to do this, and this, and this— swim with dolphins, charter a fishing boat, go out shopping and dining and dancing. Then the next day they are here lounging happily on the Island, all day long."
And the "lounging" concept seems to be the key element here at Casa Morada. From the minute my travel companion and I got out of the car on the gravel road and checked in at the open-air office with the bamboo swing and the wild orchids—we felt it. There is a tranquil energy here. It is soft and unpressing, and it gathers you in so tenderly that you hardly know why you've stopped thinking in circles. You don't quite understand why none of the issues of life seem all that stressful. You just cave in to being a lounge-a-phile…and you stay there.
You'll find a very cosmopolitan, international clientele if you stop floating in the pool or bay long enough to converse. During the year, you'll see people from all over the country, and many from the United Kingdom, Germany and France as well. In summertime, the Floridians flock in, seeking escape from the malls, the concrete and the unrelenting breeze-less heat of the mainland. Like everyone else, they are charmed and lulled by the zen-like quiet of Casa Morada, the slow, wave-like pace of the days weaving together, and the enchantment of the watery vista.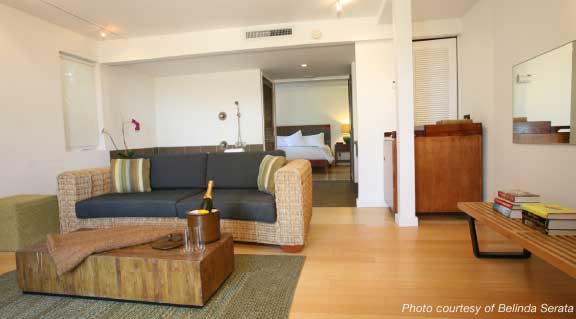 There are a friendly group of manatees, almost home-based around the Casa Morada inlet. These massive sea-mammals, weighing from one to four tons, like to play and seem drawn to us humans, at least to the Casa Morada variety of human. Slow-moving and dating back 60 million years, just after the dinosaurs disappeared, they are now a highly endangered species, thus very precious and well-worth watching. For 90 minutes, we joined a few other guests in manatee-admiration, as two manatee adults and a baby cavorted for our entertainment. They roll on their backs, circled around us and begged for a gulp of cold water from the dockside hose. We hosed them down, then let them suck on the cold nozzle. My favorite moment was when the oversized baby swam up so close I could look into his eyes as he gazed steadily up at me with what felt like an ancient wisdom, spannning both time and species with a cosmic sense of awareness. I felt as if he knew who I was. Perhaps better than I do.
STAYING "HOME" AT CASA MORADA
Water inlets surround the Island, and boats dot the horizon. People sip iced-sake with lime pulp and mint, and go from pool to bay to lounge to the open-aired bar and back again. It is this "Island" that seems to seduce guests into a tranquil space of utter immobility. Why? Water and whiteness unspoiled by noise. The pool looks into the bay and guests can sunbathe on everything from lounge chairs to hammocks at the end of the pier. Or the skin-sensitive can climb up into the stilt-held cabin to sprawl out on the king-sized mat, letting the breezeway lull them without the rays of the sun. No one seems hurried or harassed. You don't hear political discussions.
It's all part of being the best kept secret.  It's not that no one speaks about Casa Morada—it's just that no one believes that life without cell phones and stimulus overload is possible, let alone enjoyable. Until they experience it.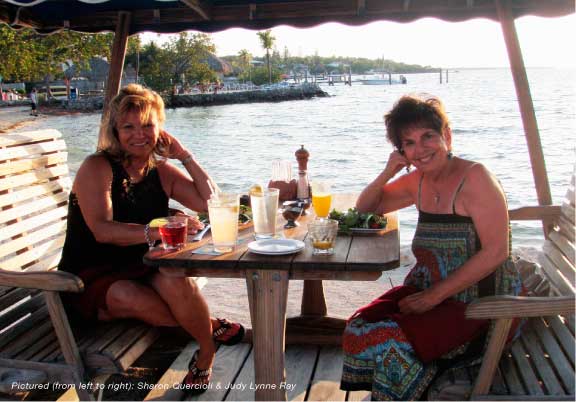 COMPLIMENTARY ONSITE
Bikes
Snorkel Equipment
Kayaks
Versa Boards/Paddle Boards
Bocce Ball
Yoga on the Island
Continental Breakfast on the Terrace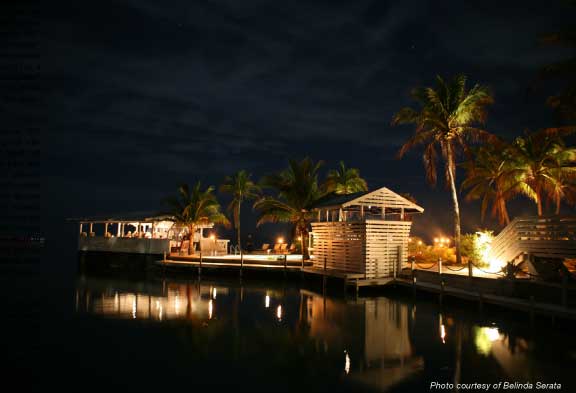 THINGS TO DO
Diving and Snorkeling Trips
Swimming with Dolphins and Sea Lions
Jet Ski Tours
Feed the Tarpon (Robbie's Marine – Bayside breakfasts are magical!)
Eco-Tours
Tennis
Fishing Trips
Theater of the Sea
Live Music (Nightly at several Islamorada restaurants.)
RESTAURANTS
Lazy Dayz
Island Grill
Marker 88
Morada Bay (Try to get there early!)
BAR HOPPING
Have a drink at Lorelei's for the sunset or stay home at Casa Morada.
CASA MORADA  136 Madeira Road, Islamorada, Florida 33036
Phone: (305) 664-0044 ι Toll Free: (888) 881-3030
www.casamorada.com